Research Coach - LSC-CyFair
Start Your Research Project with Proven Tips and Tools!
What Topic Should I Research?
Where Do I Search for Information?
Note:
For
off-campus access
, enter the barcode number on your college ID/ library card.
Or request a library card barcode number.
How Do I Select Sources and Organize Them?
How Do I Cite My Sources?
---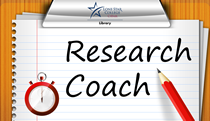 Research Tips - LSC-CyFair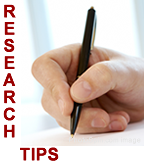 Tip #22: Discover How to Select Research Sources from a List of Search Results!
After you enter search words in a library database, catalog, or search engine, look for these items in your result listings to help you pick sources that have the most potential value:
Article/Web Page Title - find search words or related concepts
Publication Name or Web Sponsor - identify their reputation for quality and/or topic knowledge
Publication Date - decide if topic coverage from a specific time period is needed
Summary/Abstract - locate search words or related concepts