Research Guides - LSC-CyFair
Start Your Information Search with
Research Coach
.
Find Additional Research Help
Citing Sources - Quick Guides
Faculty Support
Contact Information
Research Contests

Submit Your Entry for the


Student Research Awards!
Win up to $500!
Research Tips - LSC-CyFair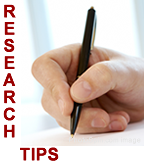 Tip #21: Scan Sources for Follow-Up Research Leads!
As you find useful articles, books, and web sites in your searches, scour the content for names of people, organizations, laws, or events related to your topic. Perform additional searches for those research leads to find support information to enhance your topic understanding. Your resulting project should benefit from your investigative skills!