Current Students
|
LSCS Locations
|
LSC-CyFair Campus
|
Learning Signature at LSC-CyFair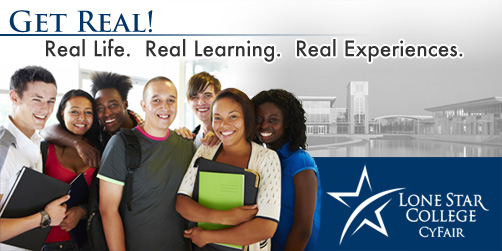 •
Have you ever thought about how the information you learn in your classes fits together and applies to life outside the classroom? Did you know you can discover this through taking learning community courses?
•
Did you know you can make a difference in your community while earning credit through service learning courses?
•
Would you like to travel to a different country, learn about another culture and take a course in a new environment? Did you know you can do this through study abroad programs in the summer?
The 2009 Community College Survey of Student Engagement (CCSSE) report reveals that LSC-CyFair scored consistently higher than our benchmark institutions on student engagement. Our unique options, including learning communities, service learning, honors and international education, provide guidance for designing, developing and delivering an exceptional student learning experience.
High Impact Learning Experiences
In order to promote student engagement and active learning, our faculty:
Connect classroom content to their students through visual aids, sound, hands-on activities, active listening, discussion, and/or reflection.
Utilize a combination of lecture, facilitation, and collaboration to transform content into knowledge and to help students develop skills.
Help students develop a shared responsibility for academic progress in the learning environment.
Enhance teaching and learning by helping students become proficient users, effective decision-makers, and creative problem solvers.
Provide exceptional service.
Create clear and measurable outcomes: Data drives our decisions and direction.
LSC-CyFair offers unique course options to enhance the student's learning experience.
These high-impact learning experiences are intended to:
Promote student engagement.
Foster student success.
Encourage a deeper, broader understanding and study of the subject.
Promote collaborative learning and group projects/problem solving among faculty and students.
Approaches include study groups within a course, to team-based assignments and writing, to cooperative projects and research.
Support and promote active civic engagement through organized community service experiences.
Provide opportunities to expand global awareness as well as learn other languages and experience other cultures.
Increase student retention and persistence.
Foster diversity and inclusion.
Learning Signature course options include:
Learning Communities
Learning Communities link two or more classes from different disciplines and focus on a common theme. Students get to work collaboratively on assignments, projects, conduct research, develop creative presentations or participate in Service Learning. Students enrolled in Learning Communities classes get the opportunity to work closely with faculty from both disciplines as well as with other students, develop critical thinking skills and become responsible learners. Students enrolled in LC courses receive credit for both classes.
---
Service Learning
Service Learning combines community service with academic instruction as it focuses on critical, reflective thinking, civic engagement and responsibility. Service Learning is designed for hands-on active learning similar to field trips. Students will perform 15 hours service in community service outside of the classroom and will relate their experience to the course material in the form of reflection (journal, presentation, report).
---
International Studies Program
We offer International Study designated courses, which allow students to expand their global views and to enrich their cultural and social experiences.
---
Study Abroad
Our study abroad programs provide students with the opportunity to expand their global views and learn other languages and cultures while earning college credit. Students have traveled to Italy, China, England, Mexico, Costa Rica and Canada. In Summer 2013, Lone Star College-CyFair students traveled to Great Britain and Tanzania.