Academic Departments
|
LSCS Dance Departments
|
LSC-Montgomery Dance Department
Mainstage Studio



Dance Program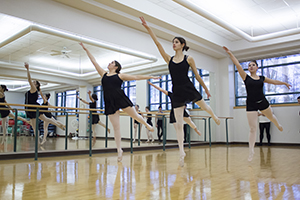 Welcome to the LSC-Montgomery Dance Program! Dance is a vital, dynamic, energetic, and enlivening performing art form. This can easily describe your experience as a dance student at LSC-Montgomery. The benefits of learning and experiencing dance extend beyond the technical development of physical skill (although this remains an important component of dance education). Dance enriches, enhances and enlightens. It can foster discipline and a sound work ethic. It can instill confidence and a sense of accomplishment. It can promote well-being and joyfulness. It can nurture individuals' sense of self, allowing them through a journey of self-discovery and understanding. Students are often surprised by what they gain in a semester of dance. You will find that the potential benefits are endless and unique to each individual. We invite you to come discover what dance can do for you! We welcome students of all levels; no previous dance experience required.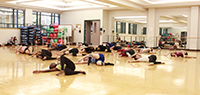 The mission of the Lone Star College-Montgomery dance department is to offer students the opportunity to communicate through human artistic expression across time and cultures by providing quality instruction in all major areas of dance performance and education. The department also offers dance students the opportunity to attend conferences and perform in public dance performances.
Each semester, students have the opportunity to perform in Mainstage Studio, an informal dance concert featuring faculty and student choreographed works.
Classes offered
Ballet I & II (2 credits)
Modern I & II (2 credits)
These classes provide students with a strong technical foundation, emphasizing proper alignment, comprehension and application of fundamental terminology, and increased flexibility, strength, and coordination.
Dance Appreciation (3 credits)
The cultural, historical and aesthetic qualities of dance are presented through lectures, films, videos, and dance productions. Primitive, classical and contemporary dance forms are included.
Courses may be used as fine arts elective credit towards the Associate of Arts degree or as transfer credits to four-year degree programs.
Adjunct Faculty
Tiffany R. Nirider, M.F.A.
Tiffany.R.Nirider@lonestar.edu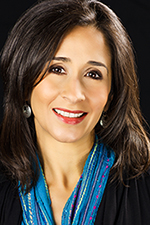 A native of Lafayette, LA, Tiffany Nirider has been involved in the world of dance for 33 years. She began teaching various dance forms at the age of 16 and started dancing professionally in 1997. She graduated summa cum laude with a B.A. in Mass Communication from the University of Southwestern Louisiana in 1996. Nirider obtained the Master of Fine Arts degree in dance from Sam Houston State University (SHSU) in 2004. During her time at SHSU, she performed extensively with the SHSU Dance Company and worked with distinguished artists such as Bill Evans, Shapiro and Smith and Joy Kellman. She also performed with the Raven Dance Project and won numerous awards. She is a member of Kista Tucker Dance, Inc. with whom she has performed at the Merce Cunningham Studio in New York, the Kennedy Center in Washington, D.C., and in California and Texas. Nirider has also performed with Chrysalis Dance Company (Houston, TX) and DanceSation Entertainment (Ft. Lauderdale, FL/San Diego, CA). Her teaching credits include the Lone Star College system and Sam Houston State University. She is currently an adjunct faculty member at Lone Star College-Montgomery. Her teaching repertoire includes modern, ballet, jazz, choreography, dance performance, dance appreciation, ballroom, and aerobics. As a choreographer, Nirider has set works in numerous settings including the university dance stage and community theatre.