Current Students
|
LSCS Locations
|
Campuses
|
LSC-Kingwood Campus
|
LSC-Kingwood Locations
|
LSC-Kingwood Center for Civic Engagement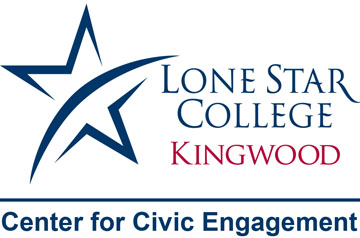 Building People through Civic Engagement
Where everyman is . . . participator in the government of affairs,
not merely at an election one day in the year but every day . . .
he will let the heart be torn out of his body
sooner than his power be wrested from him by a Caesar or a Bonapart.
~Thomas Jefferson

Mission Statement
The Center for Civic Engagement encourages students, faculty, and staff to become active citizens involved in their communities by providing opportunities and resources to engage in service oriented community activities.
Values
ParticipationóWe will identify and create opportunities for individuals, groups and organizations to become actively involved in a project or program of activity.
AdvocacyóWe will empower others to act to protect an asset of interest to their community.
Social JusticeóWe will work to ensure the fair distribution of advantages, assets, and benefits among all members of a society.
SustainabilityóWe will promote social and environmental practices that protect and enhance the human and natural resources needed by future generations to enjoy a quality of life equal to or greater than our own.
Leadership Committee
For additional information, email CCE@LoneStar.edu