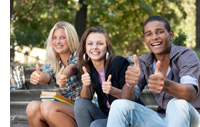 Once you have taken and passed the class into which you placed, you can fill out an application to receive Prior Learning Assessment (PLA) credits for all of the classes below that class. (For example, if you place in SPAN 2313, you could get credits for SPAN 1411 and 1412 after you take and pass SPAN 2313.)
THIS IS NOT AUTOMATIC.
Students need to fill out and turn in the PLA form themselves to get credit. PLA forms are available in student services. Although the PLA credits are "free", you still have to pay for the class that you take as well as the placement exam.