Academic Departments
|
LSCS Music Departments
|
LSC-North Harris Music Department
|
Music Ensembles
|
Steel Band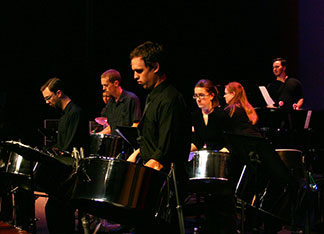 The Steel Band
features authentic Trinidadian steel pans accompanied by additional percussion including drum set, congas, scrapers, shakers, and other Latin percussion instruments. The pans are transformed 55 gallon steel barrels and range from soprano down to bass voices. Membership in the band is open to all students with the ability to read music, regardless of instrumental or vocal background. Over half of the band members are playing steel pans for the first time this year! Regardless of their major, several students in this band have auditioned for and received music scholarships. The band showcases Calypso music from Trinidad & Tobago as well as other styles from the West Indies and beyond.
Calypsology II
, the 2nd CD release from the band, features internationally acclaimed steel pannists Andy Narell, Gary Gibson, and Darren Dyke.
For membership, scholarship, or booking inquiries please contact the director at 281.765.7960 or jeff.gleason@lonestar.edu.