Office of Technology Services
|
OTS News

Log In, Students!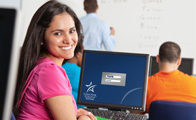 Beginning January 24th, you'll log into computers in the learning center, testing center, library and other open computer areas using your myLoneStar ID and password. Beginning February 6th, the new log in process starts in computer classrooms
MyRecords is now myLoneStar!
Accessing MyRecords through myLoneStar

As we transition to the new myLoneStar system, you will need to access some functionality still in MyRecords like web time entry, viewing your pay advices and inputting grades for Fall 2010.

To access MyRecords, simply log into myLoneStar and click on the MyRecords pagelet (see screenshot below). You may need to log in again to MyRecords.

MyRecords is scheduled to be completely replaced by myLoneStar beginning in Jan. 2011.