LSCS Libraries
|
Research Databases
|
Research Databases: Education & Careers
For off-campus access, enter your fourteen digit library barcode number located on the back of your college ID/ library card.
No college ID or library card?
Request a college ID or library card barcode number.
Most Useful: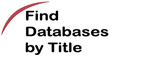 Also Try:
EBSCO eBook Collection - formerly NetLibrary
(EBSCO) Search complete electronic books. Set up a free account and download to your PC, Mac, Nook, Sony, Android, iPhone, or iPad.
ERIC - free web
(U.S. Department of Education) Summaries and/or full-text of education-related reports.
Job & Career Accelerator (LSCS Libraries)
Job & Career Accelerator (LSC-CyFair, LSC-Tomball, & HCPL)
(LearningExpress) Provides help with matching skills to a career, current job listings, and cover letter and resume preparation. Requires free login so you can save work online. If you are unable to register off campus, please try again using an on-campus computer.
Library, Information Science & Technology Abstracts
(EBSCO) "Indexes 600+ periodicals, plus books, research reports and proceedings on classification, cataloging, bibliometrics, online information retrieval, information management and more" from the mid-1960s to the present.
Mango Languages (LSC-CyFair, LSC-Tomball, & HCPL)
(NOTE: This link will refer you to the HCPL page where you will see the Mango Languages link and select it.)
(Mango Languages) Spanish, Japanese, French, German, Mandarin Chinese, and ESL are currently available with more to come later. Available at home or library, users may create their own account to chart progress in learning a language or just jump right in by clicking link under the login that says, "Skip Login Start Learning Now!"
Occupational Outlook Handbook - free web
(Bureau of Labor Statistics) Find information on hundreds of jobs such as earnings, working conditions, job prospects, training, education, and more.
Teacher Reference Center
(EBSCO) Features listings and summaries (abstracts) for 280+ popular education trade journals with full-text links to articles available in Academic Search Premier.
Vocational & Career Collection
(EBSCO) Full text coverage for more than 350 trade and industry-related periodicals.

TexShare databases
are funded in part by the Texas State Library and Archives Commission.