LSCS Libraries
|
Research Databases
|
Research Databases: Current Issues
For off-campus access, enter your fourteen digit library barcode number located on the back of your college ID/ library card.
No college ID or library card?
Request a college ID or library card barcode number.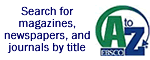 Most Useful:
Academic Search Complete
(EBSCO) Full text of articles from journals, magazines and newspapers, plus image collections.
CQ Researcher (LSCS Libraries)
(CQ Press) Full-text, balanced, comprehensive journalistic reports and analysis of current and controversial issues of the day.
Issues and Controversies (LSCS Libraries)
(Facts on File) Full-text articles from different points of view on important issues in today's news, plus statistics and images.
MasterFILE Premier
(EBSCO) Help
Full-text articles from magazines & journals, and other sources including pamphlets, books, biographies, reports, etc.
Opposing Viewpoints (LSCS Libraries)
Opposing Viewpoints (LSC-CyFair, LSC-Tomball, & HCPL)
(Thomson Gale) Full text on controversial social issues from books, statistical reports, and news publications.
Also Try:
Country Information Sites – free web

CountryWatch (LSC-North Harris only)
(CountryWatch, Inc.) Provides news, geographical, political, economic, and cultural information and maps on each of the 194 countries of the world.
EBSCO eBook Collection - formerly NetLibrary
(EBSCO) Search complete electronic books. Set up a free account and download to your PC, Mac, Nook, Sony, Android, iPhone, or iPad.
Houston Chronicle
(Thomson Gale) Citations only: January 1, 1996 - April 25, 2012
Houston Chronicle - free web
(Hearst Communications Inc.) Access the electronic copy of today's Houston Chronicle
Houston Chronicle Archives - free web
(Hearst Communications Inc.) Back issue access: 1985 - 2011
InfoTrac Newsstand
(Thomson Gale) Full-text articles of over 1000 newspapers from North America, Europe, Asia, and Australia.
MAS Ultra - Student Edition
(EBSCO) Help Full-text articles from magazines & newspapers, pamphlets, reference books, biographies, and images. (Pre-college)
NBC Learn Higher Ed (LSCS Libraries)
(NBC) Access over 10,000 video clips from current events to newsreels dating back to the 1920s from celebrated NBC news programs.
ProQuest Newspapers (LSCS Libraries)
(ProQuest) Full text of Christian Science Monitor, NY Times, LA Times, Wall Street Journal, Washington Post.

TexShare databases
are funded in part by the Texas State Library and Archives Commission.