Academic Departments
|
LSCS Drama Departments
|
LSC-North Harris Drama Department
Welcome to the LSC-North Harris Theatre Department!
Coming Soon:
ONE-ACT PLAYS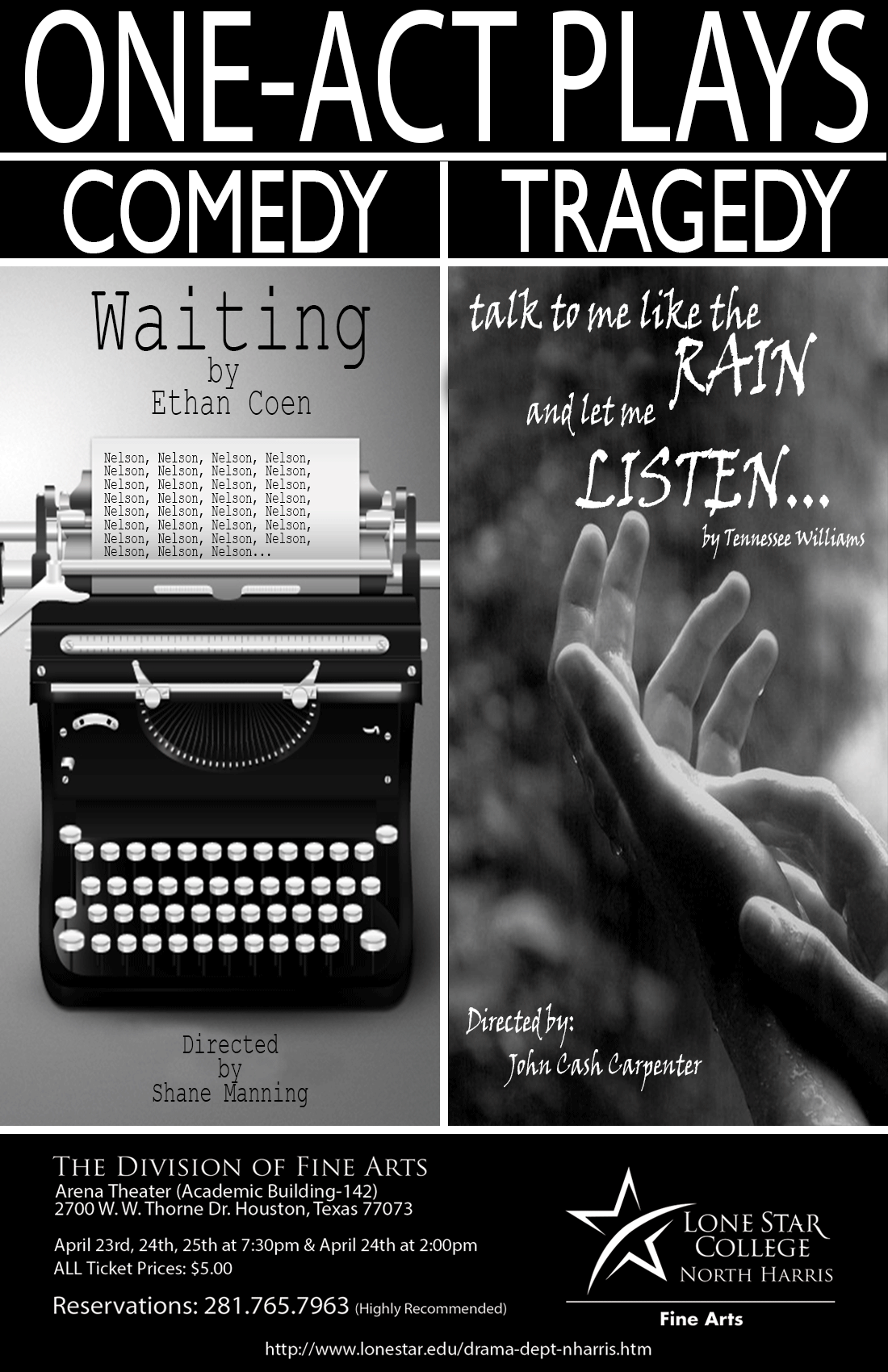 Arena Theatre - Academic RM 142
Waiting (a comedy)
By Ethan Coen
Synopsis:
The Coen brothers' ?lms, Raising Arizona, Fargo, No Country for Old Men, Burn After Reading, are some of the most
critically acclaimed and iconic of our time. Now, one half of the duo, Ethan Coen, adds playwriting to his eclectic bio.
In "Waiting," a man faces an uncertain future in an uncertain location that appears to be some kind of waiting room.

Directed by Shane Manning
-------------------------------------------------------------------------------------
Talk to Me Like the Rain and Let Me Listen… (a tragedy)
By Tennessee Williams
Synopsis:
Tennessee Williams was a master playwright of the twentieth
century, his plays A Streetcar Named Desire, The Glass
Menagerie, and Cat On A Hot Tin Roof, are considered among
the finest of the American stage.
This stage play was written in 1953, and features a
small-scale, bare-room situation. It involves an unnamed Man
and Woman who are bound together in an endless cycle by
their hopeless poverty. William's themes are explored in the
Man's alcoholism and the Woman's desperation.
Directed by John Cash Carpenter

__________________________________________________________________________________________
Performance Dates:
April 23 - 25 at 7:30pm (Wed, Thurs., Fri)
April 24th at 2:00pm (Thurs.) *A MATINEE DURING THE SCHOOL WEEK!!!!!

Tickets: $5 general admission
Seating is limited and reservations are strongly encouraged.
For more information, or to make Reservations please call 281-765-7963