Current Students
|
LSCS Locations
|
LSC-CyFair Campus
|
LSC-CyFair Arts
|
Box Office - Ticket Information
|
jazzjam2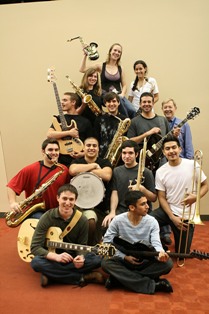 Music Direction by Dr. John Wolfskill
Choral Direction by Professor Alex Qian
Lone Star College-CyFair jazz ensemble will delight and dazzle!
Featuring our resident Jazz Ensemble and Guitar Matters
Also featuring our very own LSC-CyFair Concert Choir
And the dynamic Academy for Life Long Learning (A.L.L.) and
the Learning Inspiration Fellowship and Enrichment (L.I.F.E.)
jazzjam Singers
jazzjam2 Band Personnel:
SAXOPHONES
*Cheryl "C J" Nichols, Alto
Hanna Smith, Alto
Jason Pope, Tenor
Camille Bellino, Tenor
*Matthew Janik, Baritone
TRUMPETS
David Burt, Lead
Victor Hayes
Malcolm Harris+
Vaughan Peterson+
TROMBONES

Bladimir Carrillo
Ryan Gutierrez
Jay Henry+
Gary Weldon+
RHYTHM

Brett Bousley, Guitar
Jorge Aguilar, Guitar
Julian Troyan, Guitar
Jesus Prado, Guitar
Blake Ybarra, Bass
Hayden Wander, Bass
Gabe Argumedo, Drums
Patrick Ojeda, Jr.+, Latin Percussion
*Two of our band members, saxophonists Cheryl JoAnn Nichols "CJ" and Matthew Janik, were awarded chairs in the renowned Texas All-State Band. They were selected through a competitive state-wide audition last November. In February, Nichols and Janik were invited to perform for the Texas Music Educators Association Convention in San Antonio. We are so very proud of them, and of course, we are proud of all our LSC-CyFair instrumentalists! -jcw
+These designated musicians have joined us for tonight's performance. Malcolm Harris is our resident artist for applied students of brass instruments.
jazzjam2 Guitar Matters
Jorge Aguilar, Guitar
Brett Bousley, Guitar
Jesus Prado, Guitar
Julian Troyan, Guitar
Ruben Garcia, Guitar
Blake Ybarra, Bass
Hayden Wander, Bass
Gabe Argumedo, Drums
Personnel jazzjam Singers Personnel

Inez Barton
Joan Camenson
Monica Colson
Nancy Flanakin
Nicole Grail
Joe Hawthorn
Cynthia Hobart
Pat Meischen
Lisa Seeker
Paul Spiller
Glay Posch, Director/Coach