Academic Departments
|
LSCS Music Departments
|
LSC-Montgomery Music Department
|
Music Faculty
|
Amy Wiggs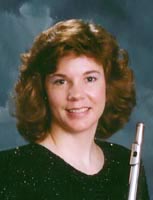 Title:
Woodwinds (Flute)
Education:
Master in Flute Performance, Rice University
Bachelor in Flute Performance, Rice University
Contact:
amy.s.wiggs@lonestar.edu
713.661.6804
Professional:
Amy Saxton Wiggs is an honors graduate of the Shepherd School of Music, Rice University, where she earned her Bachelor and Master Degrees in Flute Performance as a student of Albert Tipton. She attended the Aspen Music Festival for several summers performing in various orchestral and chamber groups. She has performed in Master Classes for Louis Moyse, Carol Wincenc, Ransom Wilson, Geoffrey Gilbert, Robert Dick Keith Underwood and Gary Shocker. Ms. Wiggs held the position of 2nd Flute with the New Orleans Symphony/Louisiana Philharmonic Orchestra from 1990-1994. She has been a featured soloist with the Fort Dodge Symphony in Iowa, Lake Superior Chamber Orchestra in Minnesota and the Bayou City Chamber Orchestra in Houston. In October of 2006 Amy Wiggs, along with her husband Steven Wiggs, performed the world premiere of Eric L. McIntyre's Of Minong a work for Solo Flute, Solo Cello and Orchestra. Currently Ms. Wiggs free-lances and performs with the various arts organizations in the Houston area, subbing with the Houston Symphony and Houston Ballet Orchestras. She has a large private flute studio, teaches Master Classes at several Houston area schools, performs weekly with a chamber ensemble at Christ the King Presbyterian Chruch and is the owner/manager of Accent Chamber Music. Amy performs regularly with her Flute Quartet, (Flute, Violin, Viola & Cello) of which her husband, Steven Wiggs is the cellist.