Academic Departments
|
LSCS Health Information Technology Departments
|
LSC-Kingwood Health Information Technology Department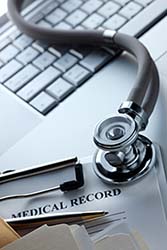 Kingwood offers several healthcare programs including:
Dental Assisting
Electrocardiography Monitor Technician
Nurse Aide
Phlebotomy
In order to register, you must do so in person in the Continuing Education Office (Classroom Building A) room 107. You will need to bring a copy of your immunization records and a current TB test and all other required information.
Texas Law (25 Texas Administrative Code (TAC) 97.63 and 97.64) requires that all students enrolled in health related courses, which will involve direct patient contact in medical or dental care facilities be immunized against measles, mumps, rubella, varicella (chicken pox), diptheria, tetanus, hepatits B and have a current TB (PPD) which must be negative. Students must submit a statement indicating the month and year of each immunization when registering for classes. All immunization requirements must be met prior to registration.