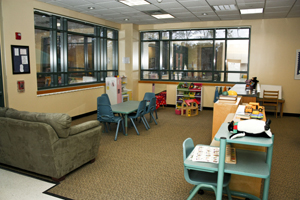 New Location ~ Building A102
The Child Care Center is available for use by registered Lone Star College-Montgomery students and employees, and their children. Students may use the Child Care Center during the hours they are in class, lab, or student time during center business hours.
Child Care Enrollment
We accept child care enrollment forms prior to the start of each semester. As a reminder, the Child Care Center will not be open during major holidays, school vacations, mini-mesters or Winter Break. For questions, please check our Frequently Asked Questions page, or call: 936.273.7452.
Please read the Parent's Handbook and ensure that all Enrollment Documents are filled out completely before turning them in to Student Services (located in Bldg. C). Partially completed packets will not ensure a space in the Child Care Center.
For more information:
LSC-Montgomery Child Care Center
Elizabeth Logue
Student Services, Bldg. C 936.271.6100
Hours of Operation
Have questions or comments about the
LSC-Montgomery Child Care Center?