Welcome to the Web page for the LSC-Tomball President, Dr. Susan Karr. The Office of the President provides coordinated leadership to the college community to create an environment which best fosters the proactive pursuit of education and the enrichment of the community as a whole.
Meet the President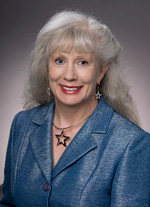 Appointed as the fourth president of LSC-Tomball in August 2009, Dr. Susan Karr is known for her warmth,  passion for students, and dedication to the mission of the community college. 
Coming from a low income family in the foothills of Appalachia, Karr was the first in her family to attend college.  Karr's parents were only able to complete the fifth grade before they were called to the fields to work, and they never imagined that any of their children would have the opportunity to attend college, much less become a college president! 
Karr got her start at a community college and is a perfect example of the transformation that a college education can make in the life of a student.  Karr received a Ph.D in Community College Leadership from the University of Texas at Austin and credits Dr. John Roueche, Dr. Suanne Roueche, and Dr. George Baker as the ultimate mentors who forever changed her life for the better. 
Meet the President's Council
John Fishero, Vice President of Administrative Services
Ann Johnson, Vice President of Student Success
Dr. Lee Ann Nutt, Vice President of Instruction
Kathy Sanchez, Dean, Developmental Studies, English, Languages, Mathematics
Dr. Cindy Casparis, Dean, Health, Kinesiology, Natural Sciences and Technology
Jill Riethmayer, Dean, Arts, Business, Behavioral Sciences, and Social Sciences
Dr. Lisa Morales, Dean, Academic Initiatives and Partnerships
Ronnie Pickard, Director, College Relations
Michael Dannenbaum, Director, Facilities
Ben Leung, Executive Director, Campus Technology Services
Kim Carter, President, Faculty Senate
Sharon Jones, Director, Continuing Education
Mark Pemberton, Captain, Campus Police
Pamela Shafer, Director, Library
Kristi Bonnin, Human Resources Manager
Carol Wheeler, Director, Business & Auxiliary Services
Michael Weems, Administrative Assistant II, Office of the President