Service Learning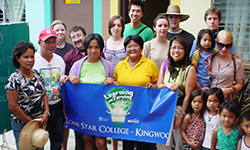 Service Learning is a strategy for linking the classroom, community, and civic engagement through a teaching method which combines community service with academic instruction as it focuses on critical, reflective thinking and civic responsibility.
The links below provide additional information and necessary forms concerning Service Learning:
"I shall pass through this world but once. Any good therefore that I can do or any kindness that I can show to any human being, let me do it now. Let me not defer or neglect it, for I shall not pass this way again."
~ Mahatma Gandhi