English for Speakers of Other Languages (ESOL)
Language barriers are a common challenge in the classroom and can be a major source of frustration. Students who want to better communicate in all settings will benefit from ESOL classes. Lone Star College offers a wide variety of ESOL programs to meet the diverse needs of the community. Classes are offered during the day, at night, and on weekends.
Click here for a printable PDF about Lone Star College's ESOL programs (in English and Spanish).
What is ESOL?
ESOL, or English for Speakers of Other Languages, are classes that are designed to help students improve reading, writing, listening to and speaking English. Classes are available at several LSC campuses and satellite centers.
Why take ESOL Courses?
Better communicate with peers and co-workers
Better understand high level classroom instruction
Attain a higher paying job or promotion
Testimonials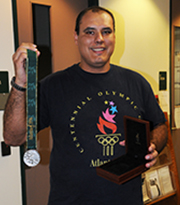 "Train the mind."
- Ernesto Perez, LSC-Montgomery ESOL student and Former Judo Heavyweight Olympian
Read about the trade secrets to success Perez shared with Discovery Youth Campers
at LSC-Montgomery.
CE Contact Information
LSC-CyFair
LSC-Kingwood
LSC-Montgomery
LSC-North Harris
LSC-Tomball
LSC-University Park