Current Students
|
Advising
|
The Honors College at Lone Star College
|
LSC-Tomball Honors Program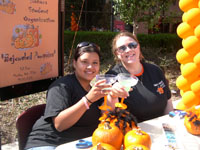 Welcome to the website of the Lone Star College-Tomball Honors Program. Our program has a lot to offer, including smaller class sizes, close interaction with faculty, and specialized coursework. Our students make the program outstanding. Please take the time to look around the website and familiarize yourself with the opportunities the Honors Program has to offer. If you have any questions feel free to contact the Director of Honors. 
Dr. Steven Prewitt
TomballHonors@lonestar.edu
(832)559-4214 or (281)357-3759
The mission of the Honors Program is to provide appropriate learning opportunities for outstanding students who are committed to achieving academic excellence. The Honors student is challenged to perform at their highest intellectual ability through acceleration, enrichment, experience, innovation, reflection and scholarly research. Together, Honors students and Honors Faculty constitute a community of scholars dedicated to quality education, personal growth and lifelong learning.

Courses being offered Spring 2014
SPCH 1318.3006       Interpersonal Comm

TTh 12:30-1:45

Prof. Friesen
ENGL 2328.3001      American Lit, after Civil War

TTh 11 a.m. - 12:15 p.m.

Prof. Veselis
HIST 1302.3005        U. S. History since 1877

TTh 9:30-10:45 a.m.

Dr. Prewitt
ECON 2302.3001      Microeconomics

MW 8-9:45 p.m.

Prof. Davia
ENGL 1302.3008      Comp & Rhetoric II

MW 11-12:15

Prof. Carter
BIOL 1406.3017/18  Biology II, for majors

MW 6-8:50 p.m.

Dr. Simcik
GOVT 2389.3001/2  Internship

TBA          

Dr. Haysley 
Honors Courses and Honors Contracts
All students wishing to earn Honors credit can enroll in an Honors course or sign an Honors contract. Students who are members of the Honors Program are encouraged to take Honors Courses or to complete Honors Contracts. To graduate with Honors from Lone Star College-Tomball, a minimum of 9 hours of Honors credit must be completed. Honors Courses and Honors Contracts are only scheduled during the fall and spring semesters. Students are encouraged to take electives, participate in study-abroad or internships during the summer terms. Pease click on the links on the left side of the screen for additional information ad to print a contract.
Admission Criteria
To qualify for admission to the Honors Program, a student must have at least one of the following - a high school GPA of 3.5 on a 4.0 scale, an SAT combined score (math and critical reading) of at least 1150, an ACT composite score of at least 26, or a college GPA f at least 3.25 and at least nine credit hours. For additional information, contact the Honors office or the Honors Director.
Honors Scholarship Opportunities
Each semester the Honors Program has three $500 scholarships to award to active members of the program. The Honors Council will award these scholarships at the end of each Fall and Spring semester, based on the evaluation of each student's work.
LSC-Tomball Faculty

Faculty...have you been thinking about offering Honors Credit in the courses you teach? Do you have a great idea for a new course that you are teaching that might be perfect for Honors students? The Honors Program is always looking for enthusiastic instructors to teach our courses or offer Honors by Contracts.