Events at LSC-Atascocita Center
Summer Registration begins March 5
See Kirsty or Summer in Student Services
Summer 1 classes:
Summer 2 classes: 
SAT Preparation and Teen Driver Education
SAT Prep:
April 21 - May 1, M-Th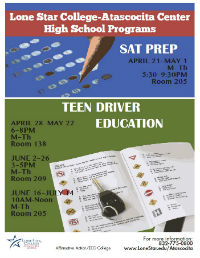 5:30 - 9:30PM, Room 205
Teen Driver Education:
April 28 - May 22, M-Th
6-8PM, Room 138
June 2 - 26, M-Th
3-5PM, Room 209
June 16 - July 14, M-Th
10AM - Noon, Room 205
Food Services
Blue Hibiscus:   
Serving gourmet breakfast and beverages from 7:45 - 10:45AM.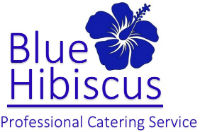 Chik-Fil-A: 
Serving lunch from 11:00 - 1:00PM.
Stop by for breakfast or lunch, now available on the 2nd floor balcony. Accepting cash and major credit cards.
Tax Aide Prep offered for FREE
Every Friday from 10-2PM beginning February 7t
h i
n Room AC 224 until April 11th (The campus is closed March 14). 
Now Hiring Part-Time Faculty
We are hiring part-time faculty in the following disciplines:
Business
History
Humanities
Speech
Biology
Accounting
Engineering
English
Math
Government
Computer Science
Economics
Visit www.lonestar.edu/jobs and type Atascocita as keyword search. Most positions will begin in August.
LSC-Atascocita Center Video   About the Center

The Atascocita Center is a stand-alone campus in the Lone Star College system and provides the community local access to services, college courses and programs, workforce training and leisure learning. Affiliated with Lone Star College - Kingwood, the new 62,000sf campus opened in August 2011 and contains student services, bookstore, library and learning center, multi-purpose space, administrative suite, faculty offices, computer labs, classrooms and laboratories. The LSC-Atascocita Center also serves as the home of Quest Early College High School in partnership with the Humble ISD and the Bachelors in Business Administration completion degree through University of Houston-Downtown.

Location
Please note that GPS systems do not have the correct location for the Center. Continue driving down West Lake Houston Parkway and you will see the building.