Current Students
|
Student Services
|
Tutoring
|
LSC-North Harris Tutoring
|
Tutoring Programs
|
Writing Center Tutor Staff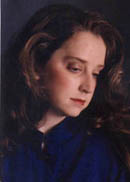 Tara Edwards is in charge of daily operations of the Writing Center.

Tara Edwards joined NHC in 1999 as coordinator of the Writing Center. A graduate of the University of Texas at San Antonio with a degree in English, she brings a range of professional experience to the Writing Center, including classroom teaching and curriculum development plus clinical research work at UT Medical Branch, Galveston. Currently, she is enrolled as a graduate student in the English program at the University of Houston, Clear Lake.

Tara is in charge of the daily operation of the Writing Center. As coordinator, she tutors, works with both faculty and students, and develops support materials for reading, study skills and writing. She also teaches developmental writing when her schedule permits.

In addition to writing for her graduate classes, she writes short stories and keeps a journal that she began when she was in junior high school. As a lifelong writer herself, Tara recently has developed a forum for NHC writers, the Creative Writing Series of presentations by faculty, staff and students. Tara has recently bought a home, which keeps her busy, as does her elegant and demanding cat Grace.

What advice does she have for writers? "Strive to encounter writing as a way of discovering yourself. Give yourself permission to explore your experiences as they unfold on paper, and you will find strength and validity in the revelation of the story--your story--that ensues."

Miriam Freiter teaches 1301, 1302, and both semesters of American Literature. When time permits, she tutoring all levels of English.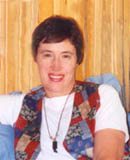 My background includes English, journalism, and social work, three fields I have worked in and studied in school. I earned B.A. and M.A. degrees from the University of Iowa, the graduate degree concentrating on American literature. In addition to teaching in community college, I taught high school English, and worked with ADC and child welfare caseloads. Before working full time at NHC, I did some freelancing in newspapers and magazines, writing about sports and music, two of my outside interests.

I have many favorite writers; I will read anything by Barbara Kingsolver, Nathan McCall, and Anna Quindlen to name a few. I frequently read books of contemporary short stories. At the moment, I am reading In the Heart of the Sea by Nathaniel Philbrick, a fascinating description of the whaleship Essex, the true story on which Moby Dick was based.

Here at North Harris, I teach 1301, 1302, and both semesters of American Literature. When time permits, I especially enjoy tutoring all levels of English. The one-on-one interaction allows time to concentrate on issues ranging from making subjects and verbs agree to comprehending a poem. Also, a tutor can sometimes put a personal face onto a large school by offering individual help.

To any writer I say, "Think about your own interests. Look at the world around you. That is your best material. Don't think your own life is unimportant in finding topics to write about. Every student, every writer, is unique. In addition, even professional writers do many drafts of their before work they consider it fit to be sold. Students also need time to write, revise, rethink."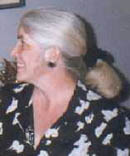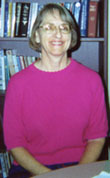 Pamela Pak tutors in the Writing Center.
Pat Szamania teaches the peer writing tutor course
and also serves as the director of the Writing Center.
Dorothy Reade serves in the Learning Center as instructor/coordinator for HumD 0100, TASP lab for reading and writing. Dorothy also tutors in the Writing Center some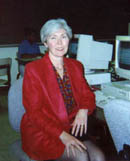 semesters.

Dorothy graduated from the University of Iowa with a B.A. (English and Political Science) and then went on to UH to earn an M.Ed. in Curriculum and Instruction with a specialization in reading.

She taught 5th, 7th, 8th, and 9 -12th grades in the North Forest and Alief ISD's. For the past fourteen years, she has taught at Lone Star College-North Harris as a part and full time instructor, teaching both reading classes, both writing classes, and college study skills. In addition to classroom teaching, at present Dorothy serves in the Learning Center as instructor/coordinator for HumD 0100, TASP lab for reading and writing. Dorothy also tutors in the Writing Center some semesters.

Does she have a favorite writer? "Really too many to mention," says Dorothy. "Garcia Marquez, Wm. Faulkner, Walter Moselly, Barbara Kingsolver, Diana Mott Davidson, Robert Penn Warren and many others."

Dorothy's advice to writers who visit the Writing Center? "Before starting a paper, prewrite and plan to consider what is most important and how best to organize so the reader will understand the message. Upper level students working on critical analysis papers should study and understand the work being analyzed and free write about the work's strength - or weakness - before studying the thoughts of the reviewers and experts. The student-writer's perspective needs to form the core of the critical analysis."

Alice Savage, ESL writing teacher, believes that writing is the creation of knowledge, which is why she is excited about working to help writers discover the different windows that writing can open up on the world. Alice has lived on both sides of the country. She was born in New York and went to elementary school in California. She moved to Washington state to earn her BA degree in English from the University of Washington in Seattle, and went on to get her MA in TESOL in teaching from The School for International Training in Vermont.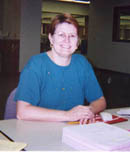 Pat Trenary works as a staff accountant at Carriage Services and as the weekend tutor in the NHC Writing Center.

"When my husband died suddenly in 1994, I was a homemaker with one child in college and two in junior high. Believing that it was more important to enroll in college than to just start work. I began my studies at NHC. Two years later I moved on to Sam Houston State University. I am especially proud that I received a B.A. degree in accounting just four years and three months after I first enrolled at NHC! I plan to take the CPA exam and earn an M.A. in accounting."

In the meantime, Pat works as a staff accountant at Carriage Services and as the weekend tutor in the NHC Writing Center.

While still at NHC, Pat participated in the first peer tutor training program in the Writing Center and contuined peer tutoring for several semesters until she left for SHSU. She is now a professional tutor who especially enjoys working with research papers.

What advice does Pat have for writers? "A lot of writers (including me!) have trouble getting thoughts from mind to paper. I suggest freewriting to just get the ideas down before trying to edit. I also meet writers who write directly to their teacher. But, I think trying to write for the teacher limits writers. We want to write for readers, not just one reader."