Unbound Book Club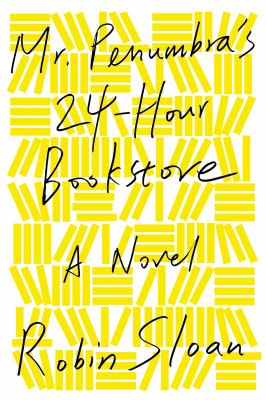 Join us in kicking off the brand new book club at the bookless library!
Next (and final) in-person meeting: August 11 (Monday), 11 a.m. in the Teaching Gallery (12.805)
Missed the kick-off? No worries! One of the benefits of being a (mostly) digital bookclub is that we're pretty asynchronous. Just scroll down to sign up!
How it works:
We will have 3 face-to-face meetings at the beginning, middle, and end of the summer. The rest of the discussions will take place in the special Unbound Book Club "class" on D2L. (We'll get you added to it; you don't have to do a thing!)
Ready to sign up? Just want more information? Scroll to the bottom of this page and enter your information in the form. We'll contact you with whatever you need to know! You are not required to sign up in advance, but it would be appreciated.
You can also share your thoughts on Twitter with #SLRCUnbound:
The book:
Mr. Penumbra's 24-Hour Book Store by Robin Sloan. [Learn more from the publisher]
Where to get the book:
Print versions from the library. You can have a copy delivered to this library for pick-up by clicking the "Request first available copy" button.
E-audiobook from the library. You'll probably want to place a hold in advance on this.
Print versions will be available for purchase from the LSC-University Park bookstore in The Commons (or any other book vendor according to your preference).
The UP library also has an e-version loaded onto Nooks available for checkout.