Lone Star College-Montgomery Study Abroad 2009-2010
Each year Study Abroad scholarships are awarded. November 17th was the deadline for this 2009.
For more information, contact Matt Olmstead at 936-271-6180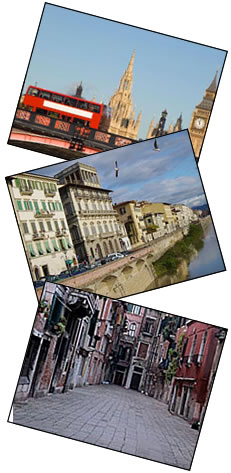 Opportunities for all to Explore the World!
Our programs are open to all students – college credit, leisure, and professionals- interested in exploring new places, learning through experience, and meeting people from around the world. Check out our 2009 trips to Guadalajara, Mexico and Great Britain.
You will study Mexican culture and English literature, or learn Spanish pronunciation, grammar, reading, conversation, and listening skills at Universidad Autónoma de Guadalajara, our university partner. Experience living with a Mexican family and enjoy excursions to historical sites in and around Guadalajara and Mexico City.
Great Britain fills you with the excitement of London and will also allow you to follow the footsteps of Shakespeare. This travel experience called "British Isles," is a 9-day journey that will allow you to experience the vibrant theatre scene, learn the Roman history of Hadrian's wall and experience what college life is about in Oxford.
Over 3,000 thousand miles of beautiful beaches and mountains, numerous volcanoes and valleys, makes Chile, one of the most beautiful places in the world.
Come to the land of great poets, tasty wine, enjoyable people, delicious food, amazing culture, but above all to the language of Spanish.
Chile has it all, from Iquique to Valparaiso, Santiago to Porto Montt, La Isla Grande de Chiloé to Punta Arenas, the only thing missing is YOU! ¡Vamos a Chile!