Office of Technology Services
|
LSC-North Harris OTS
|
LSC-North Harris Procedures
|
Remote Control Procedures
Remote control access to computers is an easy way to resolve minor problems quickly. To some this has been seen as a possible invasion of privacy, "Big Brother Watching". While this is not the case it has been decided that the best approach to using remote control access would be to address the issue of privacy.
The following changes have been made:
1) Remote control of faculty and staff machines will require the end-user to OK the remote connection. An example is shown below.
2) Open access computers, active classrooms, computer labs can still be remote controlled without user intervention. Typically technicians will perform repairs in these areas while the lab is not in use.
When the Service Desk or a technician requests a remote control session with your machine you will see the following screen.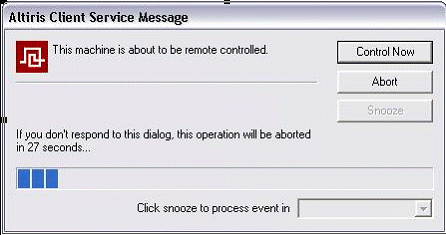 The only way the remote session can begin is by having you authorize the connection by pressing the [CONTROL NOW] button in the top right corner. During this entire connection process the person connecting to your machine will be on the phone with you.
When a remote session is active you will see the following icon blinking on the bottom of your taskbar.