Current Students
|
LSCS Locations
|
Campuses
|
LSC-CyFair Campus
|
Quack Attack Film Festival
Do you think you have what it takes to make an award winning video?
Come join the Lone Star College-CyFair Video Production Club for our Quack Attack Film Festival.
Final Deadline – March 22, 2013
Awards Ceremony – April 26, 2013 at 7:30 p.m. in the CENT Conference Center
Competition Categories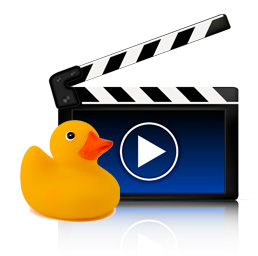 Drama
Comedy
Romance
Horror
Sci-Fi
Music Video
Documentary
News Package
Action
Public Service Announcements / Commercials
Submission Guidelines
Submit an original video project created between January 2012 and March 2013;
Video can be no longer than 10 minutes;
You can only submit FOUR entries per category;
The entry fee is $10 per entry.
Each video will be judged by industry professionals on the basis of: Creativity, Audio, Story, Cinematography, and Special Effects.
Please note that there will be NO unauthorized copyrighted material accepted in this festival. Any production found to have copyrighted material will be disqualified.
Prizes
The prizes will be given during the Award Ceremony on April 26th, 2013 at 7:30 p.m. in CENT Building's Conference Center.
The top 3 overall winning videos will receive Visa Gift Cards. The amount of the gift card will be based on the number of entries received. In addition, the top 3 in each category will be awarded.
All entries will receive a Quack Attack t-shirt at the Awards Ceremony. If there is more than one applicant per entry, each applicant will receive their own shirt.
Submission Instructions
Once you have completed your video, click the link below to fill out the entry form
Ready to submit? Click here to start!

Within 24 hours you will receive an e-mail with your submission confirmation. This e-mail will contain an attached submission packet. Please take note of the Submission ID that is listed on the top of your packet. This packet must be included with your entry.

Entries must be on DVD. Submitted DVDs will NOT be returned. The DVD (Slates/Labels/Credits) should contain no information other than the title of the video and the Submission ID.

Mail or drop off your entry packet with the following -

Submission Packet
Working - DVD
Entry fee ($10 per entry)


Mailing Address
Attn: QAFF Submission
David Potts, Tech 105
Lone Star College-CyFair
9191 Barker Cypress Road
Cypress, Texas 77433-1383

We'll let you know via e-mail once we've received your entry.
Note: Please check final entries to ensure they play the way you want them to be seen. Non-working DVDs are subject to disqualification.
If you don't receive your submission packet within 42 hours, please check your spam folders or contact us for assistance.
Deadlines
All entries must be received in person at the Video Production Studio at LSC-CyFair (TECH building, Room 105) by March 22nd at 8 p.m. If you are mailing your entries, They must be postmarked before March 22nd. NO LATE ENTRIES WILL BE ALLOWED.
Please submit as soon as possible. The earlier the better. Don't wait until the last week!
Contact Information
If you have questions, please e-mail us at:
cyfairvideoproduction@lonestar.edu
or visit our Facebook page