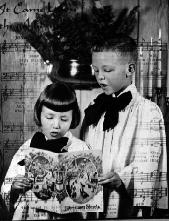 This American Popular Music from 1900 to 1950 Subject Guide, arranged chronologically, is intended as an overview of American history through its music. Music reflects the times, describing events and emotions. Music can portray a more accurate picture of people and events than many other mediums available to us today.
American Pop Music from 1900-1949
The turn of the century arrived and there were only 45 states. Popular songs include Down by the Old Mill Stream, I Wonder Who's Kissing Her Now, and In the Good Old Summertime. Vaudeville was swinging. Engineer John Luther Casey Jones was killed when his Cannonball Express collided with the rear of a freight train. The term "Tin Pan Alley" was coined to represent the cluster of song publishers located on 28th Street between Sixth Ave and Broadway in NYC. This was a period of excitement for the American music scene: plays on Broadway, motion pictures, gramophones, animated cartoonswere developed in the early century. George M. Cohan, Florenz Ziegfeld, and Irving Berlin were on the scene. In St. Louis, in 1904, the country celebrated the World's Fair. People came from far and near to enjoy the spectacle and the music. Nineteen ten marked the beginning the popularity of ballroom dancing.
As the twentieth century approached music was lively. Enrico Caruso made records (not cylinders), Broadway was in full swing with musicals like Peter Pan and The Wizard of Oz. Popular songs included Give My Regards to Broadway and Meet Me in St. Louis (written for the Louisiana Purchase Exposition.) The Boy Scouts and Camp Fire Girls were founded in 1910. Prohibition [Volstead Act, 1919] made speakeasies the place to be.
Public Domain Music - Songs of the early 20th century. Take your time! A collection of music, by genre and time. Music from 1900-1924 contains an excellent collection with lyrics.
Boy Scout Songs - The lyrics of Boy Scout songs
Camp Fire Songs - Traditional camp fire songs.
American Folk Music from NPR. Use the search line here for more essays and music of the period. Modern jazz, blues, etc.
---
Blues
This genre, created by African Americans, is one of the few new art forms of modern times. Developed at the turn of the century, ex-slaves sang work songs filled with irony, imagery, and love, offering relief from the tensions of their lives. Many blues singers were recorded by talent scouts as they sang in the fields. Bessie Smith, the greatest of all blues singers, was labeled the "Empress of the Blues." She recorded in the 1920s. Ma Rainey was known as the "Mother of the Blues."
Blues Online - Links to biographical, photos, discographies, and other information of the blues greats. This is a really wonderful site to get lost in.
The Apollo in Harlem - Music in Harlem in the 1920's and 30's was and is considered the soul of black music. There are short essays here on this topic.
Blues links - Links to Blues magazines and books, also regional blues sites, such as Memphis, St. Louis and Chicago.
King Biscuit Time - Blues page with artist write-ups (with sound files), history, essays on blues women, country blues, Chicago blues, San Francisco Bay Area blues, and more.
The Songs and the Artists from PBS.
---
Jazz

This native American art form was originated in 1900 by black musicians, chiefly in New Orleans. Jazz spread throughout the entire world and remains the root of 20th century music. The Penguin Encyclopedia of Modern Music states, "great black jazzmen did not get the recognition or the money they deserved because of racism, but jazz was never suppressed commercially." Early greats include Louis Armstrong (watch Satchmo and Ella Fitzgerald,) Jelly Roll Morton, and later Duke Ellington began to invent jazz composition for the big bands.
Jazz Roots - Absolutely great site on jazz roots, timelines, pictures, a mystery to solve, and netcast. Wonderful images - copyrighted.
Miles Davis - Contains everything you've every wanted to know about Miles Davis.
American Music Center Home Page - This site contains links to artists' member pages. The American Jazz Symposium home page is also here and it has good biographical information on many contemporary jazz artists.
A Passion for Jazz - Jazz history and jazz education - for jazz lovers today and yesterday. Contains a chronography of jazz musicians.
World War I
Each war has its own music and WWI is no exception. The music of the times was reflected in the popular songs sung during the First World War (1913 - 1917). Americans changed words so they would not reflect the German language, i.e. frankfurters became hotdogs. Songs of this period included If Your Were the Only Girl in the World, How ya Gonna Keep 'em Down on the Farm (After They've Seen Paree), Keep the Home Fires Burning, and Hinky Dinky Parlay Voo . Humorous wartime songs were sung, too: Would You Rather Be a Colonel with an Eagle on Your Shoulder or a Private with a Chicken on Your Knee? A favorite, I'm Always Chasing Rainbows, (later version by Sammy Davis, Jr.) was popular right after the war.
World War I as Illustrated in Sheet Music - an excellent essay, with links, about the importance of music for propaganda and persuasion during WWI. Includes lyrics, midis, and more.
Irving Berlin Page - Biographical information, links to other pages about Berlin. Be sure to notice the beauty of the sheet music covers during this period.
Yankee Doodle Dandy, George M. Cohen - Review of the 1942 musical - includes a poster of James Cagney
Musicals and Theater
First came Vaudeville and Burlesque, then the Broadway Musical. Music played a major part on the stage during this time. This music continued before and after the First World War. A favorite musical, Showboat, included Ol' Man River, sung by Paul Robeson. An early Gershwin musical, Porgy and Bess, was first performed in 1935 in the Alvin Theater in New York. Rudy Vallee was a singing star in early talkies; watch his "I'm Just a Vagabond Lover."

Big Band/Swing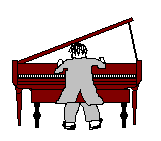 Big bands were HUGEly popular from 1935 - 1947. While not considered 'jazz', the bands often used jazz arrangements and their soloists played 'hot' arrangements. Glenn Miller, Benny Goodman, Tommy and Jimmy Dorsey, Artie Shaw, and others led the hit parade. Many singers (Doris Day,Peggy Lee, Rosemary Cloony) got their start singing with the big bands.Young and old alike enjoyed an evening dancing to the music of Guy Lombardo and others.
Duke Ellington - Official site of Duke Ellington.
Frank Sinatra - Listen to "All or Nothing at All."
Swing Music - Spans seven decades of jazz history, beginning with the 1930's.
World War II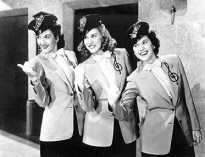 The music of the forties reflected the feeling of a nation at war. The New York Times cost two cents per copy and a gallon of gasoline was seventeen cents. Pro-War songs included We Did It Before and We Can Do It Again and Kiss the Boys Goodbye. I'll be Seeing You, sung by Billie Holiday and Bing Crosby and Boogie Woogie Bugle Boy by the Andrews Sisters [right! Not Bette Midler :-)] were popular. Popular performers of the time included Glenn Miller, Judy Garland, Frank Sinatra, and the Mills Brothers. God Bless America written by Irving Berlin in 1917 was first performed by Kate Smith in 1938. Bob Hope and others traveled to entertain the troops.
Bing Crosby Home Page - Lyrics, history, biography, television, reviews of his work. Great site!
Frank Sinatra - This site contains lyrics for over 350 songs recorded by Frank Sinatra. Visit the home page and see albums, pictures, biographical information and more.
Media History Timeline - Pretty nice time line of what was happening 'media wise' during this decade. From U of New Mexico.
---
AND
In 1949, RCA produced the 7 inch 45 r.p.m. disk with the large center hole and pretty much ended the reign of the 78 r.p.m. Country and Western music entered the top ten for the first time with Slippin' Around sung by Margaret Whiting. Doris Day made her film debut and Martin and Lewis appeared on the scene. Visit our page to Music of the 1950s Through the Present or Music before 1900.
---
MUSIC AWARDS
Music awards began later than our time period here (mostly) but this is a great spot to find other music of the period by genre.
Country Music Awards - Great site for country music trivia buffs. It contains awards and nominees; history; trivia, etc. from the 1967 show until the present. This aware started after our time period, but country music was popular much earlier.
Dove Awards, Gospel Music - Established by the Gospel Music Association.
International Bluegrass Music Awards - Contains links to International Bluegrass Music Association membership info., regional reps, trade shows, current press releases, and two internet journals.
Tony Awards - Contains an excellent database of musical theater awards and information dating back to 1947.
---
LYRICS - ALL PERIODS
NIEHS Kids Pages - Popular children's songs with words and midi files.
Lyrics.com - Searchable Lyrics index.
Historical Songs - America's Story (Library of Congress) is designed for young people and contains authoritative information about music in America, presented in an entertaining way. Try these links - jump back in time and see, hear and sing.
---
GETTING HELP FOR YOUR ASSIGNMENT

Citing Sources Using the Library MLA Style Guide | Lone Star College-Kingwood library guide. Examples of both paper and electronic citations.
---
American Music from 1950 - Present
American Cultural History by Decades
Page by Peggy Whitley | Links checked 5/2012 sg
Ask Us


Reference: 281.312.1693
Circulation: 281.312.1691



Text-A-Librarian
281.973.4792


Kingwood.LRC-Ref@LoneStar.edu
---
LSC-Kingwood Library Assignment Guides | About LSC-Kingwood Library | LSCS Libraries