LSCS Libraries
|
Research Guides
|
LSC-Kingwood Library Assignment Guides
|
American Popular Music Before 1900 - LSC-Kingwood
A Chronological Subject Guide To
AMERICAN POPULAR MUSIC BEFORE 1900
One of the really neat things about music, and there are many, is that it reflects the times. Lyrics tell how people feel and describe events. Through music we can celebrate, lament, or send messages. In many ways, music can offer a more accurate picture of people and events than any other method available. Once you visit the music collected here, you will be amazed at how music endures throughout the centuries.
This chronologically arranged page is intended as an overview of American History through its music. Please write us if you have information or links which would supplement this information. Later, visit our 19th Century Popular Culture pages for background on the century by decade.

---

LYRICS - ALL PERIODS
Links and music of the 19th century - from UNC at Chapel Hill.
From the Library of Congress American Memory collection.
Beautifully site arranged chronologically. Arranged also by country. Information about the origin of the songs is included. Thanks!
Collected song lyrics for scout troups. Great collections of old songs. Many from early American History.
Very neat site - wiki - Hit or miss on early music, but right on with today's lyrics. Some midis. Search by performer or lyrics.
Links to American gospel music sites from U of Indiana.
---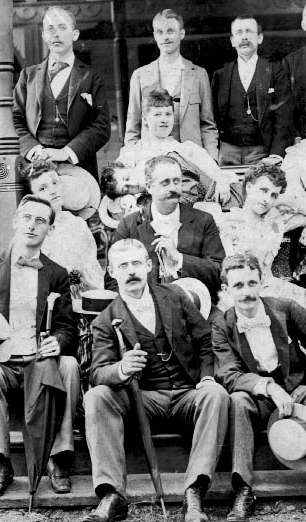 A Chronological History of American Music to 1900

1606-1776 THE COLONIAL ERA
Religious music was the first music of early colonists. Traditional English hymns were brought to America. Singing the Psalms was an early form for hymns. Pilgrims from Southhampton and Plymouth brought with them the Ainsworth Psalter imprinted in 1612 in Amsterdam. It was used until 1667 when The Bay Psalter was adopted (Wikipedia says 1840). Benjamin Franklin wrote and published a book of Ballads. Operas appeared. Music of the war was popular. A Mighty Fortress is Our God, The Eighth of January and Yankee Doodle are good examples of this period. The Trinity Psalter has examples of early singing of the Psalms.
Early Music of America and The Music of Early America offer links to early music and essays in Early American Music Journal.
InfoPlease - American Music Timeline.
Mappamundi's Colonial American Music - Performing group. Interesting site.
---

Religious Music
The Bay Psalm Book Cambridge 1640 - The first book published in British Colonial America
Hymn Search - Listed above, use here for the Old Methodist Hymnal. Lyrics and music.
Sacred Harp Singing - Information regarding shape note singing, a style that began in early 1800s. Early hymnals were printed in a 4-shape notation system. At least 38 such hymnals were published before 1856. Various other links to other music sources here as well.
---

Nursery Rhymes
Rhymes, wonderful illustrations, a little history and dates. Delightful - don't miss Three Little Mice. Links to other pages.
Many Nursery Rhymes were set to music and sung to the children during this period. History behind the British nursery rhymes.
Nursery rhymes and jump rope songs, with midis or videos.
---

Ballads and Political Songs
Great site with songs, lyrics and a little history. Arranged chronologically.
Early 1800s brought about political music. Usually sung to familiar music.
---

1776-1860 REVOLUTIONARY WAR /POST-COLONIAL ERA
The printing of individual items of music began in North America only after the American Revolution. Music still closely linked to England. The Star Spangled Banner was written in 1814. Other songs of this period include Rock of Ages, America, Oh Shenandoah!, Drink To Me Only With Thine Eyes, and Johnny's Gone For a Soldier. Folk music and ballads were the rage. Negro spirituals and slave music came from the African slaves.

Revolutionary War
---

Negro Spirituals and Slave Songs
---

Folk Music
Camptown Races, Old Folks at Home, Jeanie with the Light Brown Hair, and My Old Kentucky Home were composed by Foster during his short life.
Many lyrics to folk music of the period and a bit later. Mid-Century folk music here - browse further on the 19th Century page.
Photographs and annotations from American Folklife, Library of Congress. Includes 18 hrs. of audio recording, graphics, texts. Wonderful archives.
AND the Yellow Rose of Texas written in 1858. Since we are Texans, we can't miss this one!
---

1860-1900 CIVIL WAR / RECONSTRUCTION ERAS
Popular music just before and during the Civil War concerned itself with political and military events. Songs included Battle Hymn of the Republic, Dixie, I'll Take You Home Again, Kathleen, When Johnny Comes Marching Home Again, Old Black Joe, Carry me Back to Old Virginny, and Marching through Georgia. Religious songs were popular, including Amazing Grace, He Leadeth Me, Go Tell it on the Mountain, and My Faith Looks Up to Thee. Folklore music started during this period and included songs from the Indians, Negroes, mountainneers, cowboys, lumberjacks, sailors and others. How about listening to Oh My Darling, Clementine!?

Civil War
A small collection of each. Links back to a hodgepodge of Civil War links.
Good site
Information regarding the purpose of poetry and song in war. Also contains list of Union and Confederate song lyrics. Poetry is music too...
---

Gospel
Essays about gospel music. There is controversy about the early history - but it is all good.
From NPR music website
---

Mother Goose - Sarah Josepha Hale
Sheet music for many children's songs
First Mother Goose, written by Sara Josepha Hale. Follow the lamb to school.
---

Work Songs - Railroad and Westward Expansion
Derived from an old-time Negro spiritual, this was sung by railroad work gangs in the west.
The story of Casey Jones.
This old song originated in a tramp minstrel show.
This neat school site teaches history through music.
---

Ragtime
Don't miss listening to some of the ragtime of Scott Joplin. Maple Leaf Rag was his most famous.
Ragtime MIDI Library
Popular sheet music from the 1800s to the 1920s
Essay about Ragtime and information about the influence of Ragtime on other music.
---

Broadway Musical
Vaudeville & Popular music 1870-1920. This is a Library of Congress Memory Project.
This is a terrific page - information, midis, lyrics, plot summaries..and more.
The web opera by Gilbert & Sullivan. With music and Lyrics.
The March King.
W. S. Gilbert (of Gilbert and Sullivan fame) wrote a large number of "ballads" for the magazine Fun using his pen-name "Bab." These Bab Ballads became famous on their own, as well as being a source for plots and songs for the G&S operas. Lyrics and information at this site.
---

Texas
Music published in Texas during this period. Some midis and lyrics..
Wonderful source for the history of Texas music. Use search word music or gospel music or blues. Completely searchable and hyperlinked.
---

Old Time Music

The Southern Folklife Collection, on the fourth floor of Wilson Library at the University of North Carolina at Chapel Hill, houses one of the world's largest collections of Southeastern-tradition derived music. This page has information about early country, old-time string bands, gospel and spirituals, and southeastern blues.
Old Time Music is a collection of great websites you can browse. Includes newsgroups, instruments, vendors, personalites, and links to magazines. Very good.
Another website filled with links to browse for Anglo-American ("old-time") music.
---

Minstrelry
Take a look at this great page. Take the Al Jolson Journey. Toot, Toot, Tootsie, Goo'Bye!
Contains biographical information and more.
---

JAZZ
Great site - take a look at the time line and all of the great information there.
Where jazz roots really reside.
---
American Popular Music from 1900 - 1950 | American Popular Music from 1950 - present
Library Subject Guides | Lone Star College System Libraries
U.S. History to 1865
American Cultural History - 20th Century | American Cultural History - 19th Century
---

Two invaluable books used for research on this page are:
The Great Song Thesaurus by Roger Lax and Frederick Smith
Early American Music: Music in America from 1620 to 1920 by Harold Gleason and Warren Becker
Revision July, 2012 sg
Ask Us


Reference: 281.312.1693
Circulation: 281.312.1691



Text-A-Librarian
281.973.4792


Kingwood.LRC-Ref@LoneStar.edu
---
LSC-Kingwood Library Assignment Guides | About LSC-Kingwood Library | LSCS Libraries