Art History II / Renaissance to the 20th Century - LSC-Kingwood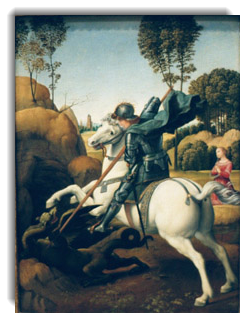 ARTS 1304

ASSIGNMENT
The all-encompassing, show me your brains paper:

Write a research paper on a culture or style from this period.

In a 5-7 page typed and double spaced paper (MLA style), show how an artwork reflects the issues and concerns (societal, political, economic, artistic, religious, historical, technological or/and psychological) of the time period in which it was created. Include an analysis of content in relation to these issues and concerns. Be sure to reference specific elements within the artwork throughout the course of the paper as they relate to your issues and concerns. Parenthetical references and a bibliography must be included. Refer to the section on plagiarism. Please include a reproduction of the image on a separate page at the end of your paper. Contact Professor Kelley Revuelto.


---
Librarian talk . . . About Getting Started!
As you begin, narrow your topic to a size that you can manage. Consider keywords that will help you find the information you need. These can be names of artists, art works, events, or broader identifying terms. Use these keywords for locating information in the library catalog, electronic databases, and on the internet.
Keywords: Art history, Art, Renaissance, Painters,
Names of specific artists or movements, such as Baroque, Rococo, Impressionism

You can also use a specific work of art or architecture.
---
BOOKS
Librarian Talk . . .About Books!
Apply online for a library card. Use the barcode number from your Lone Star College ID/library card to:

1) Request or place a Hold on a book and have it sent to the library closest to you
2) Access journal and reference databases from home
More about...Finding Books (31 sec.)
Reference Books are a good starting point because they give you an overview with more broad, general information. If you haven't decided on your topic, they will help you by presenting the major artists and movements.
REF N5300 .S8447 Atlas of Western Art History; Artists, Sites and Movements from Ancient Greece to the Modern Age. New York: Oxford, 1994. Where art was created, and how and why it spread.
REF N31 .D5 Dictionary of Art (34 Volumes). New York: Grove, 1996. A classic reference, thorough and authoritative. Black & White pictures. Also available as a database, Oxford Art Online (includes Grove's Dictionary of Art).
REF N25 .E53 Encyclopedia of Visual Art (10 Volumes). Danbury, CT: Grolier, 1983. Volumes 4-5 cover the styles and movements of this period. Vol. 6-9 offer information on the artists.
REF N40 .G77 Great Artists of the Western World (10 volumes). New York: Marshall Cavendish, 1987.
REF N40 .G774 Great Artists of the Western World II (10 volumes). New York: Marshall Cavendish, 1988. Brief background information and good, full-color pictures.
Circulating Books
To find books, search the library catalog using Keywords:
Name of the art movement.
Artist's last name.
Title of the artwork

You can also browse the shelves. At a college library, Art is in the N section. In a public library, it will be in the 700's. If your book is not available at the Lone Star College - Kingwood Library, you can request that it be sent here. Just click on REQUEST FIRST AVAILABLE copy of the item in the Library Catalog. You will need the barcode number from your student id/library card, and your 4-digit PIN (usually the last four digits of your phone number) to place a request.
---
These books have been Recommended by your instructor as a good place to begin your research:
Northern Renaissance
N6370. S6 2005. Northern Renaissance Art. Snyder, James. Upper Saddle River, NY: Prentice Hall, 1985.

N6370. H26 1995. The Mirror of the Artist. Harbison, Craig. New York: Harry N. Abrams, 1995.
Italian Renaissance
N6915. H37 2006. History of Italian Renaissance Art. Hartt, Frederick. New York: Harry N. Abramns, 1994.
19th Century Art
N6425. N4 R65 1984. 19th Century Art. Rosenblum, Robert and H. W. Janson. New York: Harry N. Abrams, 1984.

The Impressionists: A Retrospective. Kapos, Martha. New York: Macmillan, 1991. Available for request from MCML libraries.
20th Century Art
N6490 . A713. History of Modern Art. Arnason, H. H. New York: Harry N. Abrams, 1998. 4th ed. & 6th ed. Available for request from MCML and HCPL libraries.
---
DATABASES: Searching for Scholarly Journal Articles
Librarian Talk . . . Finding Journal Articles!
Electronic databases are purchased by the libraries for your research use. To find scholarly journal articles, magazine and newspapers articles, letters, reference books, illustrations, photographs and more, use your updated library card to login to the databases. There is some overlap of articles in the following databases. However, we encourage you to use more than one. All are excellent sources for this topic.
HINT: For a full list of avalailable databases, go to Research Databases, and select the subject that best suits your need. From off campus, use the barcode number from your Lone Star College ID/library card to log in.
Project Muse - Scholarly articles from recent journals.
JSTOR - Scholarly articles from older journals.
Academic Search Complete - A general database that includes art. Use an Advanced Search, and select Full Text and Scholarly (Peer Reviewed) Journals.
Biography Reference Bank - Learn about your artist and his times. Not art criticism.
Oxford Art Online - New and useful for art research; includes Grove Art Online and access to Oxford art reference subscriptions and publications. See Below for detailed instructions for accessing the database.
---
OXFORD ART ONLINE
Librarian Talk . . . About Searching Oxford Art Online (includes Grove Art Online)
The Oxford Art Online is a database that offers full-text articles and pictures of the world's most famous art. On the opening page of this database, you will find several search options. Understanding how to use these options will help you to plan your search. A guided tour is provided that is very helpful to familiarize you with the features of this database.
"Advanced Search" Located in the upper right -hand corner of the opening page and each additional page. A variety of searches are available from this link- look at the tabs across the top. Includes "Main Search", "Biographies", and "Images".

"All Content" Includes an alphabetical listing of the content of the databases with the advanced search window at the top of the page and a search window providing the option of using an advanced search located on the left hand side, along with the list of databases. Choices include full text, entry title, bibliographies, and contributors in the this search window.

"Biographies" Include the same basic format listed above, but tailors it to searching for people. The advanced search on the left hand side will allow you to search for artists by name, date of birth, place of birth, or date and place of death and you can choose the database(s) you wish to search.


"Subject entries" Again follows the basic format, with the advanced search tab on the left giving you options for searching for full text, entry title, bibliographies, and contributors. Seach tips are provided on the right side of the page.


"Images" Clicking on this link will again give you an alphabetical listing of images as well as a search window. This option will allow you to use advanced search to look for images of art embedded in the Grove Art Online articles, on the web, or in the additional databases provided.


"Tools & Resources" With this option you can search for abbreviations, timelines of world art, MoMA/ Grove Art lesson plans and thematic guides which include slideshows of artwork represenative of the time periods.
---
GETTING HELP FOR YOUR ASSIGNMENT
Librarian Talk about getting help!
Support for a successful paper is more than finding the right resources. Putting it all together takes time and effort. Sometimes it takes additional help from the librarians or tutors. Please consider the following resources if you need additional help. Remember, the expert on the assignment is your professor.
Citing Sources Using the Library MLA Style Guide | Lone Star College - Kingwood Library guide. Examples of both paper and electronic citations.
For Citing images, see below
Avoiding Plagiarism | Lone Star College brief essay on how to avoid plagiarism. Links to additional valuable resources on the topic.
University of Texas Copyright Crash Course | This helpful guide on copyright is suggested by Lone Star College-Kingwood Teaching and Learning Center.

Learning Center | Check our hours for in-house tutoring.

Academic Integrity Lone Star College brochure covering plagiarism and steps for ensuring student success.

REMEMBER, the expert on this paper is your instructor, Ms. Revuelto.
---
CITING IMAGES USING MLA
Based on the MLA Handbook for Writers of Research Papers, 7th ed. REF LB 2369. G53 2009 (Section 5.7.6 A Work of Visual Art)

When citing a work of art from either a print source or an online database include the following:
Artist's name (if known)
Title of work, in italics
Date created or, if not known, write N.d.
Medium of Composition (i.e. photograph, bronze, oil on canvas, etc.)
Ownership (Museum or Private Collection of . . .)
City where the museum or private collection is located
Complete publication information for the source in which the work appears, either print or online database
Medium of reproduction (Print)
---
Page by
Sue Goodwin
Feb. 2006, revised 06/2011 LL/BB 06/2012LL