LSCS Libraries
|
Research Guides
|
LSC-Kingwood Assignment Guides
|
Paradise Lost by John Milton - LSC Kingwood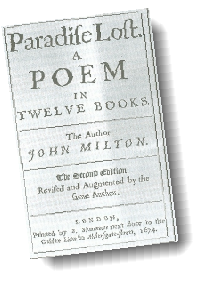 "If John Milton had written only Paradise Lost, he would still be considered
one of the world's greatest poets; but, like Shakespeare, Milton graced nearly
everything he touched...the modern reader will find universal meaning,
poetic grace, and emotional intensity second only to that found in Shakespeare."
Terry Nienhuis, Magill's Survey of World Literature
The best library assignments are ones that use a variety of resources including books, newspaper and journal articles, internet sites, and even video clips and DVDs. We encourage you to use all of these sources for your paper. Books should provide some of the best information for literary and historic topics. You may apply for a library card and request materials online. We hope you will take full advantage of the many resources our libraries offer.
Contact LSC Kingwood Librarians with any questions you may have during your research.
---
" Milton's stated purpose in Paradise Lost was to 'justify the ways of God to man.' " from Literature Criticism from 1400 to 1800 v.92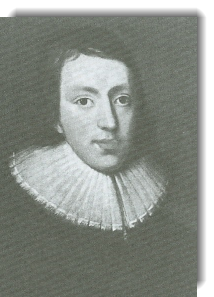 Paradise Lost tells the age old story of man's fall from Eden. Central figures in the epic poem include God, Jesus, Satan, Adam, Eve,and the archangels, Raphael and Michael. An epic poem is defined as an "extended narrative poem in elevated or dignified language celebrating feats of a legendary or traditional hero." (American Heritage Dictionary of the English Language, 2000).
Although the original poem included ten books, the revised edition from 1674, included twelve books. Milton begins in medias res, or in the middle of the story. The actions which caused Satan and his followers to fall into Hell, where we find them in Book 1, are not related until Books 5 and 6. Having readers begin in the middle of the action draws them into the story. Later, when the narrative of Adam and Eve begins, there is a compelling modern day story of this romantic relationship. The lives of these two human characters become more interesting than the diabolical Satan and his minions.
Explication of a literary work is described as "the act of making meaning clear and plain" (Harry Shaw, Dictionary of Literary Terms). It is an approach to literary criticism involving close and detailed study, analysis and exposition of the text of a selection. In such explication, "a critic concentrates on language, style, and the interrelations of parts to the whole so as to make plain the meaning and symbolism of the text (Shaw)." Explication was used by followers of a style of analysis called formalism, a type of literary criticism which placed a special emphasis on connotative and associative values of words and on figurative language including symbolism, metaphors and images in the work.
Librarian Talk . . . About Getting Started!
As you begin, narrow your topic to a size that you can manage. Consider keywords that will help you find the information you need. These can be names of people, literary works, events, or broader identifying terms. Use these keywords for locating information in the library catalog, electronic databases, and on the internet.
Sample Keywords: Paradise Lost, John Milton, Satan, God, Heaven, Hell, Adam and Eve, explication, analysis, annotation, criticism.

---
BOOKS
Librarian Talk . . . About Books!
Books offer helpful information about time periods, authors and their literary works. Use them to help begin your review of literature on Paradise Lost and to explore the poem in depth.
To search for printed books use the online library catalog.
Apply online for a library card. Use your card to request a book and have it sent to the library closest to you or to login to research databases from home.
Electronic books are available in EBSCO's eBook Collection, a database of more than 40,000 ebooks on many subjects including Paradise Lost and John Milton. Use your library card to log in. Create a free account to save favorite titles or your own notes on the books you read.
Here are a few suggested books which examine Paradise Lost and Milton's time period.

REF PN 50 .L574, v. 1 - Literature and Its Times - This book places literary works into the time in which the author wrote. It offers perspective on influences from the period on the author and his work.

REF

PN 86 .L53, v. 92 - Literature Criticism from 1400 to 1800 - This set of books gives readers a critical view of the works produced by authors. V. 92 contains excerpts of longer articles presenting literary criticism of Paradise Lost. Some of these are written by well known literary figures such as Samuel Johnson.
PR3560 - Paradise Lost: An Authoritative Text, Backgrounds and Sources. This is a text of the poem with good annotation.
PR3562 .M47 - Epic God-talk: Paradise Lost and the Grammar of Religious Language. Helpful discussion of the language used in the poem.
E-book from EBSCOhost - John Milton's Paradise Lost - This book is just one of several which discuss Milton's Paradise Lost and which are accessible through the eBook Collection from EBSCOhost.
Watch this short video on the style of Paradise Lost from the database Films on Demand. Films on Demand can be opened from the Research Databases page.
---
JOURNAL ARTICLES (ONLINE ACCESS)
Librarian Talk...About Finding Journal and Newspaper Articles!
Electronic databases are purchased by the libraries for your research use. Use them to find articles in newspapers and journals, letters, reference books, illustrations, photographs and more. Home access to article databases is available with your updated library card barcode. If you need assistance finding an article contact the Reference Librarians. They will need full bibliographic information and your contact information.
Hint: For more database choices go to the Research Databases page. Use your library card to login to the online databases listed below or on the Research Databases page.
Literature Resource Center | Includes most of the information in Literature Criticism from 1400 to 1800. It also has links to scholarly journal articles and appropriate Internet sites. Use the Title search to find information on Paradise Lost. Select the "critical essays" for full text or complete articles.
Academic Search Complete | This multi-subject database contains many scholarly journals in Literature. Choose "Scholarly or Peer reviewed Journals" to retrieve articles of the correct academic level. There are more than 240 full text scholarly articles discussing Milton and Paradise Lost in this database.
Project Muse | Search and browse the full text of recent scholarly journal articles in the arts, humanities and social sciences. All articles found will be scholarly.
JSTOR Arts & Sciences | Search and browse the complete back issues of scholarly journals in literature, economics, history, social sciences, science and mathematics.
---
INTERNET SITES
Librarian Talk . . . About the Internet!
The Internet will be a wonderful source of original documents. Browse the sites we have suggested below. Remember, you do want to find reputable sites. Look at:
Accuracy - The information should show proof that it has been researched.
Source - Who wrote the information? Look at the domain. .edu .gov. org .net are valid research sources.
Authority - What are the author's credentials? (Don't quote from another college freshman's paper.)
Coverage - Does the page have the information you need for your research?
Objectivity - If a work is biased, use it - just make sure your professor knows YOU know. And offer both sides of issues, where applicable.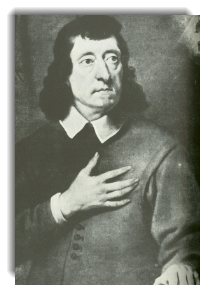 Suggested Web Sites
Remember to evaluate any information from sources you use. Internet sources in particular can be written by anyone, not necessarily an expert on John Milton or his work.
Cambridge History of English & American Literature | searchable, 18-volumes. Good background for most topics including Paradise Lost.
Milton: Paradise Lost | Dartmouth presents this annotated text of the epic poem. Notes are hyperlinked and this makes the information very helpful as you read the text.
Paradise Lost online | The full text of the poem and information about John Milton.
Paradise Lost by John Milton | Kindle, EPUB, HTML and other digital versions from Project Gutenberg.
The Milton Home Page | Created by Kevin J.T. Creamer at the University of Richmond in 1991. This page has a many sources of information about Milton including a chronology of his life and work and an e-text of Paradise Lost.
---
GETTING HELP FOR YOUR ASSIGNMENT
Librarian Talk about getting help!
Support for a successful paper is more than finding the right resources. Putting it all together takes time and effort. Sometimes it takes additional help from the librarians or tutors. Please consider the following resources if you need additional help. Remember, the expert on the assignment is your professor.
Citing Sources Using the Library MLA Style Guide | Examples of both paper and electronic citations.
Avoiding Plagiarism | Excellent information and guide on how to avoid plagiarism from the Online Writing Lab (OWL) at Purdue University.
University of Texas Copyright Crash Course | This helpful guide on copyright is suggested by Lone Star College-Kingwood Teaching and Learning Center.
Learning Center | Offers tutoring services for Lone Star College-Kingwood students in most subjects as well as other services.
---
Page by Becky Bradley, Librarian, 4/07. Updated 5/2012 rp/jfr.
Ask Us


Reference: 281.312.1693
Circulation: 281.312.1691



Text-A-Librarian
281.973.4792


Kingwood.LRC-Ref@LoneStar.edu
---
LSC-Kingwood Library Assignment Guides | About LSC-Kingwood Library | LSCS Libraries