LSCS Libraries
|
Research Guides
|
LSC-Kingwood Assignment Guides
|
Nicholas Nickleby by Charles Dickens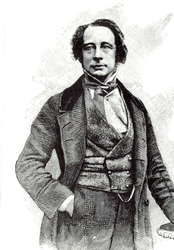 Lone Star College-Kingwood Library
Assignment Guide
Brief biography

Charles Dickens was born in Portsmouth, England, in 1812. His father, employed in the pay office of the British navy, was not a particularly good money manager and often in debt. He was able to send his son to a good school when he was young, but by the time young Dickens was twelve, financial troubles landed his father in prison. Dickens was sent to a boot blacking company to work off his father's debts. The few miserable months he spent pasting labels on bottles of black shoe polish loomed over Dickens throughout his life and colored many of his stories. His loquacious mother, Elizabeth, is considered to be the model for Nicholas Nickleby's mother.

After his formal education ended at age 15, Dickens clerked for two years in a law office. As a skilled shorthand reporter, he prepared reports for lawyers before becoming a reporter for the Morning Chronicle. By the time he was 24, Dickens was able to support himself solely with his writing. The Life and Adventures of Nicholas Nickleby was completed in 1839 when Dickens was 27. Like Dickens' other novels, Nicholas Nickleby was first published in installments over a period of eighteen months.

Charles Dickens died in 1870, halfway through writing The Mystery of Edwin Drood.
---
Plot summary
When Mr. Nickleby dies penniless, his wife, daughter Kate, and son Nicholas turned to their Uncle Ralph for assistance. Ralph, a mean-spirited miser, helped them by securing menial positions for Kate and Nicholas. These positions paid poorly and offended Kate's and Nicholas's senses of decency, and they soon were left to fend for themselves. Nicholas, meanwhile, had a new companion, an abused and brain-damaged student, while Kate gained the attentions of a pair of insolent followers who insulted and accosted her at every opportunity.

Our hero, Nicholas, works his way out of his family's desperate situation by doggedness, impetuous spirits, and good fortune.

The Life and Adventures of Nicholas Nickleby is a romantic comedy with a confusing melodramatic plot. While character development is somewhat shallow, the descriptions of people and places are eloquent.
---
Topics:
Treatment of women

Irony

Championship of the child/school reform

Passion

Money

Business

Benevolence, apparent and real

Picaresque

Virtue

Christianity

Violence/aggression
---
Books:
Librarian Talk ... about Books!
Books offer helpful information about historical background, settings, and authors. Literary criticism may be compiled in a book. The Lone Star College Library Catalog is online. If you want criticism of the novel itself, try the search words Nicholas Nickleby and criticism. For setting and historical background, search for England Nineteenth Century.
Electronic books or eBooks are available in the eBook Collection. You will need a library card barcode number to read eBooks from off-campus. Create a Free Account to save favorite book titles and notes in eBook Collection.
Apply online for a library card.

For quicker results, after you submit the application, call the circulation desk at 281-312-1691 and ask them to process it. Use your card to:

Place a hold on a book.
Request a book listed in the catalog but available from another location.
Access databases from home.
More about...Finding Books (31 sec.)
Reference Books

:
REF PN761 .N5 Nineteenth Century Literature Criticism

Literary criticism from many sources. Check the index volume. These may be excerpted, but the full citation is given to allow you to try to locate the original article. Most useful volumes are 3, 26 and 37.

Circulating Books:
You will find books about Charles Dickens in PR4556 to PR4594. Those that have information about Nicholas Nickleby include:
PR 4581 .J6
Johnson, Edgar. Charles Dickens: His Tragedy and Triumph. New York: Viking Press , 1977.

PR 4582 .S4

Slater, Michael. Dickens and Women. Stanford, CA: Stanford UP, 1983.

PR4588 .C358

Bloom, Harold. Charles Dickens (Modern Critical Views). New York: Chelsea House, 2006.

PR 4588 .S76

Stone, Harry. The Night Side of Dickens: Cannibalism, Passion, Necessity. Columbus: Ohio State UP, 1994.

PR 4592 .P74 C36 2004

Camus, Marianne. Gender and Madness in the Novels of Charles Dickens. Lewiston, N.Y.: Edwin Mellen Press, 2004.

PR 4592 .S58 M35

Magnet, Myron. Dickens and the Social Order. Wilmington, DE: ISI Books, 2004.
---
Databases
Librarian Talk about Finding Journal and Newspaper Articles!
Electronic databases are purchased by the libraries for your research use. To find articles in newspapers and journals, letters, reference books, illustrations, photographs and more, use your updated library card to login to the following databases. If you find an interesting article that is not full-text, you can request the article online. Or, one of our Reference Librarians can help you get the article. They will need full bibliographic information, your name and address, and your library card/ID barcode number. Send your phone number as well, so they can contact you if they need to. There is a time delay when acquiring articles from outside our system. There is some overlap of articles in the following databases. However, we encourage you to use more than one. All are excellent sources for this topic.
HINT: For a full list of article databases, go to electronic databases and use the barcode number from your Lone Star College ID or library card to login (if not on campus).

Search the library databases for scholarly journal articles on The Life and Adventures of Nicholas Nickleby.
Full-text articles from reference books and Twayne's Masterworks books. Also, journal articles, some full text and some excerpted. Click on "Works Search" and enter Nicholas Nickleby. You will find overviews and other articles that are not necessarlily critical essays. Ask for help if you can't decide which resources are suitable.
A multi-subject database, with many full-text articles. Be sure to check the boxes marked "Full Text" and "Scholarly (peer-reviewed) Journals" in order to retrieve the appropriate level of journal article for your research. Suggested search terms: Dickens AND Nicholas Nickleby, entered in this way. Many of the articles found in this database may also be in Project Muse and/or JSTOR.
JSTOR Arts & Sciences
Use the Advanced Search page for the best results. Enter a keyword or keyword phrase in separate search boxes to locate articles containing those words. For best results, put the full title in quotes. Because this database is entirely scholarly, all articles are of the appropriate academic level.
The best results will be found using the Advanced Search page. To use the title in the search, put it in quotes in one search box, and type the author's name in a second box. You may want to add keywords from your thesis in a third and fourth box (click on "Add a Row"). Remember, the more terms you add, the fewer results you will obtain. This database is also entirely scholarly, so all articles will be of the appropriate academic level for your research.
---
Internet
Librarian Talk about the Internet!
The internet can be a wonderful source of original documents. Browse the sites we have suggested below. Remember, you do want to find reputable sites. Look at:
Accuracy - The information should be researched and show proof of that research.
Source - Look at the domain: .edu .gov .org .net are usually valid research sources.
Authority - What are the author's credentials? (Don't quote from another college freshman's paper.)
Coverage - Does the page have the information you need for your research?
Objectivity - If a work is biased, use it - just make sure your professor knows YOU know. Offer both sides of issues, where applicable.
More about finding internet sources (25 sec.)
Links to e-texts, criticisms and primary resources on Dickens.

An online searchable version of the book, by The Literature Network.

Online Literary Criticism Collection on Dickens. Be aware of the sources, however; many are written by undergraduates and would not be considered scholarly.

While the movie gives you an overview of the story, you must read the book for all the twists and turns and magnificent writing.

The full text of The Life and Adventures of Nicholas Nickleby online.

The University of California presents this scholarly project dedicated to the life and times of Charles Dickens.
---
Getting Help for your Assignment

Librarian Talk about Getting Help!

Support for a successful paper is more than finding the right resources. Putting it all together takes time and effort. Sometimes it takes additional help from the librarians or tutors. Please consider the following resources if you need additional help. Remember, the expert on the assignment is your professor; use your LSC Online in-class email to contact her.
Citing Sources Using the Library MLA Style Guide | Lone Star College-Kingwood Library guide. Examples of both paper and electronic citations.

Avoiding Plagiarism | Excellent information and guide on how to avoid plagiarism from the Online Writing Lab (OWL) at Purdue University.

University of Texas Copyright Crash Course | This helpful guide on copyright is suggested by Lone Star College-Kingwood Teaching and Learning Center.

Learning Center | Tutoring and other services for LSC-Kingwood students
---
Page by Sue Goodwin, Librarian, 2004. Updated 06/12 cw/jfr
Ask Us


Reference: 281.312.1693
Circulation: 281.312.1691



Text-A-Librarian
281.973.4792


Kingwood.LRC-Ref@LoneStar.edu
---
LSC-Kingwood Library Assignment Guides | About LSC-Kingwood Library | LSCS Libraries