LSCS Libraries
|
Research Guides
|
LSC-Kingwood Assignment Guides
|
Moll Flanders by Daniel Defoe - LSC Kingwood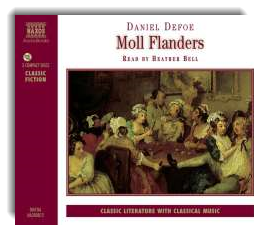 Lone Star College-Kingwood Library
Assignment Guide
Daniel Defoe was born into a middle class family in London, England in 1660. He was unable to attend Oxford or Cambridge due to his father's dissenter religious views and went, instead, to an academy run by the Rev. Charles Martin. Though not as prestigious an institution as the major universities, the academy offered an excellent education to this young man originally destined to be a Presbyterian minister. Defoe decided that he preferred a career in business to that of one in the church and went through periods of success and bankruptcy for the remainder of his life. His writing career began with the penning of political and religious pamphlets, poems, and articles, some of which landed him stays in Newgate Prison. For nearly ten years (1704-1713), he wrote and produced the periodical, The Review, almost single-handedly. It was in later life that he embarked on writing novels. Robinson Crusoe was published in 1719, Moll Flanders in 1722, and his last work of fiction, Roxana, in 1724. He died on April 24, 1731, while purportedly hiding from his creditors in London. His bouts of poverty furnished a theme in many of his books. Defoe is called by some scholars the father of the English novel.
---
Main Characters

Moll Flanders
- the narrator and heroine of the book. Her escapades to procure wealth and her adventures as her circumstances change provide the plot of the novel.
Jemy
- Moll's fourth husband, her true love, who is as much a con artist as Moll.
Moll's Brother/Husband
- Moll's third husband who takes her to live in Virginia and, after several years of marriage, is revealed to be her half brother.
Robin
- Moll's first husband who dies after only five years of marriage.
The Draper
- Moll's second husband who escapes prison and flees to France after being arrested for bad debts.
The Bank Clerk
- Moll's fifth husband who dies from grief over the loss of his money.
The Governess
- the pawnbroker who encourages Moll in her life of thievery.
Plot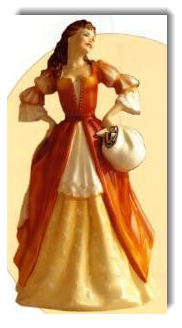 Moll tells her life story when she is in her seventies. From her birth in Newgate Prison, she is essentially alone in the world and must make her way by her wits and her beauty. Fate manages to kill, destroy, or eliminate all of Moll's husbands, lovers, caregivers, and friends by means such as incest, chicanery, or imprisonment. Through all adversity, Moll manages to triumph until, at the end of her life, Moll is living in comfort in London with her true love, Jemy. Both lament their former sins and wild ways and choose to "spend the remainder of our years in sincere penitence for the wicked lives we have lived."
Setting
The novel takes place in the early 1700's. Moll's adventures take her to London, to the American colonies, and to various places in England.
Themes
money sexuality morality role of women
search for self crime ambition social order
---
As you begin, narrow your topic to a size that you can manage. Consider keywords that will help you find the information you need. These can be names of people, literary works, events, or broader identifying terms. Use these keywords for locating information in the library catalog, electronic databases, and if your professor approves, on the internet.
Sample Keywords:
Daniel Defoe; Moll Flanders; names of specific characters; incest; criminal behavior; capitalism; symbolism; women in 18th century England
---
Librarian Talk . . . About Books!
Books offer helpful information about time periods, authors, and literary works. Use them to help begin your review of literature on Moll Flanders.
Get a Library Card. If you are not able to visit a campus library, you may apply online. Use the barcode number from your Lone Star College ID or library card to:
Your instructor may have placed books on reserve - ask at the Circulation Desk or search for Reserves in the Library Catalog.
Suggested Reference Books

Dictionary of Literary Biography - PN41 .D52, v. 39, 95,101 - Thorough overview of Defoe's life and works. These reference books are also available electronically through the database, Gale Literary Databases. Choose the Dictionary of Literary Biography tab.
Novels for Students - PN3385 .N68, v. 13 - Includes overviews on characters, themes, historical context, and criticism. This volume is also available electronically through the LSCS catalog. Search "novels students 13" as Title Keywords and limit to Collection: Electronic Books.
Literature Criticism from 1400 to 1800 - PN86.L53, v.1, 42 - excerpts from literary criticisms of the works of Daniel Defoe.
Chronology of Women's History - HQ1121.047 - information on the status of women, their daily lives, and important personages by time period
The London Encyclopedia - DA679.L78 - Articles on the people, places, and events in London history.
Studies in Eighteenth-Century Culture - CB411.S8 and in ProjectMuse - essays on culture from the time period in which Moll Flanders takes place.
Books of Literary Criticism and Background Information
Daniel Defoe's Moll Flanders - PR3404.F653 D3
Critical Essays on Daniel Defoe - PR3407.L864
Daniel Defoe (Modern Critical Views) - PR3407.D35
Daniel Defoe: Master of Fictions: His Life and Ideas - PR3406.N68
Moll Flanders: The Making of a Criminal Mind - PR3404.M653 B3
The Rise of the Novel: Studies in Defoe, Richardson, and Fielding - PR851.W32
Her Bread to Earn: Women, Money, and Society from Defoe to Austen - PR858.W6 S34
Imagining the Penitentiary: Fiction and the Architecture of Mind in Eighteenth Century England - PR858.P7 B4
Daniel Defoe: Robinson Crusoe / Moll Flanders: A Reader's Guide to Essential Criticism - PR3403.Z5 B35
Online books are available in eBook Collection. Use the barcode number from your Lone Star College ID or library card to log in from any computer with internet access.
---
JOURNAL ARTICLES (ONLINE ACCESS)
Librarian Talk about Finding Journal and Newspaper Articles!
Electronic databases are purchased by the libraries for your research use. To find articles in newspapers and journals, letters, reference books, illustrations, photographs and more, use the 14 digit barcode on your student id/ library card to login to the databases. There is some overlap of articles in some databases; however, we encourage you to use more than one. All are excellent sources for this topic.
If you find an interesting article that is not full-text, you can request the article online. Or, one of our Reference Librarians can help you get the article. They will need the full citation for the article, your email address, your library card/ID barcode number, and your phone number for the quickest response. Articles from outside our system will take time to arrive.
HINT: For a full list of article databases, go to electronic databases and use the barcode number from your Lone Star College ID or library card to login (if not on campus).
More about searching databases (25 sec.)
JSTOR | Use the Advanced Search page for the best results. Enter a keyword or keyword phrase in separate search boxes to locate articles containing those words. For best results, put the full title in quotes. Because this database is entirely scholarly, all articles are of the appropriate academic level.
Project Muse | The best results will be found using the Advanced Search page. To use the title in the search, put it in quotes in one search box, and type the author's name in a second box. You may want to add keywords from your thesis in a third and fourth box (click on "Add a Row"). Remember, the more terms you add, the fewer results you will obtain. This database is also entirely scholarly, so all articles will be of the appropriate academic level for your research.
Literature Resource Center | You will also find overviews and other articles which will help you get started and choose a topic or thesis. Also, journal articles, some full text and some excerpted. Click on "Works Search" and enter Moll Flanders. Ask for help if you can't decide which resources are suitable.
Academic Search Complete | A multi-subject database, with many full-text articles. Be sure to check the boxes marked "Full Text" and "Scholarly (peer-reviewed) Journals" in order to retrieve the appropriate level of journal article for your research. Suggested search terms: Defoe AND Moll Flanders, entered in this way. Many of the articles found in this database may also be in Project Muse and/or JSTOR.
---
INTERNET SITES
Librarian Talk about the Internet!
The Internet can be a valuable resource for your paper. Be aware that all web pages are not suitable for scholarly research. If you are in doubt, ask your instructor. Browse the sites we have suggested below. Remember, you do want to find reputable sites. Look at:
Accuracy - The information should be researched and show proof of that research.

Source - Look at the domain: .edu .gov .org are usually valid research sources.

Authority - What are the author's credentials? (Don't quote from another college freshman's paper.)

Coverage - Does the page have the information you need for your research?

Objectivity - If a work is biased, use it - just make sure your professor knows YOU know. Offer both sides of issues, where applicable.
Suggested Web Sites
---
MEDIA
The Fortunes and Misfortunes of Moll Flanders [DVD] PR3403 .F659, 2 discs, v1 & v2
Moll Flanders [Sound Recording] PR3404 .M65, 11 sound discs (13 hrs.)
---
GETTING HELP FOR YOUR ASSIGNMENT
Librarian Talk about getting help!
Support for a successful paper is more than finding the right resources. Putting it all together takes time and effort. Sometimes it takes additional help from the librarians or tutors. Please consider the following resources if you need additional help. Remember, the expert on the assignment is your professor.
Ask Us


Reference: 281.312.1693
Circulation: 281.312.1691



Text-A-Librarian
281.973.4792


Kingwood.LRC-Ref@LoneStar.edu
---
LSC-Kingwood Library Assignment Guides | About LSC-Kingwood Library | LSCS Libraries