LSCS Libraries
|
Research Guides
|
LSC-Kingwood Library Assignment Guides
|
Jane Eyre by Charlotte Brontë - LSC-Kingwood







Charlotte Brontë
(1816 - 1855)

First published in 1847, Jane Eyre is a psychological romance novel about an orphan told in first person. The novel is a fictional account of events, people, and places closely resembling the author's own life. It takes place in northern England during the mid-1840's.

Background

Jane Eyre was written by Charlotte Brontë, but published under the pseudonym, Currer Bell, a name that had neither feminine nor masculine identity. The characters, setting, and plot are autobiographical. In Jane Eyre, Charlotte Brontë introduces a new type of heroine to English adult romanticism; one endowed with intelligence and fortitude.
Librarian talk . . . About Getting Started!
As you begin your research, narrow your topic to a size that you can manage. Consider keywords that will help you find the information you need. These can be names of people, literary works, events, or broader identifying terms. Use these keywords for locating information in the library catalog, electronic databases, and on the internet.
Keywords: Theology, romanticism, femininity, idolatry,
isolation, gender equality, imagination.
Characters
Jane Eyre - a high-spirited, yet plain, orphan girl whose parents died when she was a baby
Mrs. Reed - mistress of Gateshead Hall and Jane's abusive guardian through age ten
Bessie Leaven - Jane's nursemaid at Gateshead Hall
Miss Temple - headmistress at Lowood School
Helen Burns - Jane's friend at Lowood who teaches her to control her temper
Edward Rochester - owner of Thornfield Hall whom Jane eventually marries
Bertha Mason - Edward Rochester's first wife who has gone mad
Reverend St. John Rivers - a clergyman and distant relative of Jane's
The Story
An orphan, Jane Eyre is cared for by an aunt, Mrs. Reed of Gateshead Hall. After ten years of abuse and neglect, Jane is sent to Lowood School to study. At age eighteen she becomes a teacher for the school, and later takes a position as a governess at Thornfield Hall, an estate owned by Mr. Edward Rochester. At Thornfield, Jane falls in love with Edward only to discover at the altar that he is already married to a madwoman. In despair, Jane leaves Thornfield penniless and is found starving by Reverend St. John Rivers. He admires Jane and envisions her as his assistant in missionary work. After a supernatural occurrence involving Edward Rochester, Jane Eyre returns to Thornfield Hall to find the mansion has been burned to the ground by Edward's mad wife. Upon returning, Jane and Edward rebuild their love and start a family together. Jane Eyre matures from an orphaned child left to grow up in the care of an abusive aunt to a compassionate teacher and governess living in the midst of wealth.
Topics include: Love, Religion, Nature, Equality, Independence, Sexuality
---
Books
Librarian Talk... about Books!
Many books are available both online and in the library. So much has been written about this novel, books will be one of your best resources!
Apply online for a library card. Use your card to:
1) Place a Hold on a book and have it sent to the library closest to you
2) Access journal and reference databases from home, and
3) Access eBooks from eBook Collection.
The library catalog is online.
More about...Finding Books (31 sec.)
Search for books in the Library Catalog, using Charlotte Brontë or Jane Eyre as subject keywords. Note: The full text of the novel is available as an e-book through eBook Collection, a database of full text online books.
Reference Books with ideas on topics and major themes:
REF PN 50 .L574, vol.2 - Literature and Its Times - A short essay on the events during Brontë's life which influenced her.

REF PN 3385 .N68, vol.4 - Novels for Students - An examination of the novel. Discusses characters, themes, and offers some criticism. This reference source is also available in Gale Virtual Reference Center online.
REF PR 85 .M33, vol. 4 - Major Authors Edition of the New Moulton's Library of Literary Criticism - in-depth analysis of Brontë's style and influences on her writing.
REF PR 85 .B688, vol. 5 - British Writers - articles that provide insight and interpretations of the Brontë sisters works

REF PR 4167.A3 O94 - The Oxford Companion to the Brontës - Helpful information on the sisters.
REF PR 4168 .P28 - The Brontës A to Z - FACTS ON FILE - essential reference to their lives and work.
In addition to books examining Charlotte Brontë and Jane Eyre, Films on Demand, a database of videos from Films for the Humanities, contains several videos on the Brontës and one on this novel, Charlotte Brontë: Jane Eyre (31 mins.). From off campus, login with your library barcode number to view this video.
---
Databases: Scholarly Journal Articles and e-books


Librarian Talk... about Finding Database Articles!
Electronic databases are purchased by the libraries for your research use. To find articles in journals, newspapers and letters, reference books, illustrations, photographs and more, use your library card to login to the following databases. There is some overlap of articles in the following databases. However, we encourage you to use more than one. All are excellent sources for this topic.
For a full list of databases, go to Research Databases and use the barcode number from your student ID/library card for login.

Literature Resource Center - This database contains information about literature. Students can search for biographical information on an author (Author search) or information about the author's works (Title search). Choose articles which are critical essays. Those articles will be from scholarly journals. Hints . . . .
Search Brontë, Charlotte
Search Jane Eyre
Search another idea, such as female characters or English literature
Combine these searches

JSTOR Print or save full-text articles from high quality scholarly journals. Use the Advanced Search page for the most productive searches.
Project Muse This database contains only scholarly, full-text articles from selected journals. Use the Advanced Search page for the most effective searches.
Academic Search Complete - This multi-subject database contains articles from scholarly journals in literature. On the search page, limit your search to Scholarly (peer reviewed) journals and Full Text. Enter Brontë and Jane Eyre to find articles discussing the novel.

eBook Collection - A database of full text books online. Available on any computer with Internet access. Create a free account to save favorite book titles and notes. Assign your own username and password. Several books with critical analysis of Jane Eyre are available in this database (see below).
e-books

Paris, Bernard J. Imagined Human Beings: a Psychological Approach to Character and Conflict in Literature.

Bloom, Harold. Charlotte Brontë's Jane Eyre.
---
Search the Internet


Librarian Talk... about the Internet!
The Internet will be a wonderful source of original documents. Browse the sites we have suggested below. Remember to find reputable sites. Look for:
Accuracy - The information should be researched and show proof or references.
Source - Who wrote the information? Look at the domain. .edu .gov. org .net are valid research sources.
Authority - What are the author's credentials?
Coverage - Does the page have the information you need for your research?
Objectivity - Be aware of bias. Offer both sides of issues, where applicable.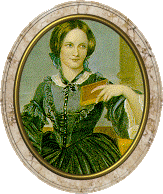 Support: Getting Help for Your Assignment
Librarian Talk... about getting help!
Support for a successful paper is more than finding the right resources. Putting it all together takes time and effort. Sometimes it takes additional help from the librarians or tutors. Please consider the following resources if you need additional help. Remember, the expert on the assignment is your professor.
Citing Sources Using the Library MLA Style Guide | Lone Star College-Kingwood Library guide. Examples of both paper and electronic citations.
Avoiding Plagiarism | Excellent information and guide on how to avoid plagiarism from the Online Writing Lab (OWL) at Purdue University.
University of Texas Copyright Crash Course | This helpful guide on copyright is suggested by Lone Star College-Kingwood Teaching and Learning Center. .
Learning Center | Check hours for in-house tutoring.
---
Written by Melinda Cavanaugh 9/7/2000. Updated 04/2012 ss.
Ask Us


Reference: 281.312.1693
Circulation: 281.312.1691



Text-A-Librarian
281.973.4792


Kingwood.LRC-Ref@LoneStar.edu
---
LSC-Kingwood Library Assignment Guides | About LSC-Kingwood Library | LSCS Libraries