The Adventures of Huckleberry Finn -- LSC - Kingwood
ENGL 1301 Assignment Guide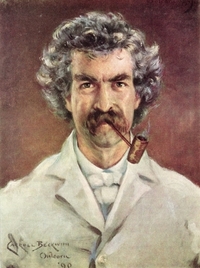 by Mark Twain
Samuel Langhorne Clemens (1835-1910), who used the pseudonym Mark Twain,was raised in Hannibal, Missouri. He served in the Confederate militia during the Civil War, and he later worked as a typesetter, a Mississippi steamboat pilot, and a newspaper reporter. In 1884, Twain published the novel about Huckleberry Finn.
The novel begins where The Adventures of Tom Sawyer ended, sometime between 1834 and 1844. Huckleberry is living in St. Petersburg, Missouri, with the widow Douglas and her sister, Miss Watson, who "adopted" him and are trying to civilize him.The adventure begins when Huck's dad, Pap, kidnaps him. They begin traveling up the river to Illinois. Huck escapes from Pap (who has locked Huck in a cabin) and fakes his own death. While hiding on Jackson Island, Huck meets Jim, a runaway slave. Traveling down the Mississippi River together, Huck and Jim are joined by two con men, the King and the Duke. They meet others along the path as they learn more about the sometimes unfairness of Southern culture.
Characters
Huckleberry Finn -- 14 years old, son of Pap
Jim -- runaway slave, travels down the Mississippi with Huck
Tom Sawyer -- friend from earlier Mark Twain books, he appears at the beginning and end of story
Widow Douglas / Ms Watson -- sisters who provide Huck with a stable home and schooling
Pap -- Huck's father is the ruthless, corrupt and often drunk figure who darts in and out of Huck's life
The King and the Duke -- con men who join Huck and Jim on their journey
---
Librarian talk . . . About Getting Started!
As you begin, narrow your topic to a size that you can manage. Consider keywords that will help you find the information you need. These can be names of people, literary works, events, or broader identifying terms. Use these keywords for locating information in the library catalog, electronic databases, and on the internet.
slavery, freedom, racism, southern beliefs, religion, abolitionists
Topics to Consider:

- The constant struggle for freedom, by both Jim and Huck

- Freedom for Jim, the runaway slave

- Huck's struggle with his conscience - Race and racism

- The contradiction between Southern beliefs and religion
---
Video: The Adventures of Huckleberry Finn: Understanding a Classic

Watch this educational video from Films on Demand to gain a better understanding of the great American classic. The full length video is 34 minutes long; however, you can choose to watch shorter clips related to selected topics such as irony, racial issues, and Huck's relationship to Jim.
---
Finding Journal and Newspaper Articles
Librarian Talk . . . About Finding Journal and Newspaper Articles!
Electronic databases are purchased by the libraries for your research use. To find articles in newspapers and journals, letters, reference books, illustrations, photographs and more, use the 14 digit barcode on your student id/ library card to login to the databases. There is some overlap of articles in some databases; however, we encourage you to use more than one. All are excellent sources for this topic.
HINT: For a full list of databases, go to the LSC Libraries Research Databases page and use the barcode number from your Lone Star College ID/library card to login.
The following databases are available for students to access articles of literary criticism about the novel. When searching, select only 'peer reviewed' or 'scholarly' articles. Many articles are full text. If you locate an article that does not have a link to the full text, use the A to Z feature from our database page to search journal titles in order to see if any of our databases include that journal.

Remote access to these electronic resources is available for Lone Star College System students. Use your 14 digit student id/library card barcode number to login.
Full text articles from literature reference books and Twayne's Masterworks books. This resource also has links to scholarly journal articles and appropriate Internet sites.
Search and browse the full text of nearly 250 scholarly journals. There are many articles about this novel.
Search and browse the complete back issues for more than 117 scholarly journals.
---
Books
Librarian Talk . . . About Books!
Books offer helpful information about historical background, settings, and authors. Literary criticism may be compiled in a book. The

Library Catalog

is online. If you want criticism of the novel itself, try the search words,

Huckleberry Finn

and

criticism

.

Electronic books, or eBooks, are available in the eBook Collection. You will need the barcode number from your Lone Star College ID/library card to read eBooks from off-campus.
Apply online for a library card (for Distance Learning students). For quicker results stop by the Circulation Desk, get your photo taken and receive your student id/library card while you wait. Use your card to:

Place a hold on a book.
Request a book listed in the catalog but available from another location.
Access databases from home.
CIRCULATING BOOKS are available for checkout. Search the Library Catalog using keywords such as Huckleberry Finn and Mark Twain. Online books are also available at eBook Collection. Suggested readings include:
PS1305.A2 H43 - The Annotated Huckleberry Finn
PS1305.A89 - Huckleberry Finn as Idol and Target by Jonathan Arac
PS1305.C45 - The Jim Dilemma: Reading Race in Huckleberry Finn by Jocelyn Chadwick-Joshua (also available as an e-book)
PS1305.M28 - Mark Twain's The Adventures of Huckleberry Finn - Bloom's Literary Criticism (also available in Bloom's Literary Reference Online)
PS1305.Q57 - Coming to Grips with Huckleberry Finn by Tom Quirk
Look for other circulating books in the same shelf location as those listed above. Most books about The Adventures of Huckleberry Finn will have LC call numbers between PS1302 and PS1342 (Dewey 813.4).
REFERENCE BOOKS are particularly good for background, overviews, and analysis. Suggested resources are:
REF PN50.L574, vol. 2 - Literature And Its Times. Information about the historical setting. (Also availble in Literature Resource Center)
REF PN771.G27, vol. 6,12,19,36 - Twentieth-Century Literary Criticism.
REF PN3385.N68, vol. 1 - Novels for Students. General information about the novel. Scholarly criticisms of novelists who lived betwee 1900 and 1960. (Also available in Literature Resource Center)
REF PS1330.M37 - Mark Twain Encyclopedia. Information about Twain and his writings.
---
Huckleberry Finn on the Internet
Librarian Talk . . . About the Internet!
The Internet can be a wonderful source of original documents. Browse the sites we have suggested below. Remember, you need to use reputable sites. Look at:
Accuracy - The information should be researched and show proof that it has been.
Source - Who wrote the information? Look at the domain. .edu .gov. org .net are valid research sources.
Authority - What are the author's credentials? (Don't quote from another college freshman's paper.)
Coverage - Does the page have the information you need for your research?
Objectivity - If a work is biased, use it - just make sure your professor knows YOU know. And offer both sides of issues, where applicable.
Mark Twain in his Times Articles, contemporary reviews, images and interactive sites about the novel written by Stephen Railton, English Dept., University of Virginia, Charlottesville, Virginia
Mark Twain's Interactive Scrapbook Interactive scrapbook about Mark Twain from PBS. "Discover the true Mark Twain through his writing and his collection of artifacts in his scrapbook."
Huck Finn in Context: A Teacher's Guide Written especially for teachers, this site can be very helpful for resource gatherers.
The Mark Twain Papers and Project Contains the private papers of Samuel Langhorne Clemens (Mark Twain) that he himself segregated and made available to his official biographer, Albert Bigelow Paine.
---
Getting Help For Your Assignment
Librarian Talk . . . about getting help!
Support for a successful paper is more than finding the right resources. Putting it all together takes time and effort. Sometimes it takes additional help from the librarians or tutors. Please consider the following resources if you need additional help. Remember, the expert on the assignment is your professor; use the LSC-Online email to contact him or her.
Citing Sources Using the Library MLA Style Guide | Lone Star College-Kingwood Library guide. Examples of both print and electronic citations.
Avoiding Plagiarism | Excellent information and guide on how to avoid plagiarism from the Online Writing Lab (OWL) at Purdue University.
Learning Center | Check the hours for on-campus tutoring.
---
Page by Shielda Welling, Librarian. | Revised 8/2012 sg