LSCS Libraries
|
Research Guides
|
LSC-Kingwood Library Assignment Guides
|
The Great Gatsby by F. Scott Fitzgerald - LSC Kingwood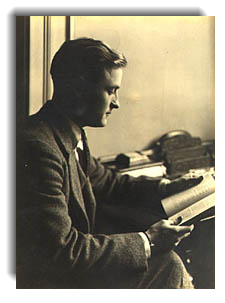 Assignment Guide
F. Scott Fitzgerald
published 1925
Born: St. Paul, Minnesota, Sept. 24, 1896
Died: North Carolina, Dec. 21, 1940
| | |
| --- | --- |
| F. Scott Fitzgerald came of age in the Roaring Twenties when material values shaped one's lifestyle and friendships. He began writing at an early age, writing for school and amateur productions in St. Paul, then at Princeton, composing lyrics for the Triangle Club productions. Handsome and charming, he particularly enjoyed the game of courtship and considered himself a master at it. His best received books, including The Gret Gatsby, revolved around the relationships between romantic young men of modest means and young, wealthy, golden women. His novels peaked in popularity during the twenties, then waned with the Great Depression. His tumultuous lifestyle and alcoholism predisposed him to an early death, from a heart attack, in 1940 at age fourty-four. At the time of his death, his novels had virtually been forgotten; however in the 1950's a Fitzgerald revival spawned new interest in his writings and praise as a leading American author of the twentieth century. | |
---
Topics to Consider
Librarian talk . . . About Getting Started!
As you begin, narrow your topic to a size that you can manage. Consider keywords that will help you find the information you need. These can be names of people, literary works, events, or broader identifying terms. Use these keywords for locating information in the library catalog, electronic databases, and on the internet.
Sample Keywords: Culture, American dream, Drinking, Alcoholism, Identity, Success, Morals, Optimism/Hope, Jazz age
Background on the Novel
Nick Carraway narrates the story of Jay Gatsby, his neighbor on Long Island, whom he had known when they were both students at Yale. Rumors run rampant about Gatsby's accumulation of wealth and his lavish soirees. Gatsby involves Nick in a scheme to reveal his true love for Nick's cousin, Daisy, Tom Buchanan's wife. Through a series of unfortunate misunderstandings supported by the lavish and decadent lifestyle of the wealthy on Long Island during the 1920's and 30's, Gatsby quickly becomes the object of a Tom's fury over advances made towards his wife. A final confrontation ends Gatsby's life as well as that of his killer, George Wilson. In the end only one person, Nick, feels the obligation to honor Gatsby's life at his funeral.
The historical setting of The Great Gatsby was the period known as the roaring twenties, a time of gaiety, rejecting rigid rules of society, of flaunting wealth and all it could buy. Prohibition legally prevented alcohol consumption, but money could buy whatever was needed to supply the illegal beverages to the wealthy. The Great Gatsby was written by a man influenced by the romance of the era, but a man who could see the evils of the choices being made.

Watch this excellent video segment on Fitzgerald and Great Gatsby (about 7:30) which can be found in the video database Films on Demand. To watch the whole video, titled Novel reflections on the American Dream, login to Films on Demand, linked here and on the Research Databases page.
REFERENCE BOOKS
Librarian Talk . . .About Books!
Apply online for a library card. Use your card to:

Place a Hold on a book and have it sent to the library closest to you
Access journal and reference databases from home, and
Access e-Books from EBSCO's eBook Collection.
The catalog is online. Online or e-Books are available in the eBook Collection. Use your library card to log in.
E169.12.A419, v. 3 - American Decades 1920-29 This volume covers the history of the roaring twenties and can help students form a picture of the decade which defined Gatsby's world.
PN50.L574, v. 3 - Literature and its Times The essay on Gatsby places the novel in the time in which it was written. It highlights events in the life of the author which are developed and used in the novel.
PN3385.N68, v. 2 - Novels for Students This volume offers an overview of the novel, characters, themes, history and background, and more. Novels for Students is also available as an electronic resource in the Gale Virtual Reference Library. Use the catalog to find and link to the section on Great Gatsby in volume 2.
PS21.M34, v. 2 - Magill's Survey of American Literature A brief biography of Fitzgerald followed by a short overview of the novel. Helpful for developing your topic.
---
CRITICISM
Criticism or analysis of a novel begins in the reference section with sources such as the Twentieth Century Literary Criticism (TCLC). TCLC offers students excerpts from analytical articles written by literary scholars and previously published in scholarly journals. More books containing analysis of The Great Gatsby can be found by searching the LSC Library Catalog. Enter the title as a keywords anywhere search. Books listed below are located in LSC Kingwood Library. Others can be requested electronically from the Lone Star College System colleges the Harris County Public Libraries, and the Montgomery County Memorial Libraries, using your library card. Please ask a librarian if you need assistance.
PS221 .G34 The Sorrows of Fat City : A Selection of Literary Essays and Reviews, George P. Garrett's collection of essays on literature. Look at "Fire and Freshness: A Matter of Style in The Great Gatsby."
PS379 .M54 Modern American Fiction : Form and Function, ed. Thomas Daniel Young. Contains an essay on the form Fitzgerald used for his novel.
PS3515.E37 Z5942 French Connections : Hemingway and Fitzgerald Abroad, ed. J. Gerald Kennedy and Jackson R. Bryer. Discusses authors and the expatriate experience.
PN56.4 W64 W65 Women in Literature: Reading through the Lens of Gender, ed. Jerilyn Fisher and Ellen S. Silber. Look at "Beautiful fools and hulking brutes." Also available as an eBook.
PS153.M56 M847 Multiethnic Literature and Canon Debates, ed. Mary Jo Bona and Irma Maini. Includes an essay on the book as an ethnic novel.
---
DATABASES (Finding Articles)
Librarian Talk . . . About Finding Journal and Newspaper Articles

!

Electronic databases are purchased by the libraries for your research use. To find articles in newspapers and journals, letters, reference books, illustrations, photographs and more, use your updated library card to login to the following databases. If you find an interesting article that is not full-text, you can request it through Interlibrary Loan. There is some overlap of articles in the following databases, however, we encourage you to use more than one. All are excellent sources for this novel.

HINT: A full list of databases available can be found on the Research Databases page.
Use these databases to find articles in scholarly journals which discuss The Great Gatsby. To login from home, use your library barcode number. ProjectMuse and JSTOR are very good.
Project Muse - Begin your search by entering the title of the novel in the search box in quotation marks. Use the limiters on the left side of the screen to focus your search to Journals, full access (complete articles), or research areas. You can Modify a search to add keywords from your thesis - click on the + mark to add search boxes.
JSTOR- Print or save full-text articles from high quality scholarly journals, generally from older issues. Use the Advanced Search page and enter one keyword or keyword phrase in each of the boxes offered for the most productive searches. Begin with keywords Fitzgerald and Great Gatsby then add keywords from your thesis. Limit your results to Articles to find scholarly articles which analyze the novel. Focus your results by choosing Language & Literature from the disciplines list.
Academic Search Complete - This general subject database offers articles from scholarly literary journals which discuss The Great Gatsby, many of them full text. Go to the Advanced Search Page for the best results. Limit your search to Scholarly (Peer Reviewed) journals, and enter the Great Gatsby and Fitzgerald to retrieve articles.
Bloom's Literary Reference Online - This database is a collection of many analytical essays discussing literature. These essays, originally published in print form, are accessible now for research online. Find information about The Great Gatsby, or read about F. Scott Fitzgerald's life and entire body of work.
Literature Resource Center - A literary database containing articles from scholarly journals as well as information from reference sources. Use the title search to find information about The Great Gatsby. You will find full text critical essays in the Literary criticism section.
eBook Collection For home access to this database, enter your library card barcode number. Search the eBook Collection using full text on the Advanced Search page and the keyword gatsby to find more. Other electronic books linked in the LSC-Kingwood Library catalog are:
Gatsby: Major Literary Characters
American & European Literary Imagination, 1919-1932
New Readings of the American Novel : Narrative Theory and Its Application
One excellent ebook in the eBook Collection is F. Scott Fitzgerald's The Great Gatsby, edited by Harold Bloom. This searchable electronic text offers thematic structural analysis, critical views and more. See the"Index of Themes and Ideas" with links to specific pages within the book discussing these themes and ideas.

---
INTERNET
Librarian Talk . . . About the Internet!
The Internet will be a wonderful source of original documents. Browse the sites we have suggested below. Remember, you do want to find reputable sites. Look at:
Accuracy - The information should be researched and show proof that it has been.
Source - Who wrote the information? Look at the domain. .edu .gov. org .net are valid research sources.
Authority - What are the author's credentials? (Don't quote from another college freshman's paper.)
Coverage - Does the page have the information you need for your research?
Objectivity - If a work is biased, use it - just make sure your professor knows YOU know. And offer both sides of issues, where applicable.
The Internet can be a good source for information on authors and novels. The sites listed below have been reviewed by the librarians. If you choose to search for other web sites, be sure to determine who created the site and use other sources to help validate the information offered. Remember to ask your instructor if you are in doubt about a particular web site.
The F. Scott Fitzgerald Society page of teaching resources on The Great Gatsby.
The F. Scott Fitzgerald Centenary page by the University of South Carolina.
The Great Gatsby article by Bryan Mangum, Virginia Commonwealth University, originally published in the Encyclopedia of the Novel.
---
SUPPORT:GETTING HELP FOR YOUR ASSIGNMENT

Librarian Talk about getting help!
Support for a successful paper is more than finding the right resources. Putting it all together takes time and effort. Sometimes it takes additional help from the librarians or tutors. Please consider the following resources if you need additional help. Remember, the expert on the assignment is your professor.
Citing Sources Using MLA Style | Lone Star College-Kingwood Library guide. Examples of both paper and electronic citations.
Avoiding Plagiarism | Excellent information and guide on how to avoid plagiarism from the Online Writing Lab (OWL) at Purdue University.
University of Texas Copyright Crash Course | This helpful guide on copyright is suggested by Lone Star College-Kingwood Teaching and Learning Center.
The Learning Center | Check the TLC hours for in-house tutoring.
---
Page created by Melinda Cavanaugh and Becky Bradley 9/23/02. Updated 10/2012 sg
Ask Us


Reference: 281.312.1693
Circulation: 281.312.1691



Text-A-Librarian
281.973.4792


Kingwood.LRC-Ref@LoneStar.edu
---
LSC-Kingwood Library Assignment Guides | About LSC-Kingwood Library | LSCS Libraries