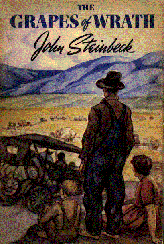 When the rain wouldn't come, and the crops couldn't grow, the winds still blew. They were filled with the dry, infertile earth, which they arranged and rearranged in the time known as the Dust Bowl. Farmers such as the Joads lost their farms to the banks. Unable to figure out what else to do, they packed up and headed for California, the bountiful land with multiple growing seasons. Although it sounded like the Promised Land, when they arrived, they found that they were part of a great migration and there wasn't enough work for the multitudes.
Growers in California needed the migrant workers in spurts, and felt no compunction to help them survive the rest of the time. There were so many workers available that there was no need to give them a living wage. When workers would strike, there were others to take their place. If they were starving to death, the growers would rationalize that it was their own faults.
John Steinbeck grew up in California and witnessed the plight of the migrant workers, or Okies, as they were called because so many of them migrated from the dust bowl of Oklahoma. He worked beside them, visited their camps, and traveled to Oklahoma as he researched the background. The Grapes of Wrath, published in 1939, won the Pulitzer Prize in 1940.