LSCS Libraries
|
Research Guides
|
LSC-Kingwood Library Assignment Guides
|
A Gathering of Old Men by Ernest J. Gaines - LSC-Kingwood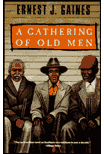 Ernest J. Gaines (1933 - )
After a white landowner, renowned for his cruelty to his black neighbors, is shot to death, eighteen elderly black men take up their shotguns and congregate on the porch of their friend, Mathu, who has been accused of the murder. All claim to have done the shooting themselves. Gaines' tale presents a moving description of how people are capable of asserting their independence after lifetimes of subservience in a racist community. He advances his story by presenting successive monologues by 15 different individuals, both black and white. In a unique voice, each describes the situation from a first person perspective while reflecting on past injustices. This novel about the changing racial attitudes and realities of the South is set in rural Louisiana.
"We wait till now? Now, when we're old men, we get to be brave?"
---
LITERARY RESEARCH GUIDE
This guide will help you find information for your research assignment both in the library and on the Internet. For students at Lone Star College-Kingwood, there may also be materials on reserve at the Circulation Desk. Ask a librarian for assistance.
As you begin, narrow your topic to a size that you can manage. Consider keywords that will help you find the information you need. These can be names of people, literary works, events, or broader identifying terms. Use these keywords for locating information in the library catalog, electronic databases, and on the internet.


Librarian talk . . . About Getting Started!
As you begin, narrow your topic to a size that you can manage. Consider keywords that will help you find the information you need. These can be names of people, literary works, events, or broader identifying terms. Use these keywords for locating information in the library catalog, electronic databases, and on the internet.
Sample Keywords:
Ernest Gaines | A Gathering of Old Men | Creoles | Blacks in Literature | names of specific characters
---
CHARACTERS | THEMES | SETTING
Characters include:
Mathu -- proud, strong-willed black man in his eighties, accused of killing Beau Boutan; Mathu is a favorite of Candy Marshall, who he helped to raise.

Candy Marshall -- young woman who manages the old family plantation; devises plan to protect Mathu.

Sheriff Mapes -- bullying white officer who investigates the crime.

Fix Boutan -- father of the deceased, well known as a violent man and a racist who has no respect for Blacks.

Gil Boutan -- brother of the deceased; accepts the social changes taking place in the South and urges an end to the cycle of violence.

Lou Dimes -- newspaper journalist from Baton Rouge who has been dating Candy for three years; narrates part of the story.

Other Narrators -- Snookum, Janey, Miss Merle, Chimley, Mat, Cherry, Clatoo, Rufe, Sully, Tee Jack, Rooster, Coot, Sharp, and Dirty Red.

Charlie Biggs -- fifty-year-old black man, timid and submissive, who learns self respect and individual responsibility during the course of the novel.

Luke Will -- a racist friend of the deceased who leads a lynch mob attempting to avenge Beau's death.
Themes to Consider:
manhood
racism, interracial relations, and racial conflict
self respect
individual growth and change
individual responsibility
changing social attitudes
generational conflicts
the past vs. the future


Setting:
the old Marshall Plantation in rural Louisiana on a Friday afternoon in October in the late 1970s
---
FINDING BOOKS IN THE CATALOG
The best way to find books about works by Ernest Gaines is to use the
library catalog
. Choose "Subject Keyword" from the menu options and type in
Ernest Gaines.
This will bring up titles of books about Ernest Gaines. Find a common Library of Congress Call Number and browse the shelves. This is a good way to find books you may not find in the catalog.
Librarian Talk . . .About Books!
If you do not already have a student ID (on the back is your library card), you can apply online for a library card.
Use the barcode number from your Lone Star College ID or library card to:
1) Place a Hold on a book and have it sent to the library closest to you
2) Access journal and reference databases from home, and
3) Access e-Books from our EbscoHost Ebook Collection.
Online or e-Books

are available in our

Ebook Collection

. Use the barcode number from your Lone Star College ID or library card to log in.
CRITICISM IN REFERENCE BOOKS
The Reference Area is a good place to begin your research. Use an assortment of the books listed below to learn about the author, the time, and what literary people have said about the novel. Some of these print materials are also available in electronic format in the Literature Resource Center, a Lone Star College-Kingwood Library database:
REF PN3385 .N68 Novels for Students, v. 16 - Excellent discussion of the novel with plot summary, author biography, annotated list of characters, analysis of themes, historical context, and selected literary criticism. This resource is also available electonically, just search the catalog for Novels for Students as a Title Keyword.
REF PN 50.L574 Literature and Its Times, v. 5. - The entry on A Gathering of Old Men fixes it in the context of the historical events at the time of the novel.
REF 841 .M58 Modern Black Writers. - Excerpts from articles analyzing literary works on many African American writers as well as black authors of other countries.
REF PS261 .F54 Fifty Southern Writers after 1900. - Biographical and analytical essay on Gaines and his writing.
REF PS261 .C55 The Companion to Southern Literature: Themes, Genres, Places, People, Movements, and Motifs. - See the essays on "Race Relations," p. 712, and "Racism," p. 716, for comments about A Gathering of Old Men, as well as other essays for a general understanding of literary themes in the literature of the South.
REF PSl53 .N5 M2645 Masterplots II: African American Literature Series, v. 1. - Discussion of the novel, its characters, themes and critical context.
REF PS153 .N5 A344 African American Writers, v. 1. - Entry on Gaines includes a brief discussion of this novel, p. 259-61.
---
BIOGRAPHICAL SKETCH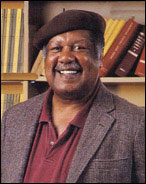 Ernest J. Gaines was born in 1933 on the River Lake Plantation in the small southern Louisiana town of Oscar in Pointe Coupee Parish to parents who were sharecroppers. Before he moved to California at fifteen, he experienced life in segregated rural Louisiana and soaked up the oral "storytelling" of his relatives and neighbors. These tales and his own observations inspire his fiction which is filled with Blacks, Creoles, and Cajuns, and the struggles they faced in moving from the past to the present.

He has published eight books, including the acclaimed Autobiography of Miss Jane Pittman, as well as numerous short stories. Today, Gaines is Professor Emeritus of English at the University of Louisiana, Lafayette , after serving there many years as writer-in-residence.
Biographical Information in Reference Books
REF PN41 .D5 Dictionary of Literary Biography (vols. 2, 33, 152)
This series explores both the life and works of an author. Vols. 33 and 152 include analyses of A Gathering of Old Men.
REF PR883 .C64 2001 Contemporary Novelists
Brief biography accompanied by a short critical examination of his works, pp. 349-350.
REF PS261 .C569 Contemporary Southern Writers
Biographical and analytical essay on Gaines and his writing.
REF PS261 .S515 Encyclopedia of Southern Literature
Brief biographical essay, pp. 119-125.

Additional biographical Information may be found in the database, Biography Reference Bank.
---
FINDING JOURNAL ARTICLES
Librarian Talk . . . About Finding Journal and Newspaper Articles!
Electronic databases are purchased by the libraries for your research use. To find articles in newspapers and journals, letters, reference books, illustrations, photographs and more, use your updated library card to login to the following databases. If you find an interesting article that is not full-text, you can request the article online. Or, one of our Reference Librarians can help you get the article. They will need full bibliographic information, your name and address, and your library card/ID barcode number. Send your phone number as well, so they can contact you if they need to. There is a time delay when acquiring articles from outside our system. There is some overlap of articles in the following databases. However, we encourage you to use more than one. All are excellent sources for this topic.
HINT: For a full list of article databases, go to electronic databases and use the barcode number from your Lone Star College ID or library card to login (if not on campus).
Full-text articles from reference books and Twayne's Masterworks books. Also, journal articles, some full text and some excerpted. Click on "Works Search" and enter A Gathering of Old Men. You will find overviews and other articles that are not critical essays. Ask for help if you can't decide which resources are suitable.
A multi-subject database, with many full-text articles. Be sure to check the boxes marked "Full Text" and "Scholarly (peer-reviewed) Journals" in order to retrieve the appropriate level of journal article for your research. Suggested search terms: Gaines AND Gathering, entered in this way. Many of the articles found in this database may also be in Project Muse and/or JSTOR.
Bloom's Literary Database Online
This database is a collection of many analytical essays discussing literature. These essays, originally published in print form, are accessible now for research online. Find information about A Gathering of Old Men, or read about the life of Ernest J. Gaines and his entire body of work.
Use the Advanced Search page for the best results. Enter a keyword or keyword phrase in separate search boxes to locate articles containing those words. For best results, put the full title in quotes. Because this database is entirely scholarly, all articles are of the appropriate academic level.
Begin your search by entering the title of the novel in the search box in quotation marks. Use the limiters on the left side of the screen to focus your searh to Journals, full access (complete articles), or research areas. You can Modify a search to add keywords from your thesis - click on the + mark to add search boxes. This database is also entirely scholarly, so all articles will be of the appropriate academic level for your research.

Librarian Talk . . . About the Internet!

The Internet will be a wonderful source of original documents. Browse the sites we have suggested below. Remember, you do want to find reputable sites. Look at:
Accuracy - The information should be researched and show proof that it has been.
Source - Who wrote the information? Look at the domain. .edu .gov. org .net are usually valid research sources.
Authority - What are the author's credentials? (Don't quote from another college freshman's paper.)
Coverage - Does the page have the information you need for your research?
Objectivity - If a work is biased, use it - just make sure your professor knows YOU know. And offer both sides of issues, where applicable.


Ernest J. Gaines Center | website for the Ernest J. Gaines Center at University of Louisiana at Lafayette, where he is a professor emeritus and Writer-in-Residence
2003 Interview | Get to know the real Ernest Gaines through this insightful 2003 interview with Reese Fuller, one of his former students.
Gaines' Fifteen Narrators: "Narrative Styles and Storytelling Technique in A Gathering of Old Men" | an article from Folklife in Louisiana by Marcia Gaudet
Interview | in the July 20,1993, issue of the Washington Post
Interview | "A Lesson Before Dying" from the American Academy of Achievement. May 4, 2001.
Interview in Callaloo, a literary journal. Includes remarks about Gaines' feelings about A Gathering of Old Men. (This article is from Project Muse, so you may be asked for your library card/ID barcode number.)
Meeting Ernest Gaines | an interview and comment by Bill Ferris in Humanities, a publication of the National Endowment for the Humanities

---
GETTING HELP FOR YOUR ASSIGNMENT
Librarian Talk about getting help!
Support for a successful paper is more than finding the right resources. Putting it all together takes time and effort. Sometimes it takes additional help from the librarians or tutors. Please consider the following resources if you need additional help. Remember, the expert on the assignment is your professor, who can be contacted through your LSC Online in-class email.
Citing Sources using MLA Style Guide | LSCS Libraries guide including examples from print, web and media resources.
Avoiding Plagiarism | Excellent information and guide on how to avoid plagiarism from the Online Writing Lab (OWL) at Purdue University.

University of Texas Copyright Crash Course | This helpful guide on copyright is suggested by Lone Star College-Kingwood Teaching and Learning Center.

Learning Center | Check our hours for in-house tutoring.

---

Page by Charles Gillis, 08/10/04. Updated 07/2012, K. Gladden.
Ask Us


Reference: 281.312.1693
Circulation: 281.312.1691



Text-A-Librarian
281.973.4792


Kingwood.LRC-Ref@LoneStar.edu
---
LSC-Kingwood Library Assignment Guides | About LSC-Kingwood Library | LSCS Libraries