LSCS Libraries
|
Research Guides
|
LSC-Kingwood Library Assignment Guides
|
Frankenstein by Mary Wollstonecraft Shelley, 1797-1851 - LSC-Kingwood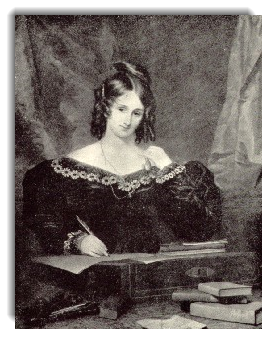 Assignment Guide
First published: 1817
Setting: Late eighteenth century
Locale: Geneva, Switzerland; Ingolstadt, Germany; Scotland; Arctic Ocean
Keywords: Shelley, Mary Wollstonecraft; Frankenstein; science fiction; treatment of nature; treatment of fear; Romanticism; treatment of monsters; Biblical allusion; Gothic novel; relationship to science; creation; sources in classical myth
Note: This novel's full title is Frankenstein; or the Modern Prometheus
Victor Frankenstein, while a student at the university in Ingolstadt, Germany, becomes obsessed with his ambition to create life as an addition to scientific knowledge. His success leads to the making of a monster the sight of whom fills him with "breathless horror and disgust". Throughout the rest of the novel Frankenstein is haunted by the specter of what he has accomplished while the monster tries to make a place for himself in a cruel world. When Frankenstein refuses to create a mate for him, the monster embarks on a rampage of revenge. After Frankenstein is deprived of all whom he loved, he hunts the monster to the icy desolation of the Arctic to destroy that which he has wrought. Victor tells his story of horror and terror to Robert Walton, the captain of the ship which rescues him in the Arctic. Frankenstein's ensuing death and the monster's grief inspired vow to destroy himself bring this gothic novel to a close.
---
BIOGRAPHICAL INFORMATION

Mary Shelley was born August 30, 1797 in London, England to social philosopher William Godwin and feminist Mary Wollstonecraft. Mary's mother died ten days after her birth, and she was raised, along with her half-sister Fanny Imlay (Mary Wollstonecraft's illegitimate daughter), by her father. William Godwin has been portrayed as a repressive patriarch with a rigid belief in his own rightness. When Mary ran off at sixteen with the then married poet Percy Bysshe Shelley, her father stopped talking to her but continued to accept money from Percy Shelley. Mary came from a family of social radicals and entered a circle of social radicals. Thus she began a relationship with a married man at a time when such a union was a definite social impropriety. She and Shelley were married two years later after Shelley's wife committed suicide. Together they had three children, only one of whom reached adulthood. Mary wrote her most famous work, Frankenstein, when she was only nineteen years old. The novel was the result of a dream she had after a challenge that she, Lord Byron, Percy Shelley, and a doctor friend of theirs each write a ghost story. Only Mary complied and the result was Frankenstein. After Percy Shelley was killed in a boating accident in 1822, Mary made a living by writing critical essays, several other novels, and a travel book and editing and publishing her husband's poems. She died in London on February 1, 1851.
---

CHARACTERS
Victor Frankenstein - the science student who creates the monster or demon
The Monster - Frankenstein's creation
Robert Walton - an explorer and captain of a ship on an expedition to the Arctic
Elizabeth Lavenza - Victor's fiance; adopted by Victor's parents and raised Elizabeth as his sister
Henry Clerval - friend of Victor
The DeLacey Family - the French family the monster observes from his hiding place
---

POSSIBLE THEMES
Sample Keywords for Searches
Physical deformity
Ambition
Injustice
Parental love and responsibility
Science and ethics
Revenge
Social responsibility
Good versus evil
Obsessive behavior
Horror and terror
Artificial life
Parental neglect
---
---
BOOKS CONTAINING CRITICISMS
For more books, check the Library Catalog, keep searches broad. Use the title of the book: Frankenstein or the author's name: Mary Shelley in a Keyword or Subject search.
Search in the
EBSCO eBook Collection
and use
Frankenstein
or
Shelley
as a
Keyword
search.You can also make searches in the eBook Collection more specific, since a keyword search will search through the entire text of the book!

Reference books -
PN 761 .N5, vols. 14, 59 - Nineteenth Century Literature Criticism

NCLC contains excerpts from essays in books and journals. Helpful for

1) selecting a topic
2) finding full text of scholarly articles in the library either from the excerpts or the "Further Reading" section.
PN 523 .W67, vol 5 - World Literature Criticism - A broad selection of the best criticism of works by major writers.
PN 3385 .N68, vol. 1 and vol. 37- Novels for Students - Biographical, critical, historical and plot information about works of fiction.
PS374 .S35 S36 1982- Science Fiction Writers - Critical studies of the major sci-fi authors from the early 19th century to the present.
Circulating books -
PS 147 .R87 To Write Like a Woman - Essays on feminism and science fiction,with a chapter on Mary Shelley.
PR5397 .F73 F68 Frankenstein - ed. by Harold Bloom. The novel and critical essays.
PR 830.S35 A58 1995 Anticipations Essays on early science fiction and its precursors.
PN 3433.5 .A45 Science Fiction Before 1900 - The evolution of science fiction literature.
PR5398 .M27 Mary Shelley in Her Times - Critical essays on Shelley's work.
---

EVENTS AT THE TIME THE NOVEL WAS WRITTEN
picture courtesy of Cathy Decker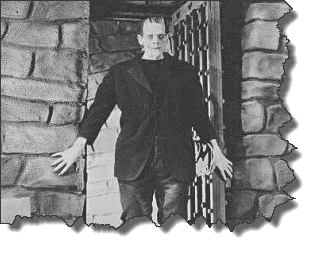 Britain was in the middle of the Industrial Revolution when Mary Shelley wrote Frankenstein. New technologies, such as the mechanization of spinning and weaving and improvements in the modes of transportation, led to a shift in the country from being a largely agricultural and commercial society to being the world's first industrial nation. This transformation fomented economic and political upheaval. Agitation for more rights for workers and women had its onset in this period. The agrarian Old Guard struggled to maintain its influence while new fortunes were being made in the textile industry. There was a rapid growth in population. The number of people in Britain doubled between the first ever census in 1801 and the census of 1851. The most popular journalist of the day, William Cobbett, spoke out for the workers and attacked landowners and political corruption. The Romantic poets revolted against the formality of neo-classicism and advocated a return to nature and a world of imagination and unconscious feelings. All of society was influenced by the NapoleonicWars and the ideas of the French Revolution.
The debate between scientific discoveries and traditional religious and metaphysical thought was starting to take shape, and the ethics of how far man should pursue his desire for knowledge was beginning to be a topic of discussion - a topic still in debate today.
---

BOOKS TO EXPLAIN THE TIMES
REF PN 50.L574, vol. 1 - Literature and Its Times - the historical events which influenced authors writing major literary works.
PR 457 .R4568 - Romantic Women Writers - Writings about British women writers during the romantic era.
PR 830 .T3 - The Female Gothic - Essays on women writers of the gothic novel with a piece on Mary Shelley
Q125 .B947 - The Day the Universe Changed - An explanation of the advances in science and knowledge that changed the way man perceived the world in which he lived.
Q125 .B97 - Origins of Modern Science - A collection of lectures that discuss, among other things, the Scientific Revolution
Q125 .R7426 - Science: Its History and Development Among the World's Cultures - A history of science with chapters on the 17th, 18th, and 19th centuries
---

FINDING JOURNAL ARTICLES IN DATABASES
Librarian Talk . . . About Finding Journal and Newspaper Articles!

Electronic databases are purchased by the libraries for your research use. To find articles in newspapers and journals, letters, reference books, illustrations, photographs and more, use your updated library card to login to the following databases. If you find an interesting article that is not full-text, please give the correct bibliographic information to our Reference Librarians and they will see that you get the article. They will need full bibliographic information - and your name and address. Send your phone number as well, so they can contact you if they need to. There is some overlap of articles in the following databases. However, we encourage you to use more than one. All are excellent sources for this topic.

HINT: For a full list of article databases, go to Research Databases and use the barcode number from your Lone Star College ID or library card to login.
This scholarly, full text database contains article on many subject areas including Literature. Begin your search by entering the title of the novel in the search box. Use the limiters on the left side of the screen to focus your search to Journals, full access (complete articles), or research areas. You can Modify a search to add keywords from your thesis - click on the + mark to add search boxes.
Use the Advanced search screen for the best results. Enter the author's name and Frankenstein as keywords, then add keyword from your thesis. Limit your search results to Articles, and choose Language and Literature from the disciplines list to focus your results.
This large, multi-discipline database from Ebsco contains many full text articles. Limit your search to Scholarly (Peer Reviewed) Journals to retrieve appropriate articles for your research paper. Use the advanced search screen for the best results.
Scholarly journal articles, many full text. Also articles in reference books. The best search to find critical articles is the title search. Type in Frankenstein and select "all words entered" before clicking the Search button.
This database is a collection of critical essays discussing literature. These essays, originally published in print form, are accessible now for research online. Find information about Frankenstein or about Mary Shelley's life and her work.
Note: To access these databases from off campus, students may login with the barcode number from their Lone Star College ID or library card using the links above.
---

INTERNET SITES
Librarian Talk . . . About the Internet!
The Internet will be a wonderful source of original documents. Browse the sites we have suggested below. Remember, you do want to find reputable sites. Look at:
Accuracy - The information should be researched and show proof that it has been.
Source - Who wrote the information? Look at the domain. .edu .gov. org .net are valid research sources.
Authority - What are the author's credentials? (Don't quote from another college freshman's paper.)
Coverage - Does the page have the information you need for your research?
Objectivity - If a work is biased, use it - just make sure your professor knows YOU know. And offer both sides of issues, where applicable.
Tip: Remember, ask your professor if you will be allowed to use internet sites for some of your resources.
---

GETTING HELP FOR YOUR ASSIGNMENT
Librarian Talk about getting help!
Support for a successful paper is more than finding the right resources. Putting it all together takes time and effort. Sometimes it takes additional help from the librarians or tutors. Please consider the following resources if you need additional help. Remember, the expert on the assignment is your professor; use the LSC-Online in-class email to contact her.
Citing Sources Using MLA Style | Lone Star College-Kingwood Library guide. Examples of both paper and electronic citations.
Avoiding Plagiarism | Excellent information and guide on how to avoid plagiarism from the Online Writing Lab (OWL) at Purdue University.
University of Texas Copyright Crash Course | This helpful guide on copyright is suggested by Lone Star College-Kingwood Teaching and Learning Center.
The Learning Center | Check the TLC hours for in-house tutoring.
How to format your research paper using MLA style
---
Page by Bettye Sutton, 2001. Rev. 9/2012 B.Bradley
Ask Us


Reference: 281.312.1693
Circulation: 281.312.1691



Text-A-Librarian
281.973.4792


Kingwood.LRC-Ref@LoneStar.edu
---
LSC-Kingwood Library Assignment Guides | About LSC-Kingwood Library | LSCS Libraries