LSCS Libraries
|
Research Guides
|
LSC-Kingwood Library Assignment Guides
|
East of Eden by John Steinbeck - LSC Kingwood
by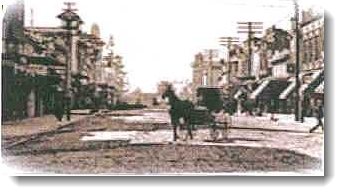 John Steinbeck, 1902 - 1968
Published in 1952, East of Eden was, according to Steinbeck, a "story of his country and the story of himself."
Steinbeck was brought up in and around Salinas, California, the second setting of the novel. His life experiences there are portrayed throughout this story. A second strong influence on the novel is his Christian idealism learned through study of the Bible. Other themes in the novel are listed below.
---
Basic information on East of Eden:
Time: From the Civil War to World War I
Settings: Connecticut and Salinas Valley, California
Characters: Cyrus Trask, patriarch of the Trask family in Connecticut.
Alice Trask, Cyrus' second wife, stepmother to Adam, mother of Charles
Adam Trask, the oldest son of Cyrus and father of Caleb and Aron.
Charles Trask, second son of Cyrus.
Samuel Hamilton, originally from Ireland, patriarch of the Hamilton family.
Liza, Sam's wife, mother to nine children.
Olive Hamilton, mother of John Steinbeck.
Cathy Ames, a young woman who becomes Adam Trask's wife.
Lee, Adam Trask's cook and servant in California.
Caleb Trask, twin son of Adam Trask, brother to Aron.
Aron Trask, second twin son of Adam Trask.
Abra Bacon, friend of Cal and Aron Trask.
Topics to Consider: Cain and Abel
Good and evil
The Hebrew concept of timshel
Salinas Valley history
A father's blessing on his child
People on the fringes of society
Turn of the century America
Librarian talk . . . About Getting Started!

As you begin, narrow your topic to a size that you can manage. Consider keywords that will help you find the information you need. These can be names of people, literary works, events, or broader identifying terms. Use keywords for locating information in the library catalog, electronic databases, and on the internet.
---
BOOKS
Librarian Talk . . . About Books!
Many books are available both online and in the library. So much has been written about this novel, books will be one of your best resources.
Apply online for a library card. Use your card to:
1) Place a Hold on a book and have it sent to the library closest to you, 2) Access journal and reference databases from home, 3) Access Online Book Database (eBook Collection from EBSCO).
The catalog is online.
Electronic books are available in the eBook Collection from EBSCO, a collection of more than 40,000 ebooks. Use your library card to log in. Enter Steinbeck as a subject, then search inside specific books for your thesis keywords.
Reference Books:

REF PN 41 .D5 Dictionary of Literary Biography, v. 7 and 9 of this set offer biographical information on Steinbeck's life.
REF PN771. C59 Contemporary Literary Criticism - This multi-volume set contains excerpts and whole articles analyzing and offering critical insight into literature. Use the Title Index to find specific pages on East of Eden. This is a good place to begin focusing or developing a topic for your paper.
Circulating Books:
PS 3537 .T3234 Z5 Journal of a Novel: The East of Eden Letters - A day by day account of the writing of East of Eden. This "journal casts a flood of light on the author's mind and on the nature of the creative process."
PS 3537 .T3234 Z8669 Steinbeck and the Environment - An interdisciplinary look at Steinbeck.
John Steinbeck - an ebook available through the eBook Collection. The book examines several of Steinbeck's most notable books including East of Eden. Other ebooks on Steinbeck and the early settlement of California are available.
This short video on the writing of
East of Eden
is part of a longer video examining Steinbeck's life and work,
John Steinbeck and the American Experience
from the
Films on Demand
database which can be opened from the
Research Databases
page. Login with your library barcode number from locations off campus.
---
JOURNALS
Librarian Talk . . . About Finding Journal and Newspaper Articles!

To find articles in newspapers and journals, letters, reference books, illustrations, photographs and more, use your Lone Star College System library card to login to the following databases. If you find an interesting article that is not full-text, please give the correct bibliographic information to our Reference Librarians and they will see that you get the article. They will need full bibliographic information - and your name and address. Send your phone number as well, so they can contact you if they need to. There is some overlap of articles in the following databases. However, we encourage you to use more than one. All are excellent sources for this topic. [Get a card]
Some of the Lone Star College-Kingwood Library databases most useful for examining East of Eden and Steinbeck are listed below. Click on the link to go into the database from computers on campus, or use your library barcode to login from off-campus. And, use the advanced search form for best results.
Project MUSE - This full text database contains many scholarly journal articles in literature. For best results use the Advanced Search screen. Enter Steinbeck in one keyword box, enter the title in quotes in a second keyword box. Add a row or two and enter keywords from your thesis in other keyword boxes. Limit your search to Articles only (No Reviews), and choose Literature in the disciplines box. That will help focus the results you find. Ask a Librarian for help if you need assistance.
JSTOR Arts & Sciences - Another full text, scholarly database with many journals in Literature. Enter the search as you did for ProjectMuse and limit the search to Articles. From the Disciplines list, choose Language & Literature. JSTOR is a large database covering many subjects. More keywords will help your focus your results.
Academic Search Complete - This scholarly, multi-discipline database contains articles on East of Eden and John Steinbeck. Limit your searches to Scholarly (Peer Reviewed) Journals to find the appropriate articles. Limit to Full Text to find complete articles.
Bloom's Literary Database Online | This database is a collection of many analytical essays discussing literature. These essays, originally published in print form, are accessible now for research online. Find information about East of Eden, or read about John Steinbeck's life and entire body of work.
Literature Resource Center - Full text articles from reference books, journals, essay collections and Twayne's Masterworks books. Scholarly journal articles are included in the database, some will be full text and some excerpted. This database will help with overviews of East of Eden and information on Steinbeck's life.
eBook Collection - This database of full text online books is available for use from your computer off-campus. Several books which discuss Steinbeck and East of Eden in this database: Critical Companion to John Steinbeck: a Literary Reference to His Life and Work, Facts on File Library of American Literature; A New Study Guide to Steinbeck's Major Works, With Critical Explications by Tetsumaro Hayashi; Witnesses to the Struggle: Imaging the 1930s California Labor Movement by Anne Loftis.
---
INTERNET
Librarian Talk about the Internet!
The internet can be a wonderful source of original documents. Browse the sites we have suggested below. Remember, you do want to find reputable sites. Look at:
Accuracy - The information should be researched and show proof of that research.
Source - Look at the domain: .edu .gov .org .net are valid research sources. Your company's website is also a valuable resource.
Authority - What are the author's credentials? (Don't quote from another college freshman's paper.)
Coverage - Does the page have the information you need for your research?
Objectivity - If a work is biased, use it - just make sure your professor knows YOU know. Offer both sides of issues, where applicable.
Some Internet sites can be helpful for research. Students should be aware that not all sites are academically suitable for the type of research colleges require. Look at the site and judge it for quality (is it well written?), validity (are facts and statements correct?), currency (is it up to date?), authority (who wrote or created the web page?), and general acceptability. If you are in doubt, check with your instructor. Some sites which may be helpful to your research are linked below.
Steinbeck Country A site created by the San Jose State Center for Steinbeck Studies, part of San Jose State University, which describes and shows pictures of many of the places Steinbeck uses as settings in his novels.
John Steinbeck: Voice of a Region, Voice of America A site created by The Steinbeck Institute. Information on Steinbeck's life, some wonderful images of the Salinas Valley,
---
SUPPORT:GETTING HELP FOR YOUR ASSIGNMENT
Librarian Talk about getting help!
Support for a successful paper is more than finding the right resources. Putting it all together takes time and effort. Sometimes it takes additional help from the librarians or tutors. Please consider the following resources if you need additional help. Remember, the expert on the assignment is your professor.
If you need help putting your paper together, these links will lead you to tutors and librarians who can provide assistance.
Citing Sources Using the Library MLA Style Guide | Lone Star College-Kingwood Library MLA guide. Examples of both paper and electronic citations.
Avoiding Plagiarism| Excellent information and guide on how to avoid plagiarism from the Online Writing Lab (OWL) at Purdue University.
University of Texas Copyright Crash Course | This helpful guide on copyright is suggested by LSC-Kingwood Teaching and Learning Center.
Learning Center | Check our hours for tutoring.
---
Page by Becky Bradley, 3-19-02 || Revised 9/12, KG
Ask Us


Reference: 281.312.1693
Circulation: 281.312.1691



Text-A-Librarian
281.973.4792


Kingwood.LRC-Ref@LoneStar.edu
---
LSC-Kingwood Library Assignment Guides | About LSC-Kingwood Library | LSCS Libraries