LSCS Libraries
|
Research Guides
|
LSC-Kingwood Library Assignment Guides
|
DHYG 2201: Literature Reviews in Dental Hygiene - LSC-Kingwood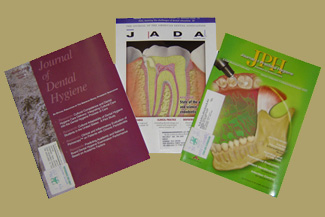 Assignment Guide
The purpose of this assignment is to introduce you to scientific peer reviewed journal information that is available to you as a dental hygiene professional. Dental hygiene care is evidence-based and this evidence is found in peer refereed studies and journal articles.
First step: To learn more about Evidence-Based Practice (EBP), complete this tutorial before starting your literature review.
You will do both a written and oral report based upon a review of the current literature.

Introduction to Evidence-Based Practice | Minimum Requirements | What is a Literature Review? | Finding Journal Articles in Dental Hygiene | Support

Minimum Requirements

Choose a current research topic in dental hygiene. Need help finding a topic? Link to our A-Z list of electronic journals, then click on the "Subject" tab. Page down the list to find "Medicine" and select the category for "Dentistry". Click on the links to the database for a particular journal and follow the links to browse or search current issues of each journal title.

---

Your literature review will need to include:

A minimum of three (3) peer-reviewed references, published from January 2004 to date.
A maximum of one (1) page per article reviewed.
A copy of each of the peer–reviewed articles that you have chosen.
A bibliography citing your references in APA format.

Place your project in a report cover in the following order:

Topic Page with Title of Research Subject and Bibliography in APA format.
The article summary for each journal article followed by the article.

---

The oral presentation will consist of the topic and review of articles.

---

Grading




Written report
50 pts.
Topic Page with Bibliography in APA Format

20 pts.

Article Summary for each article

30 pts (10 pts
per article)

Oral presentation: Information is presented in a concise manner, where the presenter can discuss the articles reviewed without reading notes.
50 pts.

---

What is a Literature Review?

The literature review provides your audience with relevant information about your topic, as well as your synthesis and evaluation of the article. It is not just a summary of the article. It is not possible to provide all of the information on a topic with five articles. As you locate articles, determine those that are the most relevant and that give you the most information. Choose a minimum of five articles. Before you begin, locate other literature reviews in your discipline, such as this article (*requires the barcode from your Lone Star College ID or library card for off-campus access).


There are several steps in writing a literature review:

Choose a research area. For this assignment, you may choose any current topic in dental hygiene (see Minimum Requirements). Identify sources of information. This literature review will be limited to peer-reviewed research articles in journals only. Articles must have been published from 2004 to date. A list of sources is included with this guide below. Record citation information for your report and bibliography as you research. Review the APA guide before you start. Locate, read and evaluate potential articles. Take notes on your articles, and identify patterns as well as agreements or disagreements among the authors. The guides listed below contain excellent questions to consider as you read and evaluate each article.
Write your review, including your own synthesis and evaluation of the articles you selected. Provide a citation and a summary for each article.

---

The following links are excellent guides on writing literature reviews:


---

Finding Journal Articles in Dental Hygiene

Journal of Dental Hygiene
Keep up with original research in the practice and education of dental hygiene in this peer-reviewed scholarly journal published by The American Dental Hygienists' Association. Database access through CINAHL (Cumulative Index to Nursing and Allied Health) to the full text from January 2001 (volume 75 issue 1).
Access full-text articles of the Journal of the American Dental Association online beginning with 1995 and in the LSC-Kingwood Library (current only; shelved with the LC classification for R-RZ in the library's reference section). You may check out all issues except for the most recent.
Locate additional sources by searching the databases listed below. Use the 14-digit barcode number from your LoneStar college ID or library card to login to the Journal of Dental Hygiene and the databases from off campus (except for Medline/ PubMed). Lone Star College-Kingwood Library provides an interlibrary loan service to obtain articles not located in our system. Start your research early to take advantage of this service! NOTE:Before requesting an article, search for the journal title in our A-Z database of eJournals. If an article can be found in any of our databases, it will be listed with links to the databases. Questions? Please ask any reference librarian!
Most databases include a way to restrict searches to articles by date, as well as articles that are considered peer-reviewed or scholarly articles. For this assignment, you need articles published from January 2003 to date.


---

Use the following databases to identify articles for your literature review:
Ask Us


Reference: 281.312.1693
Circulation: 281.312.1691



Text-A-Librarian
281.973.4792


Kingwood.LRC-Ref@LoneStar.edu
---
LSC-Kingwood Library Assignment Guides | About LSC-Kingwood Library | LSCS Libraries