LSCS Libraries
|
Research Guides
|
LSC-Kingwood Library Assignment Guides
|
One Flew Over the Cuckoo's Nest by Ken Kesey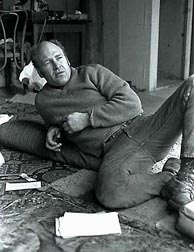 "Photo courtesy of
Robert Altman ©1999."
Lone Star College-Kingwood Library
Assignment Guide
Ken Kesey 1935 - 2001
This grim satire, first published in 1962, is set among the patients and workers in a mental institution. It tells the story (narrated by an inmate) of an energetic con man who seeks institutionalization as a means of escaping the rigors of a prison work farm. Before long, in order to reduce the sexual and emotional impotence of the men at the institution, he began to challenge the dictatorial Nurse Ratched, irrevocably altering the destiny of those in the ward. The story is made up of series of skirmishes between McMurphy and Big Nurse. McMurphy became a hero, changing the life of the inmates, but paid dearly for his individualism.
---
BIOGRAPHICAL INFORMATION
Ken Kesey, born in 1935, was raised on farms in Colorado and Oregon. At the University of Oregon, he participated in wrestling and theater. He married his high school sweatheart and they had 3 children together. In 1959, when he volunteered to be a subject in experiments with hallucinogenic drugs, his life underwent a dramatic change. Near the end of the experiments, he began working the night shift in a mental ward. He started to feel that the patients were not really crazy after all, just more individualized than society was willing to accept. Parts of this novel were written while he was under the influence of LSD and peyote.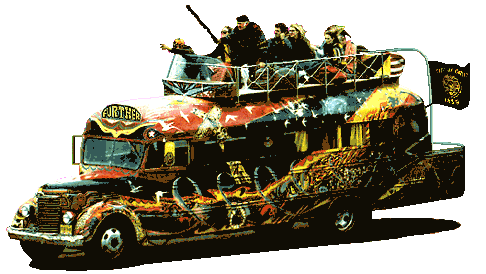 Kesey's specialty at the time was green Kool-Aid laced with LSD. In 1964, promoting his new book, Sometimes a Great Notion, he and his friends, dubbed the Merry Pranksters, drove from San Francisco to New York in a psychedelic painted bus (paid for with the proceeds of Cuckoo's Nest.) His bus, Further, was immortalized in the Electric Kool-Aid Acid Test and On the Bus. Kesey hid 6 months (with his bus) in Mexico to avoid imprisonment for possession of marijuana, then gave himself up to authorities, and was jailed for 5 months. His writing changed from fiction to autobiographical prose, although in later years he returned to fiction with Sailor Song and Last Go Round. One Flew Over the Cuckoo's Nest may have had more influence on society than society had on Kesey. The book was widely read by college students just as the baby boomers began to challenge authority. It is considered a masterpiece. Until his death in 2001, Kesey resided in Oregon where he had been active in the PTA :-).
Librarian talk . . . About Getting Started!
As you begin, narrow your topic to a size that you can manage. Consider keywords that will help you find the information you need. These can be names of people, literary works, events, or broader identifying terms. Use these keywords for locating information in the library catalog, electronic databases, and on the internet.
Sample Keywords:
Kesey, One Flew Over the Cuckoo's Nest, character, 'any theme with author's name', i.e.asylum, electric shock therapy, lobotomy, counterculture, hippies,. LSD, satire.
---
HISTORICAL BACKGROUND
The novel's secondary characters were based on real-life individuals whom Kesey met while working at the Veterans' Administration Hospital. As research for the novel, he worked the graveyard shift in the psychiatric ward and actually subjected himself to a real-life shock treatment. The setting of One Flew Over the Cuckoo's Nest takes place at the end of the 1950s, when many of the nation's younger generation began to challenge conformity. Nurse Ratched personified the power and control exhibited by large government and businesses. The Beat Culture began at this time and continued with other countercultures and finally to the hippies of the 1960s. Young Americans began to question those in power. They formed a subgroup in American society that historians termed the counterculture. This band of political protesters gave rise to the hippies, a collection of mostly young people dedicated to peace, love and the search for beauty of life. Kesey was one of those hooked on a new mind-altering drug known as LSD. LSD was considered both a blessing (medical treatment for mental disorders) and a curse (unpleasant reactions and addiction) for American society. LSD served as a unifying vehicle that would later define the entire counterculture of the 1960s. One Flew Over the Cuckoo's Nest was hailed as a major literary success. The movie starring Jack Nicholson as McMurphy won the 1975 Academy Award for Best Picture.
What was happening in the 1960s? See our American Cultural History Site and Music 1950-2000 to set yourself in place.
---
CHARACTERS
R. P. McMurphy

A con man who becomes a modern-day rebel and hero cast in the mode of the cowboy hero of the American Western. Charming and manipulating, he is a forceful character living a generation too late. He challenges authority. Using a strong sense of humor and comic exaggeration, he instigates the changes at the sanitarium and teaches the inmates to be sane.

Billy Bibbit

A thirty-one year old man, psychologically an adolescent, is still under the control of his mother. McMurphy finds a way to bring out his manhood.

Chief Bromden

Schizophrenic, and as narrator, holds a key position. He is a tall and strong Native American who feigns muteness and deafness to protect himself from pain. McMurphy rescues him from his silence.

Nurse Ratched

Big Nurse, described as 'enormous, capable of swelling up bigger and bigger to monstrous proportions. She is the ward superintendent, the ultimate authority demanding obedience and perfect order from everyone

Dale Harding

The best educated of the men on the ward, Dale Harding is president of the Patients' Council when McMurphy is admitted to the hospital. He serves a useful purpose, both for McMurphy and for us: while the Chief with his hallucinations may give us an unusual insight into the hospital, Harding gives us the sorts of rational explanations we're used to hearing. It's Harding who tells McMurphy how Nurse Ratched is able to maintain her power, how electroshock therapy works, what a lobotomy does to people. It's Harding who helpss the new patients and the reader understand the matriarchy directed bt Nurse Ratched. His change and cure is complete, thanks to McMurphy.
---
TOPICS TO CONSIDER
Physical and moral courage

What is insanity?

Group effort - The Combine

Morality - good over evil

Biblical allegory

Challenging symbols of conformity

Importance of sexuality

Anti-feminism - superiority of males

Human freedom vs control

Humor and satire, the power of laughter

Cartoon imagery

Symbolism of names
---
BOOKS with BIOGRAPHICAL INFORMATION
Librarian Talk . . .About Books!

Apply online for a library card. Use your card to:
1) Place a Hold on a book and have it sent to the library closest to you
2) Access journal and reference databases from home, and
3) Access e-Books from the eBook Collection.




Ref PN41 .D5, Vol. 76. Dictionary of Literary Biography (DLB)

Detailed biographical sketch of Kesey, his writings, and general critical commentary.

PS3561 .E667 Z88 Ken Kesey

Criticism and interpretation of Kesey's works as well as biographical information.

Request Electric Kool-Aid Acid Test by Tom Wolfe from LSCS partner libraries from the library catalog.

The story of the Merry Pranksters bus trip.
---
BOOKS to EXPLAIN THE TIMES
Ref PN50 .L574, Vol. 4 Literature and Its Times

Highly recommended to immerse the reader in the time in which the novel takes place. Includes synopsis, social history, treatment, plot, and reviews.

Ref BF31 .E52 Encyclopedia of Psychology

Use for descriptions of schizophrenia and other mental disorders.

Ref E169.1 .A471872, vol. 7 America in the 20th Century

Background information on the counterculture.

Ref E169.12 .A419, Vol. 7 American Decades 1960 - 1969

Background information on the sixties, with several references to Kesey.

HV5825 .J65 Hep-cats, Narcs and Pipe Dreams: A History of America's Romance with Illegal Drugs

Background for early LSD and other drug use in America.

HV5822 .L9 S74 Storming Heaven: LSD and the American Dream

An excellent book on its subject.
---
BOOKS Containing CRITICISMS
Ref PN523 .W67 World Literature Criticism

Similar to Contemporary Literary Criticism (CLC), this book has excellent information for background reading.

Ref PR888 .P53 R43 Reader's Guide to the Twentieth Century Novel

Evaluates the novel's place in its time.

PS3561.E667 O538 Readings on One Flew over the Cuckoo's Nest.

Twelve critical essays.
---
FINDING JOURNAL ARTICLES
Librarian Talk . . . About Finding Journal and Newspaper Articles!
Electronic databases are purchased by the libraries for your research use. To find articles in newspapers and journals, letters, reference books, illustrations, photographs and more, use your updated library card to login to the following databases. If you find an interesting article that is not full-text, please give the correct bibliographic information to our Reference Librarians and they will see that you get the article. They will need full bibliographic information - and your name and address. Send your phone number as well, so they can contact you if they need to. There is some overlap of articles in the following databases. However, we encourage you to use more than one. All are excellent sources for this topic.
HINT: For a full list of article databases, go to http://library.lonestar.edu/and use your library card for login.
Includes articles from Contemporary Literary Criticism (CLC) and Dictionary of Literary Biography (DLB) as well as some full text journal articles. MLA, the most comprehensive literature journal index, is a subset of Literature Resource Center.
Index to journals articles, many full text. While similar to Proquest, it may have different articles.
---
INTERNET SITES
Librarian Talk . . . About the Internet!

The Internet will be a wonderful source of original documents. Browse the sites we have suggested below. Remember, you do want to find reputable sites. Look at:

Accuracy - The information should be researched and show proof that it has been.
Source - Who wrote the information? Look at the domain. .edu .gov. org .net are valid research sources.
Authority - What are the author's credentials? (Don't quote from another college freshman's paper.)
Coverage - Does the page have the information you need for your research?
Objectivity - If a work is biased, use it - just make sure your professor knows YOU know. And offer both sides of issues, where applicable.
Review the contents for more information about the 60s and the Beats.
Background information about Kesey's life.
Essay written by one of the offspring of the Age of Aquarius commune. See what life was like.
2011 rebroadcast of an 1989 conversation with Kesey from NPR's Fresh Air series.
For Kesey lovers.
Interview made, but not published.
An examination of the 1960s.
---
GETTING HELP FOR YOUR ASSIGNMENT
Librarian Talk about getting help!
Support for a successful paper is more than finding the right resources. Putting it all together takes time and effort. Sometimes it takes additional help from the librarians or tutors. Please consider the following resources if you need additional help. Remember, the expert on the assignment is your professor; use the LSC-Online in-class email to contact her.
Citing Sources Using MLA Style | Lone Star College-Kingwood Library guide. Examples of both paper and electronic citations.
Avoiding Plagiarism | Excellent information and guide on how to avoid plagiarism from the Online Writing Lab (OWL) at Purdue University.
University of Texas Copyright Crash Course | This helpful guide on copyright is suggested by Lone Star College-Kingwood Teaching and Learning Center.

The Learning Center | Check the TLC hours for in-house tutoring.
---
Written by: Peggy Whitley and Susan Goodwin. Updated 4/2012 rp/jfr
Ask Us


Reference: 281.312.1693
Circulation: 281.312.1691



Text-A-Librarian
281.973.4792


Kingwood.LRC-Ref@LoneStar.edu
---
LSC-Kingwood Library Assignment Guides | About LSC-Kingwood Library | LSCS Libraries