LSCS Libraries
|
Research Guides
|
LSC-Kingwood Assignment Guides
|
A Connecticut Yankee in King Arthur's Court by Mark Twain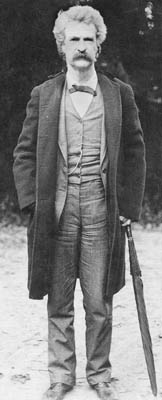 Lone Star College-Kingwood Library
Assignment Guide
Mark Twain (pseudonym of Samuel Clemens 1835 - 1910)

Connecticut Yankee, first published in 1889, is the story of a nineteenth-century mechanic who travels back in time to the days of King Arthur. With his prodigious memory and scientific acumen, he attempts to modernize medieval society. An example of early science fiction, this is the first novel to travel back in time. A Connecticut Yankee in King Arthur's Court is written as a satire on the utopian days of King Arthur. Broad strokes of violence that might offend today's readers were intended as burlesque humor. The book has been variously classified as science fiction, humor, satire, and utopian literature.
Background
A Connecticut Yankee in King Arthur's Court was written when Twain was in severe financial straits. His self-made fortune had evaporated as his investments in the Paige Typesetting Machine and in a publishing company failed. He had begun this story a few years earlier, after reading Mallory's Le Morte d'Arthur; now, he finished it to earn money to support his family. His pessimism is intertwined with his humor.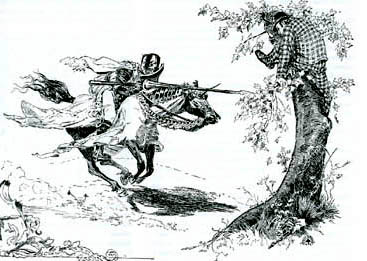 Characters
Hank Morgan - A 19th century mechanic who travels back in time to 6th century England

Clarence - A page, and Hank's right-hand man

Merlin - The magician

King Arthur

Alisande, or Sandy - A beautiful, talkative young lady who is at first Hank's travel companion and later his wife

The Story
Hank Morgan, a resourceful mechanic and supervisor in the Colt Arms Factory, is knocked unconscious during an argument and awakens in Medieval England during the days of the Round Table. Concerned about societal problems, he sets out to transform the country with nineteenth century technology and values. Throughout his adventure, he is beset by problems: Merlin the Magician's jealousy, animosity from the Knights of the Round Table, and the ignorance and superstition of the people. In the end, the technology is destroyed and Merlin casts a spell on Hank, which leaves him sleeping for thirteen hundred years. Hank reawakens in 19th century Connecticut.
---
BOOKS
Librarian Talk ... about Books!
Books offer helpful information about historical background, settings, and authors. Literary criticism may be compiled in a book. The catalog is online at Lone Star College Library Catalog. If you want criticism of the novel itself, try the search words Connecticut yankee and criticism. For setting and historical background, search for Arthurian romances, King Arthur or Morte d'Arthur.
Electronic books or eBooks are available in the eBook Collection. You will need a library card barcode number to read eBooks from off-campus. Create a Free Account to save favorite book titles and notes in EBSCO's eBook Collection.
Use your student ID (the library card is on the back) to access library resources. If you are a distance learning student, you can apply online for a library card.
Use your card to:

Place a hold on a book.
Request a book listed in the catalog but available from another location.
Access databases from home.
Reference Books:
REF PN3385 .N68, vol. 20 Novels for Students
A good source for characterization, themes, historical context and critical overview.

REF DA152.5.A7 N48 Lacy, Norris N., ed. The New Arthurian Encyclopedia.

Brief entries on Merlin, Arthur, Twain, etc.
VIDEOS:
Several videos about the King Arthur story are available. Check the library catalog. Some of the best are:
A database of educational videos. Includes four videos about Connecticut Yankee and others on Mark Twain's life.

PN197 .K52 King Arthur. Touchstone Pictures. DVD.

Examines the myth of the perfect medieval king.

DA152.5 .A7 A76 Arthur: King of the Britains. Princeton, NJ: BBC, 2008. DVD.

Archeology findings are shedding light on the legend of King Arthur.

PN57 .A6 A788 Arthurian Legends. DVD.

Myth and fantasy surrounding King Arthur.
---
Scholarly Journal Articles
Librarian Talk ... about Finding Scholarly Journal Articles!
So you need scholarly journal articles? At one time, you would find hard copies at a research library. Today, they are compiled in electronic databases. Electronic databases are purchased by the libraries for your research use. If you need assistance finding a particular article, contact the Reference Librarians and they will help you get it. They will need full bibliographic information - and your name and address. Send your phone number as well, so they can contact you if necessary.
Use the barcode number from your Lone Star College ID or library card to login to these online journal databases.

These databases are available to Lone Star College System students on campus or with your library card number. If you are a student at another school, check with your librarian for availability.
---
Search the Internet
Librarian Talk... about the Internet!
The internet can be a wonderful source of original documents. You can find reviews from the time period when the book was published, background information about King Arthur and Mark Twain, and electronic copies of the book. Browse the sites we have suggested below. Remember, you do want to find reputable sites. Look at:
Accuracy - The information should be researched and show proof of that research.
Source - Look at the domain: .edu .gov .org .net are valid research sources.
Authority - What are the author's credentials? (Don't quote from another college freshman's paper.)
Coverage - Does the page have the information you need for your research?
Objectivity - If a work is biased, use it - just make sure your professor knows YOU know. Offer both sides of issues, where applicable.
---
GETTING HELP FOR YOUR ASSIGNMENT
Librarian Talk...About Getting Help
Support for a successful paper is more than finding the right resources. Putting it all together takes time and effort. Sometimes it takes additional help from the librarians or tutors. Please consider the following aids.
Citing Sources Using MLA Style | Lone Star College-Kingwood Library guide. Examples of both paper and electronic citations.
Avoiding Plagiarism | Excellent information and guide on how to avoid plagiarism from the Online Writing Lab (OWL) at Purdue University.
The Learning Center | Check the TLC hours for in-house tutoring.
---
Page by Sue Goodwin, Librarian, 3/28/2000.Updated 8/2012LL
Ask Us


Reference: 281.312.1693
Circulation: 281.312.1691



Text-A-Librarian
281.973.4792


Kingwood.LRC-Ref@LoneStar.edu
---
LSC-Kingwood Library Assignment Guides | About LSC-Kingwood Library | LSCS Libraries