LSCS Libraries
|
Research Guides
|
LSC-Kingwood Assignment Guides
|
Candide by Voltaire - LSC-Kingwood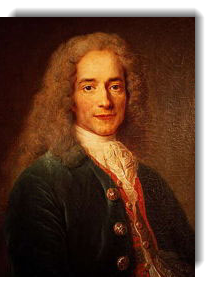 François-Marie Arouet, also known as Voltaire 1694 - 1778
Voltaire, the pen name for François-Marie Arouet, was born in Paris on November 21, 1694. He was educated at the Jesuit College in Paris and wished to become a writer. His father, however, wanted him to study the law. After a scandal and a threat by his father to disinherit him, the young man acquiesced to his father's demands. Nonetheless, he continued in his writing. He used wit and satire in his oblique attacks on intolerance and fanaticism during the French Enlightenment. He spent a year in the Bastille in 1717, accused of penning two poems critical of the Regent of France. When his father died in 1722, Voltaire was able to control his own actions. His works continued to make him enemies, and he was exiled to England from 1726 to 1729. He spent several years in the 1750's at the court of Frederick the Great, during which time he wrote Candide. In his lifetime he produced some 80 volumes of writings. His influence on the thought of the 18th century lead some historians to refer to that century as the "Age of Voltaire."
BACKGROUND
The eighteenth century was a time of new ideas and perspectives. The European intellectual movement known as the Enlightenment changed the way man viewed his world. Reason, not spirituality or intuition, was the road to understanding the world in which he lived. Isaac Newton introduced the notion that the universe was governed by set and discoverable laws. This concept undermined the faith in a personal God. Tolerance of varying religious beliefs was advocated by philosophers such as Voltaire. Churches should not interfere with scientific research. In politics the authoritarian state as exemplified by such absolute monarchs as Louis IV of France came into disrepute. By the end of the 1700's, the idea of self-government had resulted in reform in England and revolution in France and America. Europe moved from an agrarian economy to an industrial one. At the close of this century, the world had changed dramatically as the advances in science, political democracy, and religious freedom swept away the last vestiges of the Middle Ages. Now, the belief that human history was a record of general progress and that the condition of mankind would only get better with each succeeding generation fostered a halo of optimism.

---
THE STORY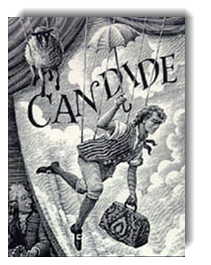 The plot of Candide is complex and ever changing. Candide, the illegitimate nephew of Baron Thunder-ten-tronckh, learns from the tutor Pangloss that this world is "the best of all possible worlds." Soon afterward, he is expelled from the baron's home because of his love for the baron's daughter, Cunégonde. Through war, earthquakes, heartbreak, and the Spanish Inquisition, Candide continues to pursue true love and happiness.
THEMES TO CONSIDER: Comic invention; loyalty; utopia; satire; war as play; treatment of garden; evil; religion; optimism.
---
BOOKS
You will need a Lone Star College System library card to check out books and other materials, access online databases from home, and to request books online. Search the Lone Star College System library catalog for Voltaire, Candide, Leibnitz philosophy.
Librarian Talk . . .About Books!
Books offer helpful information about historical background, settings, and authors. Literary criticism may be compiled in a book which can be located in the LSCS Library Catalog. If you want criticism of the novel itself, try the search words, Candide and criticism.
Electronic books, or eBooks, are available in the eBook Collection from EBSCO. You will need a library card barcode number to read eBooks from off-campus.
Apply online for a library card (for Distance Learning students). For quicker results, after you submit the application, call the circulation desk at 281-312-1691 and ask them to process it. Use your card to:

Place a hold on a book.
Request a book listed in the catalog but available from another location.
Access databases from home.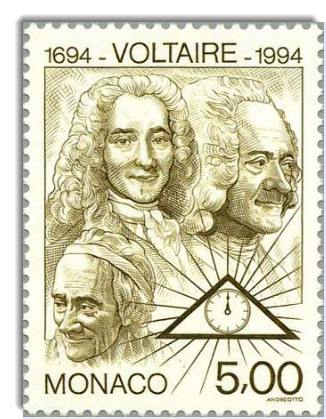 Reference Books
REF CB411.S8 Studies in Eighteenth-Century Culture. An annual publication with many articles about Voltaire.
REF PN56.U8 S66 Encyclopedia of Utopian Literature. The longing for "the good place" is a literary theme treated here in depth. Candide is specifically discussed on pages 94-98.
REF PN86 L53 Literature Criticism from 1400 to 1800 (vols. 14, 79). Contains excerpts from critical essays in books and journals.
REF PN523.M29 Magill's Survey of World Literature (vol. 6). Coverage of Voltaire and his writing style and characterization.
REF PN3385 .N68 Novels for Students. See volume 7 for an overview of Candide's themes, characters, plot, and excerpts from literary criticisms of the novel. This resource is also available electronically -- search the catalog for Title Keyword "Novels for Students 7."
REF PN523.W67 World Literature Criticism 1500 to the Present (Vol. 6). Excerpts from critics and biographers. There is even a book review of Candide from the time of the original publication, (dated 1759).
REF PN164.A85 The Atlas of Literature. A short but good study of Voltaire and others of his time.
Other sources:
---
JOURNAL ARTICLES
Librarian Talk . . . About Finding Journal Articles!

Electronic databases are purchased by the libraries for your research use. To find articles in newspapers and journals, letters, reference books, illustrations, photographs and more, use your updated library card to login to the databases. Contact the librarian if you need help getting an article.
Full-text articles from reference books and Twayne's Masterworks books. Also, journal articles, some full text and some excerpted. Click on "Works Search" and enter Candide. You will also find overviews and other articles that are not critical essays. This is a good place to begin your research, and find themes and topics associated with Candide. Ask for help if you can't decide which resources are suitable.
Use the Advanced Search page for the best results. Enter a keyword or keyword phrase in separate search boxes to locate articles containing those words. Because this database is entirely scholarly, all articles are of the appropriate academic level.
The best results will be found using the Advanced Search page. To use the title in the search, put it in quotes in one search box, and type the author's name in a second box. You may want to add keywords from your thesis in a third and fourth box (click on "Add a Row"). Remember, the more terms you add, the fewer results you will obtain. This database is also entirely scholarly, so all articles will be of the appropriate academic level for your research.
A multi-subject database, with many full-text articles. Be sure to check the boxes marked "Full Text" and "Scholarly (peer-reviewed) Journals" in order to retrieve the appropriate level of journal article for your research. Many of the articles found in this database may also be in Project Muse and/or JSTOR.
Critical essays from Bloom's Criticisms and articles from reference books. Includes some journal articles.
---
INTERNET
Librarian Talk . . . About the Internet!
The internet can be a wonderful source of original documents. Browse the sites we have suggested below. Remember to find reputable sites. Look at:
Accuracy - The information should show proof it has been researched.
Source - Who wrote the information? Look at the domain: .edu .gov .org are usually valid research sources.
Authority - What are the author's credentials? (Don't quote from another college freshman's paper.)
Coverage - Does the page have the information you need for your research?
Objectivity - If a work is biased, use it - just make sure your professor knows YOU know. And offer both sides of issues, where applicable.
---
GETTING HELP FOR YOUR ASSIGNMENT
Librarian Talk about getting help!

Support for a successful paper is more than finding the right resources. Putting it all together takes time and effort. Sometimes it takes additional help from the librarians or tutors. Please consider the following resources if you need additional help. Remember, the expert on the assignment is your professor; use your LSC Online in-class email to contact her.
Citing Sources Using the Library MLA Style Guide | Examples of both paper and electronic citations.
Avoiding Plagiarism | LSC-Kingwood Guide
University of Texas Copyright Crash Course | This helpful guide on copyright is suggested by Lone Star College-Kingwood Teaching and Learning Center.
The Learning Center | Check the TLC hours for in-house tutoring.
---
Page by Claire Gunnels and Bettye Sutton, Librarians, 1999; Revised 8/2012 JNC
Ask Us


Reference: 281.312.1693
Circulation: 281.312.1691



Text-A-Librarian
281.973.4792


Kingwood.LRC-Ref@LoneStar.edu
---
LSC-Kingwood Library Assignment Guides | About LSC-Kingwood Library | LSCS Libraries