LSCS Libraries
|
Help with Research
|
Government Information
|
Federal Information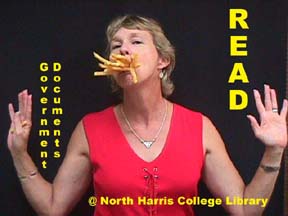 Megan Franks, Professor of Kinesiology at North Harris College, is just stuffed with french fries. Read up on the government's tips for health and nutrition.
Ben's Guide to the U.S. Government for kids

Lone Star College-North Harris is a Depository Library

Links to local representatives
Need Help?? - Contact Us!!
Maintained by: V. Rigby, Reference/Government Information Librarian vrigby@LoneStar.edu