LSCS Libraries
|
Research Guides
|
LSC-Kingwood Library Assignment Guides
|
ECON 2301: Macroeconomics - LSC-Kingwood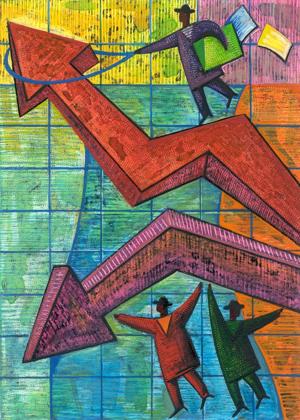 "There's no such thing as a free lunch."
Milton Friedman

Assignment:
Choose a topic from the list below and write a research paper. The paper must be three pages in length and contain a minimum of three sources. Students should use different types of sources including articles from magazines, journals, and newspapers, book chapters, and appropriate Internet sites.
Approved topics are:
Counterfeiting of money
History of micro loans
History of the Euro
Unbanked Communities
PIGS



---
Librarian Talk... About Getting Started!

The best library assignments are ones that use a variety of resources including books, newspaper, magazine, and journal articles, and Internet sites. We encourage you to use all of these types of sources for this paper. To obtain the best information, you will need a library card. You may get a library card at the circulation desk of the LSC-Kingwood Library. You may also apply for a library card online.

The library card barcode number is the login required to use the databases, request materials from other libraries, or use electronic books you find listed in the library catalog from an off-campus computer. We hope you will take full advantage of the many resources our libraries offer.




---

BOOKS

Librarian Talk... About Books!

Books are great places to get business information. Browse the online catalog for the latest business books.

Electronic books or eBooks are available in the Ebook Collection. You will need your library card barcode number to view books from off-campus.
---
Librarian Talk... About Finding Journal and Newspaper Articles!

Electronic databases are purchased by the libraries for your research use. Use them to find articles in newspapers and journals, letters, reference books, illustrations, photographs, and more. Home access to article databases is available with your library card barcode. If you need assistance finding an article contact the Reference Librarians, and they will help you get the article.

The following databases contain information on business topics.

---

INTERNET

Librarian Talk... About the Internet!

The Internet will be a wonderful source of original documents. Browse the sites we have suggested below. Remember to find reputable sites.
Look at:

Accuracy - The information should show proof it has been researched.
Source - Look at the domain. .edu .gov and .org may be valid research sources.
Authority - What are the author's credentials?
Coverage - Does the page have the information you need for your research?
Objectivity - If a work is biased, you may use it; offer both sides of issues, where applicable.


These Internet sites offer all types of information. Look for .gov web pages created by the United States government. These will provide a good starting place to gather economic data.

---

SUPPORT: PUTTING IT ALL TOGETHER

Librarian Talk... About Getting Help!

Support for a successful paper is more than finding the right resources. Putting it all together takes time and effort. Sometimes it takes additional help from the librarians or tutors.
MLA Style Guide | Citing sources using the LSC-Kingwood Library style guide.
Avoiding Plagiarism | Excellent information and guide on how to avoid plagiarism from the Online Writing Lab (OWL) at Purdue University.
Learning Center | Hours for in-house tutoring.
---
Page created by H. Beggan, September, 2010.
Ask Us


Reference: 281.312.1693
Circulation: 281.312.1691



Text-A-Librarian
281.973.4792


Kingwood.LRC-Ref@LoneStar.edu
---
LSC-Kingwood Library Assignment Guides | About LSC-Kingwood Library | LSCS Libraries