LSCS Libraries
|
Research Guides
|
LSC-Kingwood Library Assignment Guides
|
East of Eden by John Steinbeck - LSC Kingwood
|
John Steinbeck - Timeline
STEINBECK TIMELINE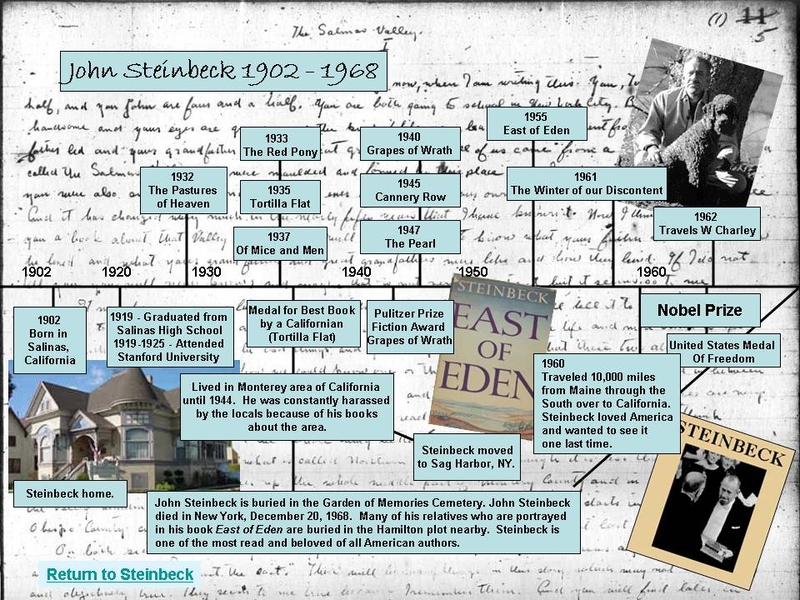 ---
TOP TEN STEINBECK NOVELS
The Pleasures of Heaven - A collection of interrelated short stories, rich in the feeling for the land and for its hardworking people. Steinbeck charts the gradual disintegration of a peaceful farming community in a lush California valley.
The Red Pony - While dealing with the harsh realities of life, Jody changes from a naive young boy into a responsible and maturing young man in the Salinas mountains.
Tortilla Flat - John Steinbeck creates a "Camelot" on a shabby hillside above Monterey on the California coast and peoples it with a colorful band of knights.
Of Mice & Men - Steinbeck uses Robert Burn's poem as title and basis for his story about migrant workers Lennie and George. "The best laid schemes o' mice and men gang aft agley."
Grapes of Wrath - Steinbeck's powerful story of the Joads, as they leave the 1930s Oklahoma dustbowl for the promise land of California.
Cannery Row - Best first line, Cannery Row in Monterey in California is a poem, a stink, a grating noise, a quality of light... Nostalgiz, a dream.
The Pearl - Set in the Gulf of the California Baja, Steinbeck tells a parable based on the biblical "pearl of great price."
East of Eden - is the book that Steinbeck considered his great work. Based on the Cain and Abel biblical story, Steinbeck tells the interwoven story of the Trasks and the Hamiltons. Beautifully written, thoughtful.
The Winter of our Discontent - Mixed reviews for this book that Steinbeck clearly states he wrote in order to address the moral degeneration of American culture in the 1960s.
Travels with Charley - Steinbeck's last major work. He traveled 10,000 miles and wrote stories about America that hold up today.
---
LSC-Kingwood Library Assignment Guides | East of Eden | Grapes of Wrath | Page by Peggy Whitley