LSCS Libraries
|
Research Guides
|
LSC-Kingwood Assignment Guides
|
Wuthering Heights by Emily Bronte - LSC-Kingwood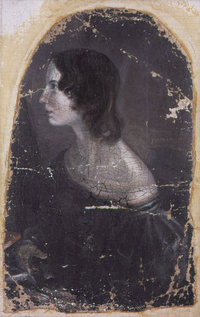 Emily Bronte
1818 - 1848
Novelist and poet, Emily Bronte, is one of the most important figures in nineteenth century English literature. Emily and her siblings were raised in the Yorkshire area of England. Childhood imaginings shared with siblings became an important part of Emily's writings. As an adult Emily recognized a metaphysical power in her life that made itself known in her greatest poems and is a profound presence in Wuthering Heights. Set during late eighteenth century England, Wuthering Heights reflected the social upheaval occurring in England at the time Emily Bronte wrote the novel. The industrialization of England had given rise to a middle class based on wealth instead of land ownership. The arrival of Irish refugees from the potato famine presented the problem of parentless children in need of homes and socialization exemplified in the character of Heathcliff. Ultimately, Emily portrays the problem of being female in the patriarchal culture of the early nineteenth century.
Wuthering Heights is a romance novel about destructive passion set in the northern English moors, a place of unpredictable weather and countryside. The novel is the story of the Earnshaw family at Wuthering Heights and the Linton family at Thrushcross Grange, a neighboring property. The stage is set when Catherine Earnshaw's father brings an orphan, Heathcliff, home to be a part of their family, growing up with, but socially beneath the other inhabitants of Wuthering Heights. Catherine and Heathcliff are passionate, unpredictable soulmates who finally meet each other in a ghostly relationship in the afterlife. When Catherine's daughter, Cathy, and Hindley Earnshaw's son, Hareton, finally join happily in a loving relationship, the winter of Wuthering Heights becomes the spring of Thrushcross Grange.
---
Characters
Catherine Earnshaw - A beautiful, passionate, destructive heroine

Heathcliff - A passionate, vengeful hero with mysterious origins

Mr. Lockwood - A young London gentleman who narrates the story of Wuthering Heights

Edgar Linton - Catherine Earnshaw's gentle, loving husband

Isabella Linton - Edgar Linton's selfish, tempestuous younger sister

Hindley Earnshaw - Catherine Earnshaw's older brother

Catherine Linton - Only child of Catherine Earnshaw and Edgar Linton

Hareton Earnshaw - Son of Hindley Earnshaw

Linton Heathcliff - Sickly son of Heathcliff and Isabella Linton
---
Keywords
Librarian talk . . . About Getting Started!
As you begin, narrow your topic to a size that you can manage. Consider keywords that will help you find the information you need. These can be names of people, literary works, events, or broader identifying terms. Use these keywords for locating information in the library catalog, electronic databases, and on the internet:
love/lovers, power, passion, class, gender, rebellion.
---
Books
Librarian Talk . . . About Books!
Alexander, Christine, and Margaret Smith. The Oxford Companion to the Brontës. Oxford: Oxford Press, 2003.
REF PR 4167.A3O94

Bloom, Harold, ed. Major Authors Edition of the New Moulton's Library of Literary Criticism. New York: Chelsea House Publishers, 1988. Vol. 4.
REF PR 85 .M33

Bloom, Harold, ed. New Moulton's Library of Literary Criticism. New York: Chelsea House Publishers, 1989. Vol. 7 .
REF PR 85 .N39

Draper, James P., ed. World Literature Criticism. Detroit, MI: Gale Research Company, 1992. Vol. 1.
REF PN523 .W67 1992

Scott-Kilvert, ed. British Writers. New York: Charles Scribner's Sons, 1982. Vol. 5.
REF PR85 .B688

Paris, Bernard J. Imagined human beings: a psychological approach to character and conflict in literature.
RN56.P93 P38. This book is also available in NetLibrary (Books online). For home access, use your library barcode number to login and view e-books.


---
Journals
Librarian Talk about Finding Journal and Newspaper Articles!
Electronic databases are purchased by the libraries for your research use. Use them to find articles in newspapers and journals, letters, reference books, illustrations, photographs and more. Home access to article databases is available with your updated library card barcode. If you need assistance finding an article contact the Reference Librarians and they will see that you get the article. They will need full bibliographic information - and your name and address. Send your phone number as well, so they can contact you if necessary.
Use the barcode number from your Lone Star College ID or library card to login to these online journal databases.
Academic Search Complete - Scholarly, multi-discipline database, with many full text articles. Choose the Advanced Search feature and select "Full Text" and "Scholarly (Peer reviewed)" to get good results. This database contains articles from the journal Bronte Studies, an excellent source of information on the Brontes.

Literature Resource Center - Full text articles from reference books and Twayne's Masterworks books. Journal articles, some full text and some excerpted. Search for information by author, title or use custom search to combine the two. The MLA database can also be accessed from this location by clicking on the MLA International Bibliography button.

ProQuest Research Library - Over 1900 journals in all subjects, mostly full text. Search for "peer reviewed articles", and use the backfile as well as the current file.

Project Muse This database contains only scholarly, full-text articles from selected journals, including more recent issues. Use the Advanced Search page for the most effective searches.

JSTOR Print or save full-text articles from high quality scholarly journals, generally from older issues. Use the Advanced Search page for the most productive searches.
---
Internet
Librarian Talk about the Internet!
The internet can be a wonderful source of original documents. Browse the sites we have suggested below. Remember, you do want to find reputable sites. Look at:
Accuracy - The information should be researched and show proof of that research.
Source - Look at the domain: .edu .gov .org .net are valid research sources. Your company's website is also a valuable resource.
Authority - What are the author's credentials? (Don't quote from another college freshman's paper.)
Coverage - Does the page have the information you need for your research?
Objectivity - If a work is biased, use it - just make sure your professor knows YOU know. Offer both sides of issues, where applicable.
---
Media
Wuthering Heights [sound recording] Read by Hannah Gordon
PR4172.W7 (Circulating Audio)

Wuthering Heights [videorecording] "A tortured love affir ends between Heathcliff and Cathy when Cathy marries the wealthy Edgar. Heathcliff's savage retaliation upon the woman he loves explodes in a stunning climax." Source: online catalog summary
PR4172.W784 (Circulating Video)

Wuthering Heights: a critical guide. [videorecording] "Story of two generations of the Barnshaw and Linton families as their lives and fortunes intertwine in a complex web dominated bu the passionate relationship between the doomed lovers Heathcliff and Cathering. An interesting segment explains Bronte's use of double narrators to move back and forth in time." Source: online catalog summary
PR4172.W7 W88 (Circulating Video)

Wuthering Heights [videorecording] "An adaptation of Emily Bronte's classsic novel about two mismatched lovers and the terrible vengeance one takes on the people he blames for tearing them apart." Source: online catalog summary
PR4172 .W98 (Circulating DVD)

Wuthering Heights [videorecording] "A love story set in the Yorkshire moors in the early 19th century." Source: online catalog summary
PR4172.W984 (Circulating DVD)
---
GETTING HELP FOR YOUR ASSIGNMENT
Librarian Talk about getting help
!
Support for a successful paper is more than finding the right resources. Putting it all together takes time and effort. Sometimes it takes additional help from the librarians or tutors. Please consider the following resources if you need additional help. Remember, the expert on the assignment is your professor; use the LSC-Online in-class email to contact her.
Citing Sources Using the Library MLA Style Guide | Lone Star College-Kingwood Library guide. Examples of both paper and electronic citations.

Avoiding Plagiarism | Excellent information and guide on how to avoid plagiarism from the Online Writing Lab (OWL) at Purdue University.

University of Texas Copyright Crash Course| This helpful guide on copyright is suggested by Lone Star College-Kingwood Teaching and Learning Center.

Learning Center | Check our hours for in-house tutoring.

---