LSCS Libraries
|
Library Services
|
Library Services: Adults
|
Library Services: Adults - LSC-CyFair
|
Book Clubs - LSC-CyFair
Back in Time: Historical Fiction Book Club
If you like a bit of fiction with your history, join us for great discussions each month at 1:00 p.m. in LRNC 131 (exceptions noted below) on the following dates. For more details, contact Susan Green at 281.290.3242 or susan.e.green@lonestar.edu.

July 10 [note date change] - Blood and Beauty: the Borgias by Sarah Dunant - Meet in LRNC 118.
The Borgias (Pope Alexander and his children) as seen in a less bloodthirsty, yet still opportunistic light.

August 7 - The Visionist by Rachel Urquhart - Meet in LRNC 118.
A young woman from an abused family joins a Shaker community in the 1840's where she is unexpectedly hailed as a visionist or prophet.

September 4 - King's Mountain by Sharyn McCrumb
Story of the valiant turning point of the Revolutionary War fought by Appalachian militia.
---
Books without Borders
Throughout the year our group will be reading books, both fiction and non-fiction, that highlight the literature, culture, environment, and politics of various parts of the world. Each month a LSC-CyFair faculty member will introduce and facilitate the conversation in LRNC 215 on the dates listed below at 1:00 p.m. unless otherwise noted. Please pick up a reading guide from the 2nd floor reference desk the first week of each month. Join us as we delve into Books without Borders. Contact Patsy Brautigam (patsy.r.brautigam@lonestar.edu) for book copies and more information.

July 17 – The Lowland by Jhumpa Lahiri [India] - Facilitator: Abraham Korah, Reference Librarian, LSC-CyFair
"Pulitzer Prize winner Lahiri's (The Interpreter of Maladies) unparalleled ability to transform the smallest moments into whole lives pinnacles in this extraordinary story of two brothers – so close that one is 'the other side' of the other – coming of age in the political tumult of 1960s India." – Library Journal review excerpt

August 14 – All Quiet On the Western Front by Erich Remarque [Germany and other countries, World War I] - Facilitator: Patsy Brautigam, Reference Librarian, LSC-CyFair
"Classic novel of young German classmates headed off to war and horror in the trenches." – Library Journal review excerpt

September 18 – Below Stairs: The Classic Kitchen Maid's Memoir That Inspired "Upstairs, Downstairs" and "Downton Abbey" by Margaret Powell [Great Britain] - Facilitator: Tracy Williams, Reference Librarian, LSC-CyFair
This work is a kitchen-maid's through-the-key hole memoir of life in the great houses of England . . . In this memoir, the author tells her tales of service with wit, warmth, and a sharp eye. . . [and] evokes the long vanished world of masters and servants portrayed in Downton Abbey and Upstairs, Downstairs. - publisher's summary excerpt
October 16 – Title TBA
Facilitator: Roberta Short, Professor of English, LSC-CyFair

November 20 – The Immigrant Advantage by Claudia Kolker [various countries] - Facilitator: Matthew Turner, Professor of English, LSC-CyFair
"Journalist Kolker investigates the imported traditions and attitudes toward health, hard work, and education that give newcomers an edge over the native-born." – Publishers Weekly review excerpt

December 11 – The Cellist of Sarajevo by Steven Galloway [Bosnia & Herzegovina] - Facilitator: Monica Norem, Reference Librarian, LSC-CyFair
Galloway provides "a tense and haunting novel following four people trying to survive war-torn Sarajevo. After a mortar attack kills 22 people waiting in line to buy bread, an unnamed cellist vows to play at the point of impact for 22 days." – Publishers Weekly review excerpt
---
I Love a Mystery Book Club
Enjoy the flexibility of a book club where everyone reads a different book from one theme or author—it's a great way to add to your "to read" list! The club meets the last Wednesday of the month at 12:00 p.m. in room 215. For more details contact Lindsey Bartlett at 281.290.3973 or lindsey.l.bartlett@lonestar.edu.
We have the group for you!
Upcoming Schedule:
---
Sports Page Book Club
On the second Wednesday of each month from 1:00-2:00 p.m. join your host Mick Stafford for sports talk and books. Call 281.290.5276 for more information.

July 9 in LRNC 117: One Shot at Forever: A Small Town, an Unlikely Coach, and a Magical Baseball Season by Chris Ballard
"A writer for Sports Illustrated, Ballard (The Art of the Beautiful Game) has expanded an article he wrote for the magazine about the 1971 Macon (Ill.) High School's baseball team's improbable run to the state finals. Coached by an eccentric outsider, a team of poor farm boys from a small, rural town take on the bigger and richer teams; this story has obvious parallels to the classic basketball film Hoosiers and in Ballard's capable hands evokes similar themes of inspiration, camaraderie and the pressure of the once-in-a-lifetime moments associated with prep athletics" - Publisher's Weekly review excerpt

August 13 in LRNC 117: Life in Motion: An Unlikely Ballerina by Misty Copeland with Chararisse Jones
"The first African-American soloist in the American Ballet Theatre (ABT) of New York City, Copeland was a latecomer to the art and took her first class at age 13.Told in graceful prose, the memoir recounts her quick but singular rise-her struggles with compulsive overeating, racism, injuries, and self-doubt, as well as high points like discovering acceptance in the melting pot of New York, reconnecting with her father, founding her own dance-wear company, and performing with Prince." - Publisher's Weekly review excerpt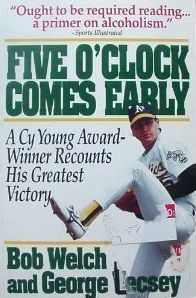 September 10 in LRNC 117: Five O'Clock Comes Early: A Young Man's Battle with Alcoholism by Bob Welch and George Vecsey
"In the fall of 1978 Welch made headlines by successfully striking out Reggie Jackson in the second game of that year's World Series. Six months later . . . a Florida paper announced that Welch had declared himself an alcoholic, and had just finished treatment. His story . . . is not depressing like so many of the recent biographies of notable people ruined by drink, but a touching and often painful account of a young man trying to find his individuality." - Library Journal review excerpt
---
Contact the LSC-CyFair Library: chat | e-mail | voice - 281.290.3214 | text - 832.463.0478
Maintained by: M.Norem-Reference Librarian
monica.r.norem@lonestar.edu