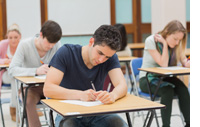 In order to take a Foreign Language Placement Exam, you must follow each of the steps listed below in the order listed.
Please note that the information form cannot be submitted online.
After entering the information into the form, you must print this page. You may also open a
PDF version
of the page, but the PDF version must be printed out and then filled in by hand.
Step 1
Fill out the information below:
First Name:
Last Name:
LSC Student ID Number:
Phone Number:
E-Mail Address:
Exam you are taking:
French CAPE
German CAPE
Spanish CAPE
Spanish Heritage Learner Exam
Please refer to the language placement testing web page to determine which test you need to take.
Step 2
Print out this page and take it to the Business Office at LSC-CyFair to pay your $25 placement exam fee.
For Business Office use only
Signature below indicates the $25 exam fee has been paid (attach receipt). Fee Waived for Dual Credit Student on initial test ONLY
______________________________________________(Signature of Business Office Designee)

Receipt #: ______________________________________
Step 3
Take this signed form and your receipt to the Testing Center at LSC-CyFair to take your test.
For Assessment Center use only
Student's score ________________
If student scores 424 or higher, please administer HL exam (Spanish Only)
Proctor's initials _______________
Step 4
Take this form to the Registration Desk to register for class. If you are taking the Heritage Learner Exam you will be contacted within 24-48 hours and will need to return to the Testing Center to pick up your score.
CAPE Scores
Spanish Heritage Learner Exam Scores

277-330
– student places in 1412

331-389
– student places in 2311

390-424*
– student places in 2312

*if a student scores above a 424 on the Spanish CAPE, he/she will need to also take Heritage Learner Exam

0-25
– student places in 1411

26-50
– student places in 1412

51- 69
– student places in 2313*

70-100
– student places in 2315**

*students may take 2311 in place of 2313

**students may take 2312 in place of 2315