LSCS Presidents
|
LSC-CyFair President
|
College Relations at LSC-CyFair
|
Outreach and Retention
|
Summer Bridge Program at LSC-CyFair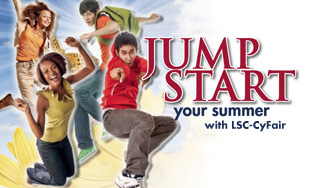 The Summer Bridge program offers a course in Developmental English to prepare you for college success. This program is open to recent high school graduates who have never attended college and have placement test scores that place them into one or more developmental courses.
Students who participate in the Summer Bridge program benefit from program incentives including highly-trained professors, tutoring, and discounted tuition. Summer Bridge participants have experienced success rates of as high as 100%.
Need more convincing? Here are some more incentives for enrolling in the Summer Bridge program!
Discounted tuition
Fast track, 4-week classes instead of 16 weeks
If you would like more information or would like to register for these classes, please contact CyFairJumpStart@LoneStar.edu.