Chancellor Dr. Richard Carpenter
|
About the Chancellor
Dr. Richard Carpenter, Chancellor
Lone Star College System
Houston, Texas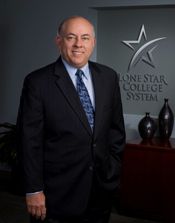 A nationally acclaimed higher education leader, Dr. Richard Carpenter serves as Chancellor at Lone Star College System in Texas, the largest college in the greater Houston area, with more than 78,000 students in credit classes and a total enrollment of more than 90,000. Lone Star College, known nationally for its innovation, is also the fastest growing community college in the nation and it is consistently ranked as one of the top degree producers in the nation.
Dr. Carpenter began his career as President at Somerset Community College in Kentucky at the age of 29 as the youngest college president in the country. He was subsequently recruited to college presidencies in the states of Minnesota, California, and Alabama, before serving as state President and CEO of the 16-college Wisconsin Community and Technical College System which enrolled over 400,000 students with a $1 billion annual budget. Most recently, he served as President of the College of Southern Nevada in Las Vegas, and as State Director for Nevadaís Community Colleges.
Dr. Carpenter has served as a Board Member of the American Association of Community Colleges, on the Board of the Nevada Economic Development Authority, and on the State Workforce Investment Board in three states. He has served as Chair of the AACC Commission on Global Education, Chair of the Presidents Advisory Group to the American Association of Community College Trustees, a Mentor for the American Council on Education Fellows Program and as a member of the Global Education Committee of the American Council on Education. He was also Commissioner of the U.S. Space and Rocket Center Commission, Commissioner for the Midwest Higher Education Commission, Co-Chair of the Governorís Statewide Healthcare Taskforce (Wisconsin), Co-Chair of the State PK-16 Council (Wisconsin), Advisor for The College Board (New York) and a delegate for the Southern Association of Colleges and Schools (SACS) for 20 years.
He currently serves as a Board Member of the Greater Houston Partnership (GHP), Vice-Chair of GHP Higher Education Committee, Chair-Elect of the Texas Association of Community Colleges (TACC) and Chair of TACC Legislative Committee.
He received his Associate Degree from Southwest Mississippi Community College, Bachelor and Master Degrees from Northwestern State University, and his Doctorate from North Carolina State University.